Letter from Tyler, Texas March 2, 1876 printed in the Birmingham Iron Age March 23, 1876 -from Thomas Smith to Frank Grace. This is probably the brother of R. E. B. Baylor, the c0-founder of Baylor University. The Baylor family of Texas had strong connections to Alabama as can be seen in the letter below. 
Dear Frank:
I have been looking eagerly for the appearance of your promised sketches of those early men, who participated in the early settlement, &c. of Jefferson county, I wrote you a hurried letter containing some facts which I hoped you would dress up, and give out, but you presented them in their naked deformity, just as I sent them, without adding any of your graceful touches. This was some what unkind, considering the early and cordial friendship of "long,long ago."
You have alluded, since the publication of my letter, Saml L. Earle, J. C. Camp, Wm. B. Davis and myself, in terms of such kindness, that I cannot forego the privilege of returning you my unaffected thanks.
Samuel L. Earle tombstone Oakwood Cemetery Plot  8, Tyler, Smith County, Texas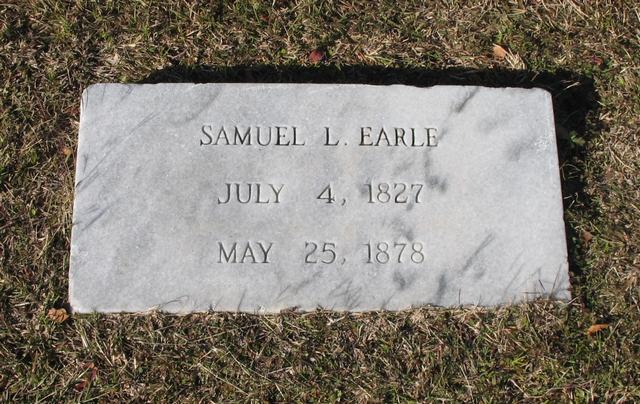 In regard to some of us, however, your article was slightly inaccurate. Wm. B. Davis died at Rusk, Cherokee county, Texas, Dec. 1853, and was a candidate for Judge of the District Court— not for Congress, as you stated. Saml L. Earles was Judge of the District Court of the State, and not U. S. District Judge. J. L. Camp served as member of Constitutional Conventions of Texas in 1866, in the State Senate 1874, and 1875, and is now Judge of the Criminal Court—his district, or circuit, as termed in your State, embracing the counties of Marion, Harrison, Smith and Anderson.
Cherokee County, Texas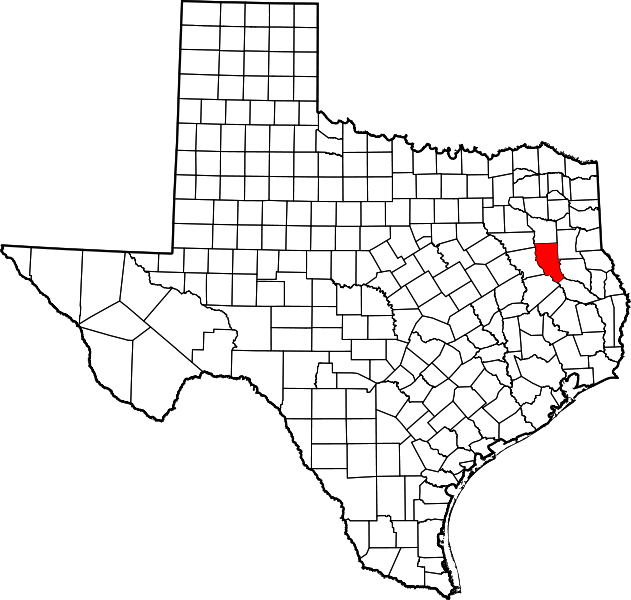 It is not important to your readers or anybody else, to be informed as to what positions I have filled, and therefore, at this pint I'll forbear, certainly myself, with the remark, that I am as good a democrat as can anywhere be found—standing flat footed on the ancient platform of the party and coming up fully to Jimmy Wilcox's standard of democratic orthodoxy—which was that "Gineral Jackson fit the battle of Yorktown and wrote the declaration of independence."
Judge Walker K. Baylor was accidentally killed
I read, in a copy of your paper received this morning, a reference to the genial and remarkable man, Judge Walker K. Baylor.1 It was this reference which has awakened kind memories with me to-night, and set my hand in motion. As I now write, I well remember the bright Sunday morning, early in the summer of 1845 when Judge Baylor alighted at my father's house from the stage, en route to Tuskaloosa, on his way to Texas. He stopped to bid the family good-bye. He was full of cheerfulness and glee, and was a much esteemed friend of my father; he frequently visited there and was always kindly welcomed by us all. The melancholy accident by which his death was produced, I presume, is familiar to you. He was killed by the accidental discharge of a pistol, in hands of his friend, Col. Jones Rivers. It occurred at Lagrange, on the Colorado river, in the summer of 1845. In 1852, while detained by sickness at LaGrange, I visited the room in which the accident occurred, that terminated the life of this popular and generally beloved man. A few weeks ago I met his nephew, Gen. John R. Baylor, at the State Convention at Galveston. Quite a number of the Baylors from Kentucky, came to Texas in the early days of her history, and now live in Western Texas.
Col. Jones Rivers, above mentioned was a man very much like Judge Baylor in mental organism, and this fact no doubt drew them together closely, when they met in Texas. They were examining a pistol of peculiar make, when it accidentally fired. I became well acquainted with Col. Rivers in 1852, and heard him at the bar several times. With the exception of Hon. F. W. Bowdon, formerly of Alabama and now deceased, Col. Rivers surpassed any man, as an orator, that I ever heard. In speaking of orators of surpassing power, I invariably except Frank Bowden, because I never heard, and never want to hear a better one than he was. He was just good enough.
I see you "went for" the Radicals slightly about stealing the other week. That's right, Frank, give 'em a  little more grape, Captain Bragg."
Your friend and servant. Thomas Smith
1Judge Baylor has been pronounced as highly educated, but not studious or profound. He afterward became circuit judge. In the fall of 1844, it is said he came in from his circuit and was making preparations for visiting his brother in Texas. At that time, the Lone Star State was a wild and turbulent country. His friends therefore prevailed upon him to carry with him a Colt revolver, then a very rare weapon and a great curiosity to everybody. He said that he had never owned or carried a pistol and bought that one against his better judgment. While showing it to his brother and some friends in Texas, it was accidentally discharged and killed him.
Judge Baylor had never married, and was about fifty years old at the time of his death. When he left Kentucky as a young man, he parted from a sweet girl who promised to become his wife, but when he returned for her he found only her grave. He remained loyal to her memory to the last. Like other men of those times, he was apt to get too deep in his cups. His were periodical "sprees." For a few days, every few months, he would indulge in a wild carousal and then, with horse, dog and gun, retire to the woods for about a week and sober up. After which he would return to his professional work as bright as a dollar until the periodical "spell" came over him again. He was an enthusiastic and expert violinist, and, before leaving for Texas and his lamented death, gave his beloved instrument to James Wilson, asking him to keep it until they should meet again. (A History of Birmingham and Its Environs: A Narrative Account of Their Historical Progress, Their People, and Their Principal Interests, Volume 1 George M. Cruikshank 1920)