(Transcribed and unedited story from a WPA (Works Projects Administration) writer
FORMER SLAVE
J. T. Brown
102 years old
BULLOCK COUNTY, ALABAMA
Interviewed by T. S. Frazer ca. 1938
J. T. Brown or Tom Brown as he is generally known is a native of the West Indies. He was brought to Union Springs when a small boy and was trained to be house boy for the Shelton family. He went through the Civil War as body guard to Mr. Menzo Shelton his young master.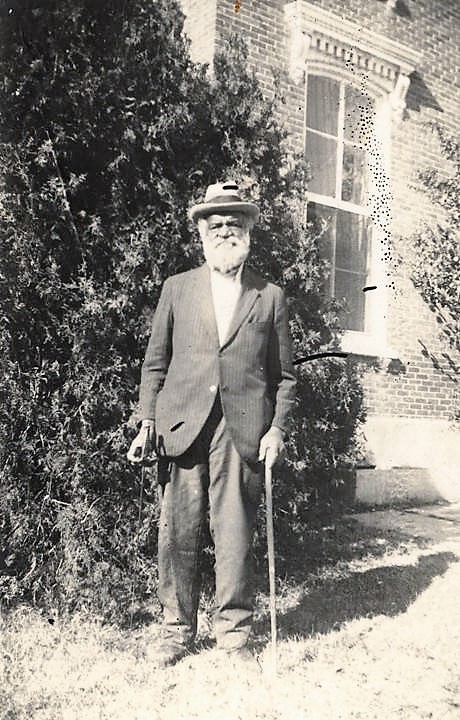 J. T. Brown 102 Bullock County, WPA (Alabama Department of Archives and History Q1760)
Tom is a very aristocratic looking negro and is a dark ginger cake color. His manners are very polished and in spite of the fact that he is 102 years of age he will not sit down in the presence of white people. He is as straight as a board and bears himself as though he had the strictest of military training.
When Tom was asked to have his picture made he insisted that he not have it taken until he could have his sword also, (su-word is his pronunciation of the word). Although it cannot be seen he carries in his right hand the sword left him by one of the members of the Shelton family.
Tom is above the negro in intelligence and converses very intelligently. He is a brick mason by trade but knows something of everything. He makes chairs, is a black smith and tries not to be idle at anytime.
Once Alabama was admitted as a state of the United States of America on December 4, 1819, a great wave of immigrants from other states and countries came by flat-boats, pack-horses, covered wagons and ships to become the first citizens of the state. ALABAMA FOOTPRINTS Statehood presents the times and conditions Alabama first citizens faced in lost & forgotten stories which include:
Who Controlled And Organized The New State of Alabama?
Tuscaloosa Had Three Other Names
Chandelier Falls & Capitol Burns
Alabama Throws Parties For General LaFayette
Francis Scott Key Was Sent to Alabama To Solve Problems
General Jackson's Visit to Huntsville For A Horse Race Created Discord At Constitutional Convention
READ EBOOKS FOR FREE ON YOUR COMPUTER!