NOT ALL THERE IS TO A FIRE
by
Inez McCollum
It was with sadness that I read an article about the Hotel Talisi in Tallassee burned in December, 2009. I had visited that landmark hotel more than once and eaten from their buffet that was laden with delicious southern dishes. Ironically, this eighty-one year old building had been built to replace the previous building which was destroyed by fire in 1915.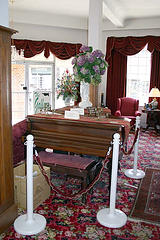 There was a 1960's song by Peggy Lee, "Is That All There Is?". (refers to a fire in the lyrics) Even though it was a beautiful song, I have seen people devastated by fires. My husband's parents lost their home to a fire when they were in their 80's. At that age, they were not able to fully recuperate from the loss of their much loved home. This experience took years from their lives.
Churches torched
A few years ago, several churches in Shelby and Bibb Counties were destroyed by arsonists; but, like the Phoenix, most of them have risen from the ashes. That certainly was not as simple as it sounds. Members of those churches did a lot of praying and put a lot of hard work into rebuilding.
A rural Cleburne County church my Father and his Father before him had labored in for years, went up in blazes at the hands of an arsonist. The church was replaced by a new building. Our family had gotten over that fire only to go through the same fate when a church my husband pastored, in Shelby County, was torched. The members of the latter church rolled up their sleeves and, after multiple prayers, much hard work and expense, were able to move into a new building. They continue to grow in number and have become a light in their community.
Hopefully, something positive will again draw people to Tallassee. Hotel Talisi might be gone; but it isn't forgotten.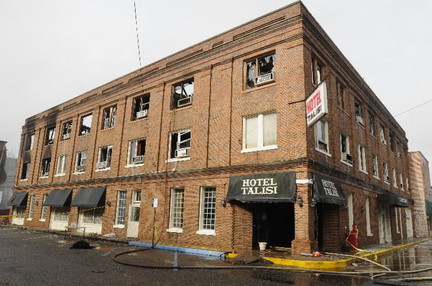 Note: added by Donna R. Causey – The Talasi fire was set by an arsonist. He was caught and punished.
See all books from Alabama Pioneers
This Volume reveals the relationships between the ACTONS, BAILEYS, CLOWER, CROWSON, LEES, NABORS, NELSON, ROBERTSON, and WILSON families of early Shelby County, AL. Notes and sources are included. Genealogy reports with all supporting evidence, wills, and deeds when available are included.
Surnames found in this book include; ACTON, ALEXANDER, ALLEN, ALLGOOD, ASHMORE, AVERY, AYETTOTT, AYLETT, BAILEY, BAINS, BAKER, BALCH, BANDY, BARHAM, BARNETT, BARRONS, BASS, BEALER, BEARDEN, BELL, BEMAN, BENGE, BENTON, BEVILL, BILLINGSLEA, BISHOP, BLANTON, BLEDSOE, BLEVINS, BLOUNT, BOOTHE, BOYD, BOYLE, BRAGG, BRASHER, BRIELAND, BRINKER, BRATTON, BRITTON, BROWN, BRYAN, BULLOCK, BURNETT, BURROW, BUTLER, BYARS, BYNUM, BYRUM, CAHILL, CALDWELL, CARPENTER, CARTER, CASEY, CLAYTON, CLEVELAND, CLIETT, CLOWAR, CLOWER, COHEN, CORLEY, CRAIG, CRAWFORD, CROCKETT, CROSS, CROWSON, DANIEL, DAVIS, DEAN, DESHAZO, DICKENSON, DILBANE, DOLLAR, DUKE, ELLIOTT, ELLIS, EDGE, ESSMAN, ESTILL, FANNIN, FARLEY, FARR, FAVRE, FERRELL, FINNEY, FLOURNOY, FOUST, FRASER, FREEZE, FROST, FULTON, GAILEY, GARRETT, GIBSON, GLIDEWELL, GODDEN, GODWIN, GOODGAME, GOODSON, GREEN, GRIFFIN, GRIFFITH, GRIGGS, GRIMMETT, GULLAHORE, GULLEHORN, HAFNER, HAGIN, HAIL, HALE, HAMILTON, HANNAH, HANEY, HANSARD, HARDIN, HARKINS, HARLESS, HARRIS, HARRISON, HAYES, HAZARD, HEARNE, HESTER, HICKS, HILL, HODGES, HOLBROOK, HOLLINGSWORTH, HORTON, HOWARD, HUDSON, HUTCHINSON, JOHNSON, JONES, KIDD, KIERDON, KNOWLES, LALADY, LANIER, LAVINSKY, LAWLER, LEATHERWOOD, LEE, LEEPER, LEONARD, LINDSAY, LINDSEY, LOFTIN,LOONEY, LOVELADY, MAHAN, MARDIS, MARLOW, MARONEY, MASKE, MASON, MATHEWS, MATTHEWS, MAXWELL, MCCAIN, MCCLINTON, MCCRAFT, MCGOWAN, MCLANAHAN, MCLEOD, MCLEROY, MCMAHON, MCNAIR, MCNEAR, MCNEELY, MCNEER, MCPHERSON, MEREDITH, MERONEY, MERRELL, MILES, MILLER, MILLS, MILSTEAD, MITCHELL, MOORE, MORGAN, MORRIS, MOSTELLER, MOWDEY, MUNDINE, MURPHY, MURRY, MUSE, MYRICK, NABORS, NAISH, NEAL, NELSON, NEWMAN, NIVENS, NORTH, NUNNALLY, OLDHAM, ORR, OZLEY, PARKER, PARKS, PATTON, PAYNE, PEARSON, PERRY, PERSON, PETERS, PITNER, POINTER, POWERS, PRENTICE, QUINN, RANDALL, RASBERRY, REED, REEVES, REID, ROBERTS, ROBERTSON, ROGERS, ROY, SAWYER, SHACKELFORD, SHANK, SHAW, SMITH, STERRETT, STORRS, STREET, STRIPLING, TEAGUE, THOMPSON, TRUELL, TURNER, WALDROP, WALLACE, WARD, WARE, WATKINS, WATROUS, WATSON, WEEKS, WEST, WHARTON, WHITE, WIGGINS, WILLINGHAM, WILLSON, WILSON, WOOLEY, WOOLLEY, WRIGHT