PEOPLE MENTIONED IN TIMES DAILY
DEC. 15, 1894
FLORENCE, LAUDERDALE COUNTY, ALABAMA
Mr. and Mrs. J. A. H. Hauerwas have been quite ill at their residence north of the city, for three months past, but are now recovering. Mr. Hauerwas was on the streets Saturday, but showed the effects of his illness.
Capt. J. P. Graham, who has been acting as special conductor on the M & C between Florence and Huntsville, for several months, was last week given his old position in charge of the passenger train on the Florence and Tuscumbia branch.
Wanted – Plain sewing by Mrs. O. B. Carlson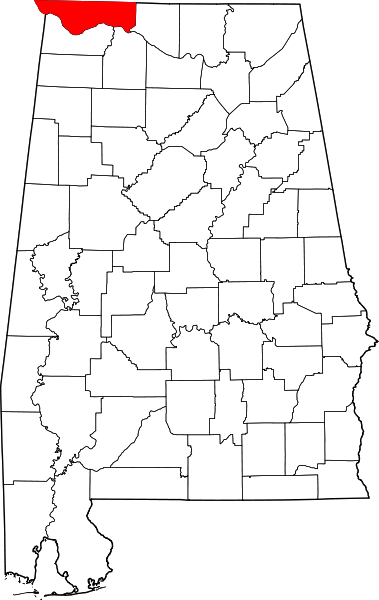 Lauderdale County, Alabama (Wikipedia)
"Our farmers are about through gathering in their crops," said Rev. A. J. Walker of Reserve. "They are not disappointed at the result, because it is better than they expected from the conditions last spring. I have ginned about 400 bales this year, which is more than usual, and though cotton sold low, the farmers are better off than common on account of more diversified crops."
Mr. W. H. Gresham, of the Mars Hill neighborhood, who is a familiar citizen to all the people of Florence, said: "The farmers in my section are generally self-supporting, and this year raised little cotton comparatively. I do not think our farmers should quit raising cotton entirely; they do not need to Cotton is the staple of the South, but they should raise more of other products.The crops are about gathered and the corn crop was unusually good. This is not especially a wheat country, but one of the reasons more wheat is not raised is because of a lack of threshing facilities. All of our farmers would raise at least enough wheat to supply themselves with breadstuff, but the threshers could not afford to go through the sections to thresh such small yields as they are inclined to raise. If threshers could be arranged for wheat as gins are for cotton, nearly every farmer in the county would raise his own bread, and probably more."
The TIMES mean met Messrs. Simon and Sidney Ricard, and Simon said in answer to a question: "The past year I raised eighteen bales of cotton and Sid raised eight. Next year we will put the land we cultivate to other purposes, only raising a very small amount of cotton. We have come to the conclusion that we farmers of Lauderdale have neglected grains and foodstuffs too much, and we have decided next year to apply ourselves to them more." Messrs. Ricard are from the Reserve section.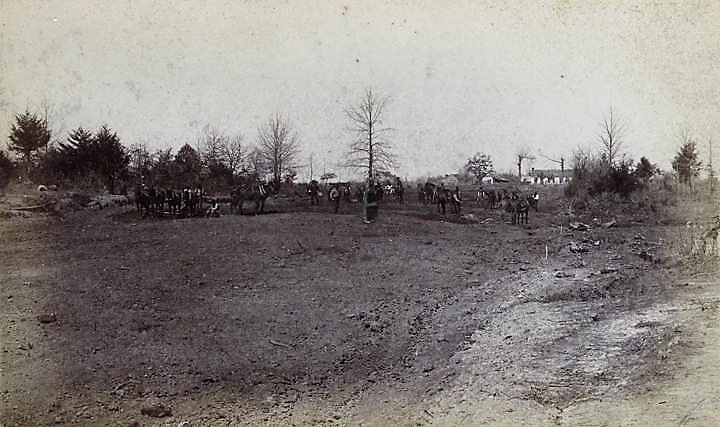 Group of men breaking ground in a field with plow Florence, Alabama ca. 1880s (Alabama Department of Archives and History)
Four men stood on the corner of Court and Tennessee streets, Saturday afternoon, discussing matters of interest to farmers – especially the matter of corn culture in Lauderdale county.
"I had a good crop of cuckleburrs in my corn this year," said Mr. Dave Howell, one of the best farmers in the county.
"That's good," Capt. Braham Patton said, with a congratulatory smile. "Cuckleburrs are fine natural cultivators of corn." And Messrs. Ed Till and Joe McMurray, (both old Confederate veterans, the latter using a crutch in lieu of a leg), acquiesced in this statement. "I tell you," continued Capt. Patton, "cuckleburrs are not very pretty, but they have a root that contains a good deal of natural nourishment."
"And the bur also," Mr. Till said.
These four gentlemen are among our best-known farmers, and they know the value of cuckleburrss as well as a good many other things. Their crops of corn this year ranged from 100 to 800 barrels each, and much of it they have not sold yet on account of the low prices.
"The river will rise soon," said one of the gentlemen, "And then we'll have a readier and better market. The farmers of this county who raised corn to sell can afford to keep it until the better prices that are guaranteed by the general yield, prevail."
While this genial quartette was in conversation they were joined by other congenial spirits, among them Maj. J. M. Crow, Judge W. B. McClure, Messrs. John Wesson, Sam Fowler and others, and an old-time love teast was had. When these old citizens meet on the street, fun is the order, and no mistake.
While in the TIMES office a few days ago, Mr. J. W. Robinson, of Green Hill, stated that he had raised two bales of cotton the past year on two acres of ground, and that it was the result of heavy manuring. Mr. Robinson, however, does not confine himself to cotton, but raises other marketable products, and lives at home besides.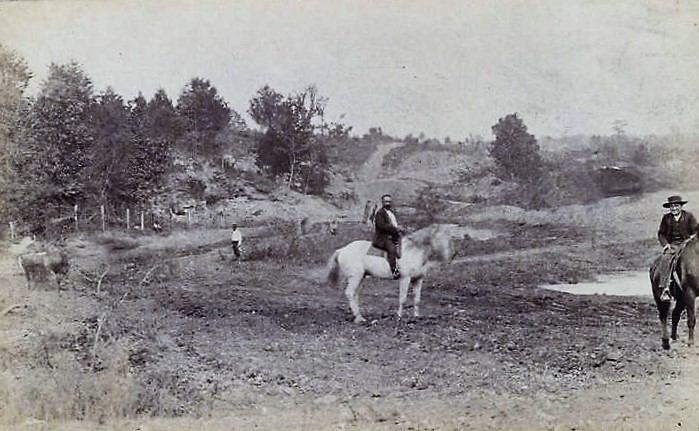 Men on horseback at the edge of a forest in Florence, Alabama ca. 1890 (Alabama Department of Archives and History)
Mr. J. C. Christian, who sold wood in Florence for several years, farmed down in the Reserve last year. He worked hard, as he always does, and by his labor made his expenses for that year, started some fine hogs for next year, and sold enough cotton for a nest-egg. "Farming beats wood-selling," says Mr. Christian, "when it's managed right."
The creation of the new judicial circuit (11th circuit made up of Lauderdale, Colbert, Franklin and Marion counties) by the Legislature opens the way for judicial honors for some one, and the tempting situation has drawn out several candidates for the judgeship. The names so far announced are Messrs. John B. Weakley, Jr. of Florence, Thos. R. Roulhac, of Sheffield, Judge W. P. Chitwood, of Tuscumbia, and Hon. W. I. Bullock, of Russellville. These gentlemen are all decidedly in the contest. The appointment will very likely be made by Gov. Oates next week.
Jere Haralson, once a well-known character in Alabama politics, on the other side, has been convicted of pension forgery in Little Rock, Ark.
Hon. A. H. Carmichael, of Colbert, has been nominated by the Democratic caucus for Solicitor for the new Eleventh Judicial Circuit. He filled that position in Judge Chitwood's court.
Col. John L. Rapier has been appointed postmaster of Mobile. Col. Rapier is one of Mobile's most prominent business men, having been since the war connected with journalism in that city. For twenty-five years he has been the Editor of the Register and has by the force of his ability giving it its prestige. Col. Rapier is an ex-Confederate veteran, having served throughout the war.
Start researching your family genealogy research in minutes for FREE! This Ebook has simple instructions on where to start. Download WHERE DO I START? Hints and Tips for Beginning Genealogists with On-line resources to your computer immediately with the a FREE APP below and begin your research today!
Reviews
"This book was very informative and at a very modest price. One web site I may have missed in your book that has been very helpful to me is genealogybank.com. I found articles about several of my ancestors in their newspaper archives. Thank you for your great newsletter and this book."
"The book was clear & concise, with excellent information for beginners. As an experienced genealogist, I enjoyed the chapter with lists of interview questions. I'd recommend this book to those who are just beginning to work on their genealogies. For more experienced genealogists, it provides a nice refresher."