ELECTRIC LIGHTS IN GREENSBORO, ALABAMA1
(published 1908)
Greensboro, from its foundation up to the year 1883, never knew what it was to have even a street lamp. Looking at the matter now, it appears inconceivable that the citizens should have allowed the streets to remain in total darkness after nightfall for about 65 years,—but such is the fact, for it was not until 1883 that W. W. Powers appeared before the Mayor and Council and presented a petition signed by eighty citizens and tax-payers praying that body to erect twenty street lamps at convenient places on certain streets of the town.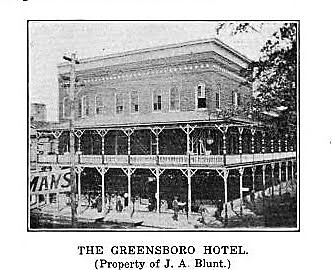 Public-spirited citizens brought progress to Greensboro
The petition was granted, and the lamps were, in a few months, placed in position. In 1885, the number of lights was increased to thirty. Mr. Powers was among the most sterling, progressive and successful business men of his day.
In December 1899, the Mayor and Council granted James E. Webb of Birmingham, the privilege of erecting and operating an Electric Light Plant in Greensboro, and in 1900 the kerosene lamps that had been on duty for seventeen years were put out of commission, and their places supplied with arc lights,—twenty-three in number, Mr. Webb purchased the Water Works of Charles E. Waller in 1900, and combined the Electric and Water Works Plants,—the combination being styled "The Greensboro Water and Light Company." Mr. Webb continued to own and operate the plant until 1904, when it was purchased by J. A. Blunt and associates,
FreeHearts: 2nd edition A Novel of Colonial America
Col. John Washington (ancestor of President George Washington), Randall Revell, Tom Cottingham, Edmund Beauchamp ward off Indian attacks and conquer the wilds of Maryland's Eastern shore in 17th century colonial America in this historical novel, inspired by true events.