It doesn't matter if you're a baseball fanatic who has their favorite players scorecard memorized or someone who has only watched a few games you've heard of Hank Aaron.Considered one of the greatest players in the history of baseball, Aaron is one of those figures in history whose name anyone can recognize.
From a simple home in Mobile, Alabama
While most people will recognize the name and know a bit about Aaron's baseball career, the average person would be surprised to learn that is life began in a simple home in Mobile, Alabama. Now they can learn all about Aaron and his legendary career by visiting his childhood home that's been turned into a museum.
The small house was built by Hank's father, Herbert, in 1942 eight years after Hank was born. It was expanded twice in the years after it was built first in 1962 and again in 1972 giving the home its current size. It remained the family home until Hank's mother, Estella, moved in 2007 giving the state of Alabama a chance to convert the home into a museum.
Home moved in 2008
They did exactly that in 2008 moving the family home from its original site to the Hank Aaron Stadium. After that the home was renovated so it could hold an impressive collection of memorabilia from Hank's career. Drawing in items from Hank Aaron himself, the Louisville Slugger Museum, the Negro League Museum, and the Baseball Hall of Fame to make it the greatest collection of Hank Aaron memorabilia in the country.
The house turned museum was officially opened on April 14th, 2010 to a sea of fans that included seven members of the MLB hall of fame and MLB commissioner Bud Selig.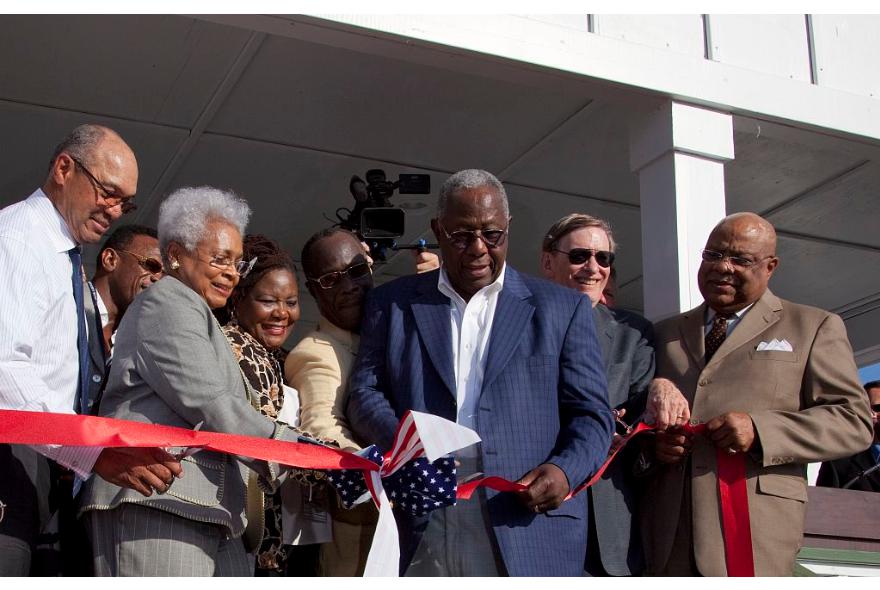 Major attraction for tourists in Mobile
Since then the museum has not only been a major attraction for tourists in Mobile it's been a force for change. In its first two years of operation the Hank Aaron museum was able to provide free tours and bus transportation to 16,000 at-risk children, showing them that people from the simplest beginnings can become great.
The museum's popularity continues to grow today. The Hank Aaron Museum was voted the 8th Best Baseball Museum in the Country in 2013. It has been and continues to be a shining example of not just Mobile's history but the state of Alabama as a whole.
ALABAMA FOOTPRINTS: Settlement: Lost & Forgotten Stories is a collection of lost and forgotten stories of the first surveyors, traders, and early settlements of what would become the future state of Alabama

.
Read about:
A Russian princess settling in early Alabama
How the early settlers traveled to Alabama and the risks they took
A ruse that saved immigrants lives while traveling through Native American Territory
Alliances formed with the Native Americans
How an independent republic, separate from the United States was almost formed in Alabama