Residents of Coffee County, Alabama have a 'can-do' spirit. Though frequented by fires and floods, each event only made the citizens more resolute as they rebuilt their lives.
Coffee County was created by the Legislature, December 29, 1841, out of the western portion of Dale County. Although the county was established in 1841, deed records, probate records, and inventory records from before 1851 are almost non-existent due to a fire in March 1851.
Courthouse was consumed by fire
Wellborn, Coffee County's first seat of government, was located near what is now Damascus, approximately twelve miles west of Enterprise. When the courthouse, built in 1846, was consumed by fire, all of the early official records of the county were destroyed.
Front of a hardware store. Enterprise, Alabama by photographer Marion Post Wolcott Spring 1939 (Library of Congress)

Coffee County was named after Gen. John Coffee of Lauderdale County, a gallant soldier in the War of 1813-14, and a distinguished early settler of the State.
Gen. John Coffee fought in war with Andrew Jackson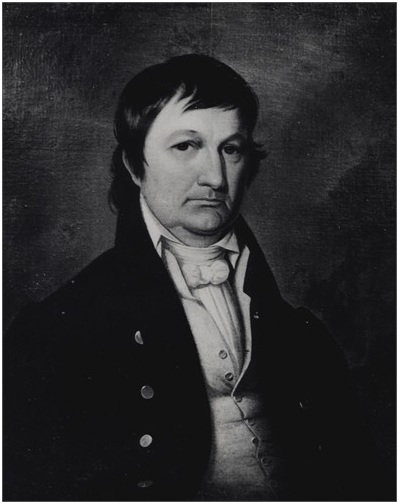 Commissioners, consisting of Britton T. Atkinson, Jams Claxton, Thomas Cole, John B. Cruise and Amos Wiggins were named to select a seat of justice. Power was given to secure not exceeding 160 acres of land, to erect a courthouse and jail, and to lay off the remainder of the land into lots for sale.
Elections were required to be held, but it was provided that officers of Dale county, whose residence would fall within the new county, should continue to hold office until the expiration of their terms.
The commissioners were directed to select a point as near the center as practicable for the location of the county seat, and not exceeding six miles from the center.
County Seat was to be known as Wellborn
When selected the county seat was to be known by the name of Wellborn. A subsequent act of February 1, 1843, amended the original law in reference to the selection.
In this act it was made the duty of the sheriff to advertise the election in three or more public places in the county, together with an advertisement at Bridgeville, for an election to be held on the first Monday in May, 1843, "an election for the location of the seat of justice in said county."
Events appear to have moved slowly, and just about one year, December 23, 1842, after the formation of the county the legislature found it necessary to direct the judge of the county court of Coffee to hold an election on the first Monday in March for county officers.
In the event the judge should fail to comply with the provision of the act he was subjected to a fine of $500.The first officers, all commissioned in 1843, appear to have been William Peoples, sheriff, Bartley M. Tucker, clerk of the circuit court, and Benjamin F. Tucker, clerk of the county court.
Question of county seat location came up again
The question of the location of the county seat came up again, and the legislature on January 23, 1845, appointed commissioners to select, on or before the first day of March of that year, "forty acres of land, which were within one mile of the center of Coffee county, which when selected, shall be the permanent site or seat of justice for said county."
As soon as the selection was made the commissioners were required to have the town surveyed and laid off into convenient lots, "suitable for a courthouse town." The lots were to be sold to the highest bidder. After the sale of the lots they were required to contract for "the building of a courthouse and jail."
Courthouse destroyed by fire 1851
When the courthouse was destroyed by fire in 1851, the legislature February 5, 1852 required the probate judge to procure suitable and separate books in which to record anew all deeds, marriage licenses and all other papers required by law to be recorded, which may be deposited in the office for that purpose.
The same legislature, December 16, 1851, authorized the judge of probate and the commissioners of roads and revenue, to levy a tax, not exceeding fifty per cent of the State tax "for the express purpose of building a courthouse and appurtenances in and for said county."
On January 30, 1852 another act was passed directing the sheriff to hold an election on the first Monday in August 1852 to fix the permanent location of the courthouse. The electors were authorized to select one of the towns of Wellborn, Elba and Indigo Head.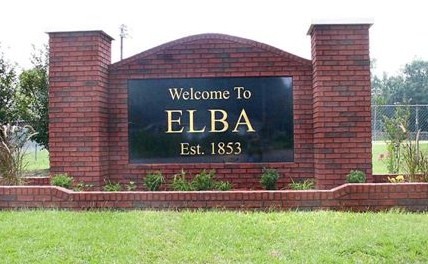 The town receiving the majority was to be the county seat provided the citizens of the town should build a good and substantial courthouse and jail free of charge to the county. As a result of the election Elba was chosen, and it has since remained the county seat.
Coffee County Courthouse in Elba, Alabama by photographer Carol Highsmith April 2010 (Library of Congress)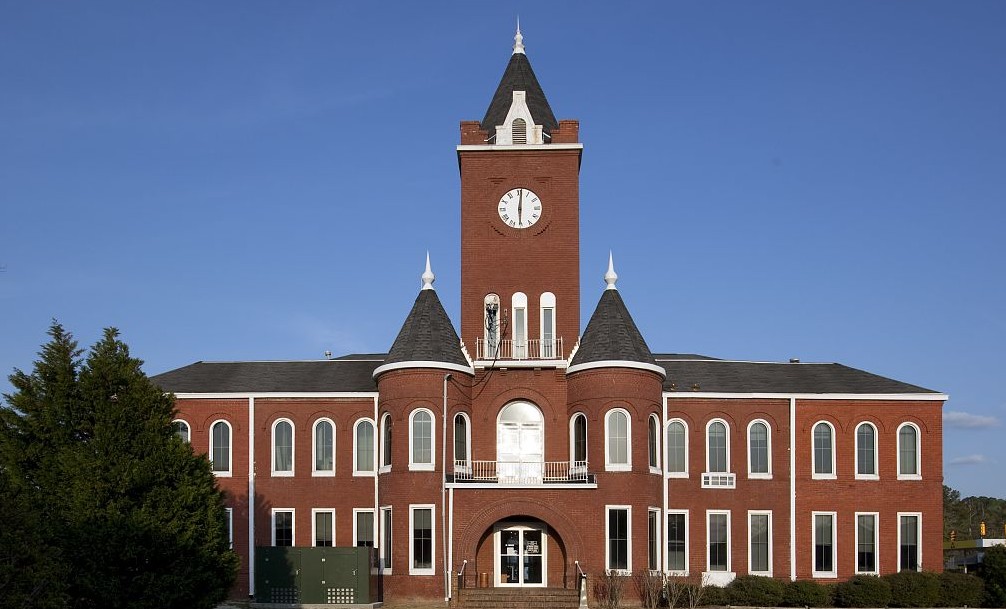 County was in the Creek Territory
This county was in the Creek territory, but no Native American town sites are accredited to its area. It is too far removed from the Chattahoochee River Creek settlements to have been very much influenced, but on the larger streams are found some chipped arrow and spear points. A mound is located in T. 6., R 19 W.
Confederate Commands from County.—The commands listed below were made up in whole or in part from this county.
Infantry.
Co. D, "Coffee Rangers," 12th Regt.
Co. A, "Bullock Guards," 18th Regt.
Co. K. "Little George Mathews' Friends," 25th Regt. (in part from Coffee.)
Co. A, 33d Regt.
Co. A, 54th Regt.
Co. E. 54th Regt. (Formerly Co. D, 4th Conf. Inf. Regt.)
Co. C, 57th Regt. (In part from Coffee.)
Co. G, 57th Regt.
Co. G, 61st Regt.
Cavalry.
Co. B, 6th Regt.
Co. H, 53d Regt. (Mounted Infantry; In part from Coffee.)
Post Offices and Towns Revised to July 1, 1917, from U. S. Official Postal Guide. (Numbers indicate the number of rural routes from that office.)
Arcus
Kinston—2
Clintonville
New Brocton—3
Elba (ch)—6
Victoria—1
Enterprise—4
Delegates to Constitutional Conventions.—
1861—Gappa T. Yelverton
1865—John G. Moore
1867—John C. Jolly
1875—Joseph E. P. Flournoy
1901—Malcom S. Carmichael
Senators
Senators
1845-6—Jones J. Kendrick.
1847-8—Lewis Hutcheson.
1849-50—Jesse O'Neal.
1853-4—William A. Ashley.
1857-8 Daniel H. Horn.
1861-2—DeWitt C. Davis.
1865-6—William A. Ashley.
1868—Philip King.
1871-2—Philip King.
1872-3—J. M. Carmichael.
1873—J. M. Carmichael.
1874-5—J. M. Carmichael.
1875-6—J. M. Carmichael.
1876-7—A. C. Gordon.
1878-9—A. C. Gordon.
1880-1—F. M. Rushing.
1882-3—F M. Rushing.
1884- 5—C. H. Laney
1886-7—C. H. Laney,
1888- 9—W. C. Steagall:
1890- 1—Isaac H. Parks,
1892-3—W. B. Darby;
1894 5—W. B. Darby;
1896-7—Geo. N. Buchanan.
1898-9—Geo. N. Buchanan.
1899 (Spec.)—Geo. N. Buchanan.
1900. 01—R. H. Arrington.
1903 —Richard Henry Arrington.
1907- —Lucian Gardner.
1907 (Spec.)—Lucian Gardner.
1909 (Spec.)—John Gamble.
1911 —Felix Folmar.
1915. —R. H. Arrington
1919 –D. A. Baker.
Representatives.
1845-6—Abraham Warren.
1847-8—Irwin Rogers.
1849-50—William Holly.
1851-2—William Holly.
1853-4—Gappa T. Yelverton.
1855-6—A. L. Milligan.
1857-8—Jeremiah Warren.
1859-60—Jeremiah Warren.
1861 (1st called)—Jeremiah Warren.
1861 (2d called)—Hill K. H. Horn.
1861-2—Hill K. H. Horn.
1862 (called)—Hill K. H. Horn.
1862-3—Hill K. H. Horn.
1863 (called)—John G. Moore.
1863-4—John G. Moore.
1864 (called)—John G. Moore.
1864-5—John G. Moore.
1865-6—John G. Moore.
1866-7—John G. Moore.
1868—John G. Moore.
1869-70—John G. Moore.
1870-1—John G. Moore.
1871-2—J. G. Moore.
1872-3—C. S. Lee.
1873—C. S. Lee.
1874-5—M. C. Kimmey.
1875-6—M. C. Kimmey.
1876-7—B. M. Stevens.
1878-9—F. M. Rushing.
1880-1—J. M. Sanders.
1882-3—J. W. Garrett.
1884-5—J. E. Bishop.
1886-7—John B. Simmons.
1888-9—J. B. Simmons.
1890-1—J. B. Peacock.
1892-3—W. C. Mixon.
1894-5—W. C.-Mixon.
1896-7—J. L. Lewis.
1898-9—A. J. Edwards.
1899 (Spec.)—A. J. Edwards.
1900-01—W. B. Fleming.
1903—William H. Warren.
1907—R. H. Arrington.
1907 (Spec.)—R. H. Arrington.
1909—R. H. Arrington.
1911—J. E. Pittman.
1915—M. S. Carmichael—resigned, succeeded by J. A. Carnley.
1919-J. A. Carnley
Fires and floods destroyed courthouses but records saved
Coffee Springs, a town now in Geneva was in Coffee county, prior to 1868. It derives its name from several mineral springs and was settled early in the history of southeast Alabama. It was a resort for health-seekers since pioneer days. The springs gave rise to a large creek called Coffee Creek, that flows into the Choctawhatchee River.
In 1853 the first Elba courthouse was constructed on a site which became Courthouse Square. That first courthouse was burned in 1863 by Confederate deserters, but most of the records were saved. Later courthouses were ravaged by floods, but the record books have been dried and although not in the best of condition, many of them remain intact.
In 1907, Coffee County was divided into two jurisdictional sections and a branch seat of government was established in Enterprise, not to replace the county seat in Elba, but rather to meet the needs of residents who lived in the eastern half of the county.
Enterprise Courthouse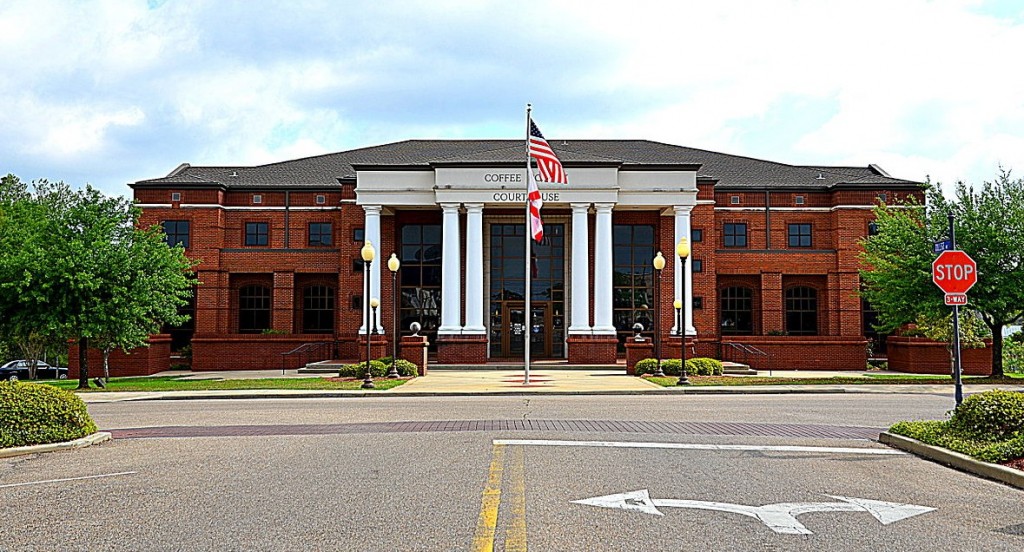 The first two courthouses constructed in Enterprise were destroyed by fire, but a third, constructed in 1925, served the eastern division of Coffee County until 1998 when it was razed to make way for a new courthouse, constructed on the same site and dedicated in 1999.
A devastating flood occurred in Elba in 1990
Coffee County still maintains two courthouses
Coffee County still maintains two courthouses. The present Elba courthouse, constructed in 1903, survived the floods of 1929 and the 1990s. Although high water stains remain on the walls, this building continues to serve the western division of the county. Most of the older records of the county are housed in the Elba Courthouse, but when researching records after 1907, one may need to explore both Elba and Enterprise courthouses.
SOURCE
Bestselling novel

 

FreeHearts: 2nd edition A Novel of Colonial America

 

is the story of a first family  in colonial America who eventually migrated to Alabama.