Anne Royall (June 11, 1769 – October 1, 1854) was a traveler and writer and was one of the first newspaperwomen. Royall, who had long made Presbyterians a particular object of scorn in her writing, objected to their using the building as a blurring of the lines between church and state. She also claimed that some of the congregation's children began throwing stones at her windows. One member of the congregation began praying silently beneath her window and others visited her in an attempt to convert her, she claimed. Royall responded to their taunts with cursing and was arrested. She was tried and convicted of being a "public nuisance, a common brawler and a common scold." Although a ducking stool had been constructed nearby, the court ruled that the traditional common law punishment of ducking for a scold was obsolete, and she was instead fined $10. Two reporters from Washington's newspaper, The National Intelligencer, paid the fine. 
Anne traveled Alabama in 1818 and wrote letters to her friends about the evolution of the young state of Alabama. The letters were published as a book entitled Letters from Alabama in 1830. The following letter written in 1818 has been transcribed exactly as published (including misspellings).
Town named for John Melton
Melton's Bluff, January 14th, 1818.
Dear Matt,
Melton's Bluff1 is a town, and takes its name from a person by the name of John Melton, a white man, deceased two years since, at an advanced age. Various stories are related of this man; but ail agree in this: that he was an Irishman by birth; became displeased with the white people; attached himself to the Cherokee Indians; married a squaw, and settled at this place many years ago; that, with the assistance of the Indians, he used to rob the boats which passed down the river, and murder the crews. By these means he became immensely rich; owned a great number of slaves; most of whom he robbed from these boats. Thus it is said he continued his piracies until the treaty between the United States and the Cherokees.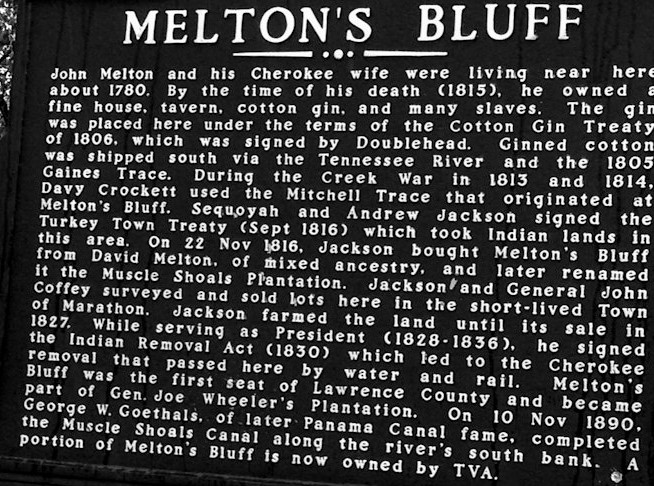 He had several children by his Indian wife, one of whom married Rhea, the pilot. After peace was signed with the Indians, Melton lived quietly at home, and cultivated his farm; but towards the latter part of his life he became alarmed from the threats of the Creeks, and removed over the river, where he also had a large farm, and built a fine house, (which I have seen,) and died rich in a good old age. Most of his children married white people.
Kept a house of entertainment
He used to keep a house of entertainment at Melton's Bluff, after his piracies ceased; and kept an excellent house. His table was furnished with the best of liquors, meat, coffee, and tea, and all prepared in the best manner. I met with a gentleman who spent a week at Melton's house, in company with six others. He said he never fared better in any part of the United States: but their bill was excessively high.
Horsewhip restored order
I saw and conversed with many of Melton's slaves; amongst whom was a cook whom he purchased in Baltimore, at a very high price, as a first rate cook. She said that Mrs. Melton would sometimes take it into her head to go into the kitchen, (particularly when she took a dram,) and kick up a dust with her about the dinner. Mrs. M. wanted to model the cooking to her own mind, that is, Indian fashion. She, the cook, being responsible to her master for the forthcoming of the dinner would go to her master; upon which the old man would sally forth, with whip in hand, and if fair words failed, the horsewhip always restored order.
Guide married one of Melton's daughters
You recollect Rhea whom I have mentioned: he married one of Melton's daughters—a most amiable woman, and very lame. When the Cherokee Indians abandoned this territory last fall, some of them went up the river to the Cherokee nation, there to remain, till boats were provided for their removal to the west, by the government; others went directly down the river to Arkansas—of whom Rhea's wife was one. The order for their departure was sudden and unexpected.2 Rhea, at that time was absent from home, but returned on the same day, and learning what had happened, was almost frantic—jumped into a canoe, and soon overtook the boats. He flew to his wife, and clasped her in his arms. Neither spoke a word, but both wept bitterly. In a few moments he resumed his canoe and returned to the Bluff, and she went on. They had no children.
Whether Rhea was prohibited by the treaty from accompanying his wife, or whether he was under a prior engagement, none here are able to inform me—but certain it is, he is now married to a white woman.
Melton's Bluff was the highest precipice
You have heard that this country consists of table and bottom land, also, of the Bluffs. These Bluffs happen where there is no bottom land, but the table land running up to the river forms a high precipice, called a Bluff. This is the case at Melton's Bluff, the highest I have seen. Here is a very large plantation of cotton and maize, worked by about sixty slaves, and owned by General Jackson, who bought the interest of old Melton.
No language can convey an idea of the beauties of Melton's Bluff. It is said to be the handsomest spot in the world, off the seabord; and rich as it is beautiful. I can sit in my room and see the whole plantation; the boats gliding down the river, and the opposite shore, one mile distant. The ducks, geese, and swans, playing at the same time on the bosom of the stream, with a full view of the many islands. It is, after all, the great height of the site that pleases.
Mansion was approached by a broad street
I took a walk with some ladies to-day over the plantation, as we wished to hav a nearer view of those snowy fields, which so sedulously present themslves to our view, together with orchards, gin houses, gardens, Melton's mansion, and a considerable negro town.
We approached the mansion, by a broad street, running up the river bank east of the town. This street seems suspended between heaven and earth, as the whole premises for two miles, all in sight, appears to be elevated above the horizon, and none above the rest. We entered the court yard, fronting the house, by a stile; and the first thing we met was a large scaffold overspread with cotton: as it was in the seed, their must have been many thousands of pounds. Being damp from dew, and often rain, it must be dried in this manner.
Mansion built with logs
The mansion was large, built with logs, shingled roof, and may have been built 25 or 30 years since. I recoiled at the sight of a place once the habitation of such a monster. Some of our party went in: I did not. General Jackson's overseer, who joined us here, said he lived in the lower story, the upper being filled with cotton. The scaffold was about four feet from the ground. From this we crossed another fence, and found ourselves in a cotton field of about one hundred acres, white with cotton and alive with negroes. The centre of this field is said to be the rallying point of viewing the scenery; as it doubtless is. You can see up to Brown's Ferry, eight miles distant, with the naked eye—and the same distance down.— The term beauty is applied to any thing which excites pleasant feelings. Beauty is said to be a uniformity amidst variety; a proportion of parts adapted to a whole; fitness of things to an end; quantity and simplicity. All this is realised on the scenery of Melton's Bluff.
Livened with wild fowl
Here is a noble river which combines in itself all you can conceive of grandeur and utility, adorned with islands spangled with boats, and enlivened with wild fowl. Lift your eye from the river, and lo! magnificent fields, white as snow, orchards, farms, and houses, all in view, without moving out of the spot. You may thus form some idea of this farfamed Bluff. Here the green islands look like floating meadows. Here the boatman wields his massy oar, and guides his freighted boat along. Here the wild fowl arrayed in glossy plumes, wantons as she lists. Here the distant billows breaking o'er the Shoals, echo back in murmuring sounds, and mingling sweetly with the music of the boatman's viol, swells upon the ear and softly dies away upon the breeze. To crown the whole, here the majestic swan, robed in dazzling white, moves in all her graceful attitudes. These are beauties which may be felt but cannot be described. This combination of objects, each beautiful in itself, and so materially useful, constitutes the beauty of Melton's Bluff. All the trade of East Tennessee passes by the Bluff, and halt here to take in their pilots.
1 Later the town was called Marathon and was at the head of the Elk River Shoals in North Alabama. The town died after the railroad around the Shoals was completed in 1834.
2 Such was the eagerness of the white people to possess these lands, that the fires were not extinguished when they took possession.
FreeHearts: 2nd edition A Novel of Colonial America (Tapestry of Love Series Book 3) 

Inspired by true events, Col. John Washington (ancestor of President George Washington), Randall Revell, Tom Cottingham, Edmund Beauchamp ward off Indian attacks and conquer the wilds of Maryland's Eastern shore in 17

th

 century colonial America in this historical novel.