This is a transcribed, unedited, handwritten story from a WPA writer. Some of the words used in this article may not be appropriate today, but please consider the time it was written.
The Legend of Pulpit Rock and other stories
written ca. 1936
This rock 2200 feet high, is situated in Cheaha State Park, twenty-two miles S. E. of Anniston.
An Indian maiden hurled her faithless lover from the summit into a deep ravine below, there cast herself after him.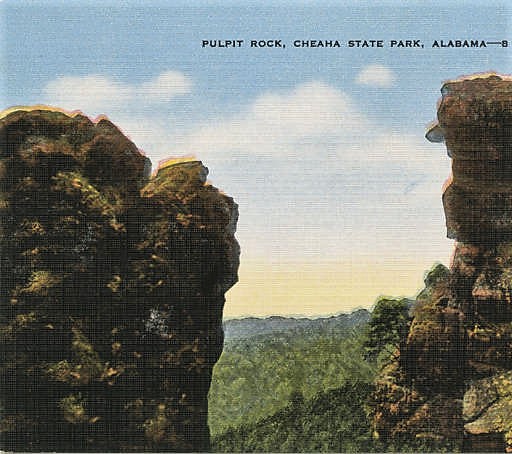 Pulpit Rock, Cheaha State Park, Alabama postcard ca. 1930 (Alabama Department of Archives and History)
Legends explain how many things originated
Indian legends tell how the world originated; also fire, corn game, disease, medicine, the moon, thunder, etc. Origin of milky way: Some people had a corn mill from which they found one morning that their meal was being stolen in the night. Finding tracks of a dog nearby, and suspecting who the thief was, they watched the next night, and when the dog came and began to eat the meal from the bowl, they sprang out and gave the dog a severe beating. As he ran off howling to his home in the north, the meal dropped from his mouth, leaving a white trail where now we see the Milky Way, still called by the Indians, "Where the dog ran."
Animals figure largely in Indian legends and among the stories and folklore of the southern negro.
Many superstitions come from Africa
There is much from Africa in superstitions.
It was with a knowledge of the superstitions of the negro that the K. K.K. was successful. Even now, many colored people upon hearing an owl hoot throw salt in the fire to divert bad luck, while others tie a knot in a towel and hang it outside the door, or even in the night, get up and turn one of their shoes upside down. (This [story]was given by Ida Walker, still living in Jacksonville (1936) who was a slave in the Walker home where Dr. C. W. Daughette now lives.)
The old Weems home in Jacksonville, three blocks south of the square on N. Pelham Road, is said to be haunted. Another house in Jacksonville is said to be haunted because the man who was living in it, cut some wood or dug a ditch on Sunday.
Secret burying place of Indians
One of Gen. Forney's slaves, Millie now dead, played with the Indian children, ate some of the Indian's cooking which she said was more delicious than anything the colored folks cooked, became quite friendly with them and was told their secret burying place, pledging her to great secrecy. They told her that if she ever told it she'd be "haunted." She never told. (Mrs. Annie Forney Daughette).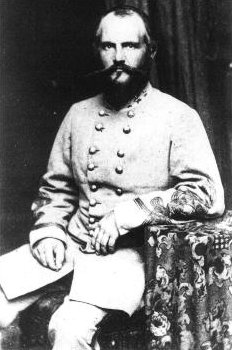 Confederate Gen. John Horace Forney (Wikipedia public domain)
One of the favorite old-time dishes of the colored folk is "cush" which is made by crumbling cold corn bread, moistening it, mixing with a little minced onion and black pepper, then frying in bacon fat.
They gather poke for greens in spring, cooking it with plenty of grease, after first parboiling and draining off water.
They also gather wild onions very early in spring, cut them in small pieces and fry them.
During the 1930s, Great Depression era, many writers were employed to interview people and write stories about life in the United States. The program was named the U.S. Work Projects Administration, Federal Writers' Project and it gave employment to historians, teachers, writers, librarians, and other white-collar workers. 
Faith and Courage: 2nd edition -A Novel of Colonial America 

Inspired by real people and actual events, the family saga of colonial America continues with Ambrose Dixon's family. Faith and Courage

presents

the religious persecution of Quakers in Pre-Revolutionary War days of America intertwined with a love story.