ALABAMA IN MEXICO WAR
Letter to
DR. W. S. WYMAN
From
S. F. NUNNELEE
(Written June 14, 1906)
Mexico War Correspondence, Military Records Division Department Archives and History)
Part 2
A few days after the Regiment got settled down to work, Maj, Fenner, "Brigade Merchant" arrived with a huge tent and several thousand dollars worth of goods, nick-nacks, etc, to sell to "the boys." He was a large, portly man, (from N, O. I believe) and merchant like, solicited trade, and in less than a week, the "roughs" made a raid on his "Shebang" one night and helped themselves. Next morning it was not necessary to be close up to hear him "cuss". His epithets were long & loud.
After the last detachment of Gen. Taylor's army left the Quartermaster's Depot, on the opposite bank of the river our Company, (Eutaw Rangers) was detailed to guard the half million dollars' worth of Army Stores gathered there, in charge of Captain Wm. Tecumseh Sherman as commander of the Post. This was a hard service for us, but (being a crack CO) we were glad of the honor, though, it involved great responsibility and hard service. (I should have stated above, when this detachment left, our Commissioned Officers held an indignation meeting, protesting against being left out of the advancing column to Monterey, claiming that our Regiment was senior to the Mississippians, who had just gone forward; and it was a hot old meeting too. It was charged by some of the Speakers that the cause of our being left was the inefficiency of some of our Field Officers; and suggested that they ought to resign. But it was replied, that "we might go farther and face worse"-for who might not be appointed-& who was competent, among the Captains. A protest was made, however which fell flat.)
William Tecumseh Sherman (Library of Congress)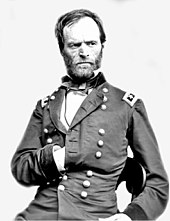 There were frequent reports that the Mexicans were lurking in the neighborhood for the purpose of capturing the Post. This resulted in an amusing "false alarm". Firing began across the River (on the Encampment side (by whom we sentinels at the Post rightly judged a company of Texas Cavalry.) That raised a hellow-bellow in our regiment. We could hear the perfect Babel of inquiries and exclamations, such as "where's my hat", where's my shoes" where's my gun"-"my ram-rod is gone." "The colonel's mare is on fire", etc. (They had been burning brush heaps) Amid this confusion and excitement, Capt. W. T. Sherman, visited the Post Sentinels, exhorting them, (with evident fear and alarm) to "keep cool"—"don't be scared" "there are millions of dollars worth of supplies confided to our keeping", said all this to the writer who replied "why, Captain, if I was half as badly frightened as you seem to be, I would take to the woods."
I have never since that night (boy as I then was) been able to divest myself of the idea that Capt. W. T. Sherman was, physically, a coward and at Columbia, his conduct was such that (in my judgment) stamped him both as a physical and a moral coward. War should not, necessarily, degenerate into inhuman savagery & murder. There were no military necessity for the bumming of Columbia, S. C.
Gen. Zachary Taylor (Alabama Department of Archives and History)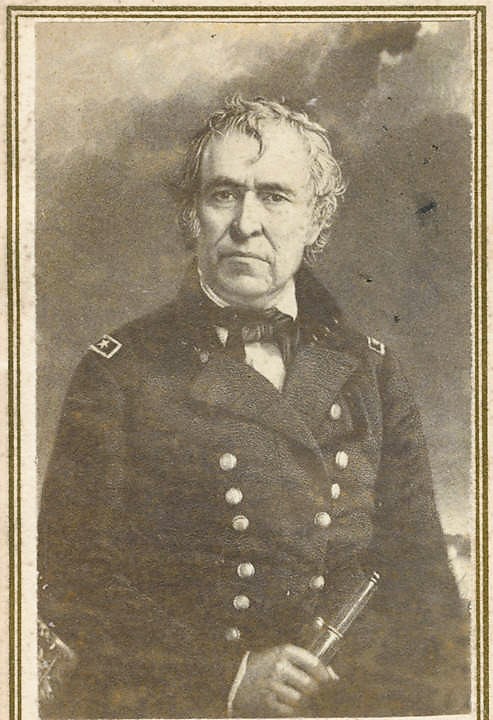 In the few days after this alarm a wagon and pack train arrived and the stores were shipped to General Taylor's army, who had won a glorious victory at Monterey and Saltillo, and we were ordered back to the Regiment, to be perfected in the school of soldiers a la McCoul's (?) Militia tactics. Camp life, with no prospect of being ordered to the front, is very demoralizing to less than half equipped, .half drilled soldiers, and it was not difficult for the men to become disobedient to orders. Men would disabuse the privileges granted, and others would slip through the lines and roam at will through the country and depredate upon private rights. Two Tennesseans were murdered some miles from camp, and orders were issued that no permits were given and roll calls should be had several times during the day. This was very unpopular, and when the drum for roll calls a general howl went up in all the regiments (more for fun than anything else. Stringent orders were issued against this which made things worse.
Gen. Gideon Pillow (Alabama Department of Archives and History)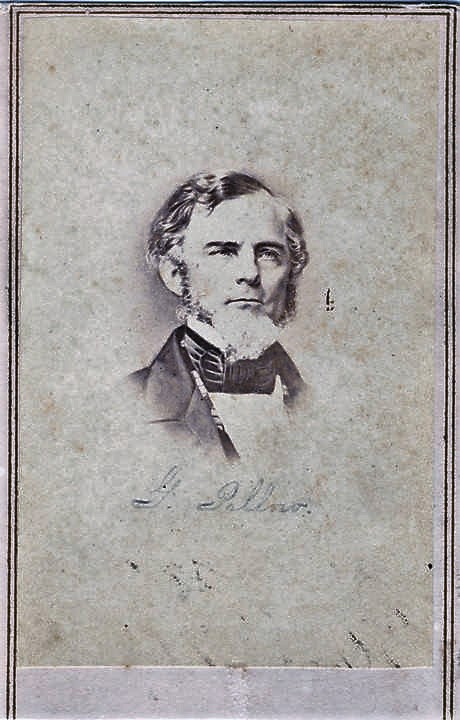 One evening, Gen. Pillow had our regiment drawn up "in close column by divisions" and made a pompous, indiscreet speech full of vanity and reproaches. He dismissed the companies to the non-commissioned officers, and made the officers a talk all about the same thing. When roll call was finished the (mascot) the pet of our Company, Sung out "Three cheers for Corporal Pillow") and howling, cat-calls and assbraying followed, in at least two Regiments-Ala & Tenn. Gen. Patterson and he, had Waited to see what effect the speech & talk would have, and before silence ensued, Gen. Patterson, on his beautiful little black mare, made a dash for Col. Coffee's tent, up through our street, and inquired for the Colonel's tent.
The Pet half frightened out of his wits, ran forward and responded, "Here it is, General, here it is", (he thought he had been discovered as the originator of the Serenade) and he gave our Colonel a very fervid curtain lecture, which he took very meekly. He then dashed off and rejoined Gen. Pillow. As they cleared the line of sentinels, the Pet called for-Three cheers for Sergeant Patterson, and the serenade was encored. But the skirmish had a wholesome effect, as better order prevailed afterward.
Later on, about the middle of December, orders came to ship the Alabama regiment down the Rio Grande and thence to Tampico. Gen. Patterson honored us with his presence, and as we were about to go aboard, Capt. Moore requested the boys (privately) to give him a decent farewell. The Pet told him to be easy we would give it to him right. The General in a nice, advisory conservative Speech, made us a farewell talk from the upper deck, and as he concluded, the Pet called "Three cheers and a tiger, for Maj. General William Patterson" and they were given with a hearty good will. As the Boat shoved off, and headed down stream, our Battalion gave him another decent farewell cheer, as we went aboard. A few days after the boys conveyed word to the captain of the boat that we had not tasted a chicken since we left home, and it would be a special favor if he could strike a small snag near shore opposite a chicken ranch about dark, and put us ashore to cook supper. He told us to be good boys, and he would try and accomodate us.
Some 20 odd miles above Matamoras our Boat ran ashore, and as the darkness closed upon us, Kettle fires were blazing, and the Owls made a most fearful disturbance among the chickens of the town. Of course this was all wrong, but the temptation was great. Some of us paid cash for what we got. When we arrived at Matamoras next day, the American paper published there, had published a fearful onslaught or diatribe upon chicken thieves. But as the editor called no names, nothing more was said about the impetuous raid. That evening we left Matamoras by boat, and the next we slept on the sands of Point Isbell, where we landed the 4th of July previous. Here we remained a day or two, and finally took shipping aboard the Virginia, amid a raging storm which lasted through the night. At sunrise we saw one of Uncle Sam's lighters sink beneath the waves. We got away the next morning, which was Saturday, I think and landed at Tampico, about January 1st, 1847.
This is a very nice old town, situated on the Madaline River, (I think) about 6 miles from the gulf—with high beautiful mountains jutting up on the south bank, with a beautiful Bay Stretching up the river to the right. Here we remained till along in the last days of March batling with mumps and mosquitors. It is one of the best fish and duck markets I ever saw. When we arrived, being the advance of the Volunteers, we found everything very cheap. We bought the largest oranges I ever saw for a dime a dozen, and pineapples, fresh & juicy at mere nominal prices. Chickens and beef were very cheap. We lived well until other troops arrived, and then prices advanced all along the line.
Inspired by actual people and historical events of colonial America, "The Kingdom of Accawmacke" is revealed and secrets about America's history are discovered in this well-researched series. The story begins in 17th century England during the reign of Charles I and continues a family's journey to the eastern shore of Virginia and Maryland.
REVIEWS 
The exhilarating action & subplots keep the reader in constant anticipation. It is almost impossible to put the book down until completion, Dr. Don P. Brandon, Retired Professor, Anderson University, Anderson, Indiana
This is the first book I have read that puts a personal touch to some seemingly real people in factual events. Ladyhawk
Love books with strong women…this has one. Love early American history about ordinary people…even though they were not 'ordinary'…it took courage to populate our country. This book is well researched and well written. Julia Smith
A picture of love and history rolled into one. A step back in time that pulls you in and makes you a part of the family and their world. Ken Flessas
Each book's writing gets stronger, characters become real, the struggles and sorrows that laid the foundation for this country. Addictedtobooks
Not only is the story entertaining, it opens the eastern shore of the early Virginia Colony to the reader as a picture book….I know this story will touch many peoples' hearts. B. Thomas
At the age of sixteen, Mary and her husband, whom she barely knows, are forced to escape the only home they've ever known and settle in the primitive 17th century world of America where they shape their family's destiny for generations.