Little Tallassee, four miles above Wetumpka, was later on the farm owned by Howell Rose, and not far from where he built his house. This town had incidents of interest occurring about it.
The wealthy Lachland McGillivray had one of his principal stores there, and after making it the center of an extensive trade, he took up his principal residence there, and reared his family. His son, Alexander McGillivray, celebrated leader of the Creek nation, was born there in 1746.
Alexander McGillivray
(Note: The picture below is circulating as a picture of Alexander McGillivray per Wikipedia – but a comment from a AP reader, Patti Hall states that it isn't and has been disproved – see comment section below)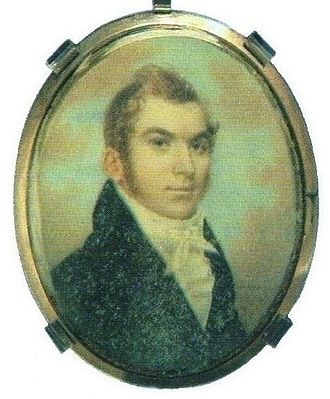 At an early age, his father received the consent of Sehoy, his wife, to send Alexander to Charleston to be educated. Among Indians, the wife had control of their children during minority. The youth learned rapidly, and returned a well-educated man. His father proposed to make a merchant of him and sent him to Savannah to learn about conducting mercantile affairs. His tastes were not in that line, but his stay in Charleston was of great advantage to him in his subsequently chosen career.
Returned to Little Tallasse
Returning to Little Tallasse while yet quite a young man, the condition of things was such that it suited the Creek nation to make him king by right of his mother's position among the tribes. He was born with a superior mind, and it had been very carefully cultivated. He was dignified, graceful, courteous, of broad views, but fully Indian in feeling. He was possessed of that quality, owned by few, the instinctive power to command. He was brave, but his ruling characteristic was diplomacy of which he was a master. He compares favorably with the most brilliant minds in that glittering galaxy.
He was a loyalist
During the Revolutionary War, he was an ally of the British with the rank and pay of a colonel. When the Spaniards possessed Mobile and Pensacola, they gave him the rank and pay of a colonel. The difficulties between the Georgians and Indians induced Washington to send for McGillivray, in 1790, to come to New York, where he was given the rank of a brigadier, and a stipend of $1200 a year to consent to the sale of an extensive tract of land to the Georgians for a small sum to be paid to the Indians.
This aroused the fears of the Spaniards who wished the trade of the Indians, and their alliance in case of war. They gave him the same rank, and increased the pay from $1500 to $3500, to render ineffective his agreement made with Washington. Several of the fine letters of diplomacy written by him about this period, which showed his consummate skill as a diplomatist, were sent from Little Tallassee. Perplexed by the complications into which his duplicity had involved him, he died in Pensacola, February 17th, 1793, and is buried there.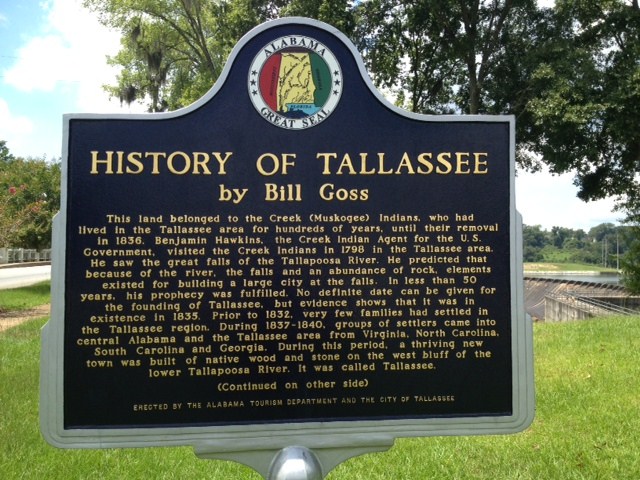 Little Tallassee was home of Leclerc Milfort
Little Tallassee was also the home of Leclerc Milfort for a period of twenty years, from 1776 to 1796. He was a Frenchman of courage, ability, culture, and military skill. He came to Little Tallassee and married a sister of McGillivray, a beautiful Indian princess. Such was Milfort's skill and influence over the warriors that he led them in most of the battles fought, especially with the Georgians, while his brother-in-law looked after the general affairs of the nation. In 1796, Milfort returned to France, and was made a General of Brigade by Napoleon.
He afterward wrote an account of his stay among the Indians, called "LaNation Creek." Colonel Willett, while on the visit to McGillivray in 1790, also came to Little Tallassee, and stayed for some time in his nice home at this place. Here he was feasted sumptuously on fish, venison, strawberries, and mulberries. From here, on May 12th, 1790, McGillivray and Milfort set out to meet the great council which had been called to convene at Ositchy on the 17th of May, 1790.
SOURCES
History of Coosa County, Alabama Chapter One By Rev. George E. Brewer from The Alabama Historical Quarterly, Vol. 04, No. 01, Spring Issue 1942
Would you like to know Thomas Jefferson's recipe for Vinegar of the Four Thieves or how to make Ox Tail Soup? Discover this recipe as well as many household tips from the past in