The first wave of migration to the Alabama area began in the Mississippi Territory around 1798. Around 4,500 people, including slaves, were living along the lower Tombigbee at the time. Many of these early settlers moved to the area to get away from the Revolutionary War taking place in the North.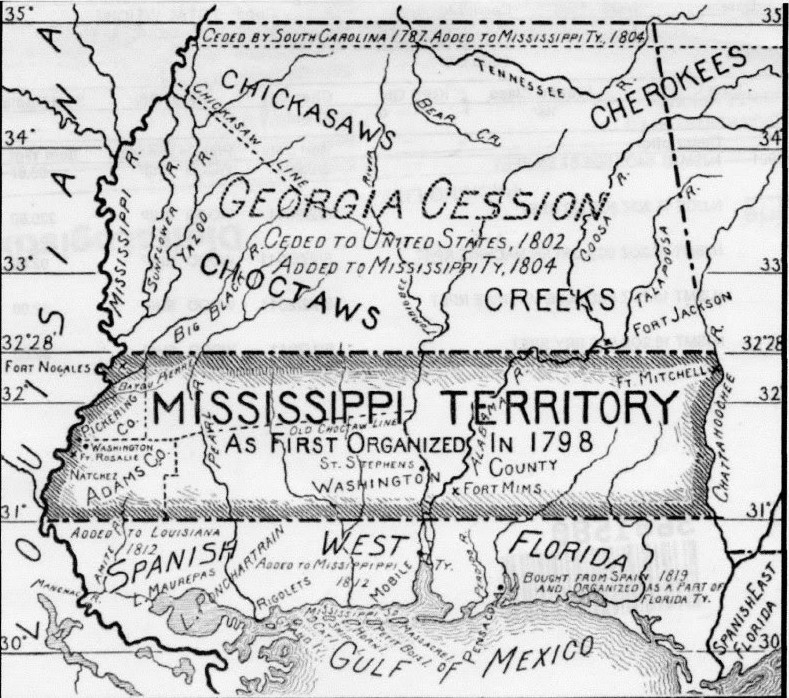 Map of 1798 settlement (Library of Congress)
Traveled by horse, wagon, boat and on foot
Immigrants traveled by horse, wagon, boat and on foot to the Territory. In 1808, a large number of people from the states of North Carolina and Tennessee settled north of the Tennessee River. The population was around three thousand.
"The majority of these early settlers were from good circumstances, and hence the aggregate of wealth was great. The immigrants brought with them all the means and appliances of civilized life—their ministers, their physicians, their merchants, their lawyers, and mechanics—and every department of business flourished."1 The settled regions in Alabama consisted of the three counties of Washington, Baldwin, and Madison. The total population was 3,481 white inhabitants.
Even the rich lived in log cabins
Even the richest families lived in homes of two log cabins which were divided by a hall and low attics.
Men often traveled alone. Their wives and children remained at home to be educated and attend to their plantations.
There was no shortage of men looking for wives. A lack of marriageable women resulted in young girls marrying around the age of sixteen.
First Alabama Schools
The first American school taught in Alabama was established by John Pierce, a native of New England at the Boat-Yard on Tensas River. In 1811, the first academy was incorporated by an act of the Territorial Legislature. This was Washington Academy at Saint Stephens in Washington County on the Tombigbee River. Green Academy was incorporated at Huntsville in Madison County and flourished for fifty years.
In the early days, the Mississippi Territorial Treasury appropriated one thousand dollars for the benefit of Washington Academy and Green Academy.2
During the War Between the States, some buildings of the two schools were burned by the United States troops. Afterward, the schools merged with the public school system of the city of Huntsville.
Newspapers
The first newspaper published in Alabama was established in Huntsville by a Mr. Barham in 1812. Thomas Eaton, who became the first public printer of Alabama Territory, established a paper at St. Stephens in 1814. Mobile's first newspaper was printed by a Mr. Cotton in 1816, and Thomas Davenport printed a paper in Tuscaloosa in 1818. In 1820, newspapers were printed in other parts of the State as follows: one in Florence, two in Cahaba, one in Montgomery and one in Claiborne.3
1Saunders, James Edmonds, Early Settlers of Alabama, Part I, p. 43
2Circular of information, United States Bureau of Education Government Printing Office, 1889
3Deland, T. A. and Smith, A. Davis Northern Alabama Historical and Biographical, Illustrated, 1888: SMITH& DE LAND. Birmingham, Alabama, Chicago 1888 DOSOHUE 8 HENNEBERRY, PRINTERS And BINDERS, p. 44