This was a letter written to the Editor of the Columbus (Georgia) Sun on June 16, 1858, from General, Thomas S. Woodward about the recapture of a woman named Mrs. Stuart from the Native Americans in Alabama. 
From the Columbus (Georgia) Sun 1858
Eds. Summary:
In the spring of 1818, the writer was in Gen. Jackson's army, in Florida, consisting of near 4,000 men, including regulars commanded by Gen Gaines; Georgia militia commanded by Gen. Glascock; the Tennessee horsemen and friendly Indians under Gen. McIntosh., Major Thomas Woodward and Captain Isaac Brown had a kind of joint command with McIntosh over the Indians.
While marching on between St. Marks, and Sewannee Town, distance about one hundred miles, on Sunday, the 12th day of April, we discovered fresh signs of Indians. Gen. McIintosh, with his command of Creek Indians, pursued them. The main army, as was our habit, lay down in the grass to rest and await McIntosh return. Very soon McIntosh overtook them, and the battle commenced in hearing of us, probably a mile off. We could hear the firing of guns, which continued for some time.
An Indian, on foot, running, crying out, at the top of his voice,
"Captain Jackson, Captain Jackson."
Well I remember an express borne from McIntosh. An Indian, on foot, running, crying out, at the top of his voice, "Captain Jackson, Captain Jackson." As he passed us, we pointed to Old Hickory, who soon dispatched a company of Tennessee mounted men to aid McIntosh. The battle was finished ere they reached him. McIntosh and Woodward soon returned to our camp with their prisoners, consisting of women and children, and a white woman to our surprise. This woman is still living in or about Fort Gaines. She was then Mrs. Stuart, and afterwards married John Dill, of Fort Gaines, who died a few years since.
For the particulars of her capture by the Indians and recapture by McIntosh and Woodward, I refer to the enclosed letter, which I have just received from Gen. Woodward, which, if you think of sufficient interest, please copy in full, or make such extracts as you choose. Since receiving this letter from Gen. Woodward, I have hunted up my diary, kept during that campaign, and have made the above extracts.
—————————————————————————————————————————-
Wheeling, Winn Paarish, LA.
June 16th, 1858.
COL. JOHN BANKS:
Dear Sir: Your letter of the 27th ult. is as welcome as it was unexpected. Anything from those I knew in early life is consoling to my feelings in my present lonely situation, particularly when it contains such kindly expressed feelings for my welfare here and my happiness hereafter. In your P.S. you say I may have forgotten you. Your name is a familiar one to me, and it is possible I may not know which one of that name I am writing to, but it would be treating unkindly one of the best memories that man ever had to doubt it. If you are the John Banks I think I am writing to, you were born in Georgia, and the same county I was, Elbert.
In 1818 there were two companies of soldiers from Elbert county, Ga., one commanded by Capt. Mann; the other by Capt. Ashley. You were a Lieutenant in one of them. I remember the trip to Fort Early that you speak of, as I do most of what occurred in that Florida expedition. That was a little over forty years ago.
Site of Fort Early, Georgia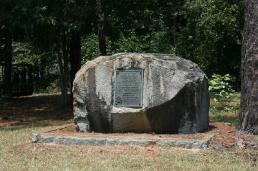 Mrs. Stuart's – Mrs. Dill's – Mrs. Brown's history
The names you mention in your letter are as familiar to me as my own. The two women whose names you mention, if the incidents connected with their lives were as well known to some as they are to myself, would afford material for a very interesting book. Mrs. Stuart (now Mrs. Dill) you saw when Capt. Brown and myself carried her to your camp; you know something of her history — at least you know something of her being a captive among the hostile Indians. And as I have nothing to do to-day, and you live in Columbus among many of my old acquaintances as well as relatives, and perhaps some of them would be willing to hear that I am living at least, I will give you a little of their (Mrs. Dill's and Mrs. Brown's) history.
In 1816 anti 1817, the Florida Indians were doing mischief, and the Government found it necessary to keep troops quartered on the borders of Florida. Fort Scott and Fort Huse were erected to protect the settlers in Early county, Georgia. That was then a new and thinly settled country. The command of the troops was given to Colonel Arbuckle. He had frequent skirmishes with the Indians, under the control of Chitto-Fanna-Chula or old Snake Bone, but known to you and the whites generally as old Ne-He-Mathla. The present gallant General Twiggs was then a Brevet Major in the 7th Regiment of Infantry, and was generally the foremost in those skirmishes.
Mrs. Stuart was among those on board
Supplies for the troops had to be carried from New Orleans and Mobile by water. A very large boat with army stores was started from Mobile Point under the command of Lieut. Scott. Mrs. Stuart was among those on board; her husband, a Sergeant, and a fine looking man at that, had gone with the troops by land. The boat, having to be propelled by oars and poles, was long on the trip, and by this time the war had completely opened. The old hostile Creeks, from various portions of Florida, were engaged in it; among others the two Chiefs you saw hanged at St. Mark's — Josiah Francis and Ne-He-Mathla Miccoa. They headed a party and watched the boats.
The Indians fired on them
As those on board were hooking and jamming (as the boatmen called it) near the bank, and opposite a thick canebrake, the Indians fired on them, killing and wounding most of those on board at the first fire. Those not disabled from the first fire of the Indians made the best fight they could, but all on board were killed except Mrs. Stuart and two soldiers Gray, and another man whose name I have forgot, if I ever knew it; they were both shot, but made their escape by swimming to the opposite shore.
I must here mention a circumstance that occurred on board the boat at the time, which I learned from one of the men who escaped, and also from some of the Indians who were present. There was a Sergeant named McIntosh, a Scotchman, on board, whom I knew well. He was with Colonel, afterwards General Thomas A. Smith, before St. Augustine, Fla., in 1812, and a Sergeant in Capt.. Woodruff's company, at the beginning of the war of 1812, and was a favorite among officers and soldiers. He was an own cousin of the Indian General McIntosh you knew, whose grave you say you not long since visited.
Portrait of William McIntosh, chief of the Lower Creek Indians in Georgia
Painting at Alabama State Archieves is attributed to Nathan and Joseph Negus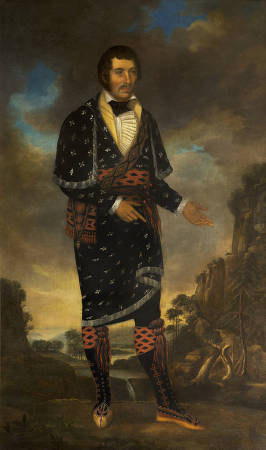 Sergeant McIntosh was a man of giant size, and perhaps more bodily strength than any man I have known in our service. When he found all on the boat were lost, and nothing more could be done, he went into a little kind of cabin that the Lieutenant had occupied as his quarters, in which was a swivel or small cannon; loaded it, took it on deck, and resting the swivel on one arm ranged it as well as he could, and (the Indians by this time were boarding the boat) with a fire-brand, he set off the swivel, which cleared the boat for a few minutes of Indians. At the firing of the swivel he was thrown overboard and drowned, and this clearing of the Indians from the boat for a short time gave Gray a chance to escape.
Mrs. Stuart was almost lifeless
Mrs. Stuart was taken almost lifeless as well as senseless, and was a captive until the day I carried her to your camp. After taking her from the boat, they (the Indians) differed among themselves as to whose slave or servant she should be. An Indian by the name of Yellow Hair said he had many years before been sick a or near St. Mary's, and that he felt it a duty to take the woman and treat her kindly, as he was treated so by a white woman when he was among the whites. The matter was left to an old Indian by the name of Bear Head, who decided in favor of Yellow Hair. I was told by the Indians that Yellow Hair treated her with great kindness and respect. I never asked her any questions as to her treatment, and presume she never knew me from any other Indian, as Brown and myself were both dressed like Indians. We knew long before we re-captured her what band she was with, and had tried to come up with them before.
The most tiresome march I ever made was one night in company with the present Gen. Twiggs. He with some soldiers, and I with a party of Indians, trying to rescue her at old Tallahassee, but the Indians had left before we reached the place. I shall never, while I live, forget the day we took her from the Indians. Billy Mitchell, a son of the then Indian agent, Brown, Kendall Lewis, John Winslett, Sam Hail and myself, were the only white men that were with the Indians, except old Jack Carter my pack-horseman.
The white men I have named and the Hitchetas trader Noble Kenard, and the Uchees under Timpoochy Barnard, commenced the fight.
Timpoochee Barnard
From page 25 of HISTORY OF THE INDIAN TRIBES OF NORTH AMERICA by Thomas McKenney and James Hall, 1838 – Alabama State Archives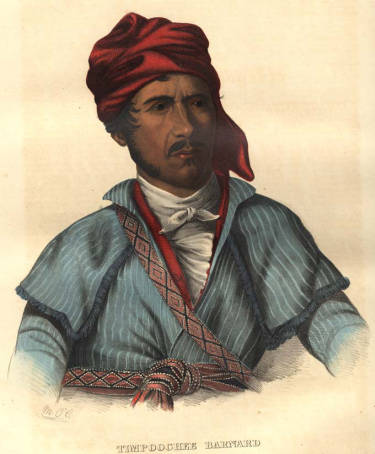 Shortly after the firing commenced, we could hear a female voice in the English language calling for help, but she was concealed from our view. The hostile Indians, though greatly inferior in number to our whole force, had the advantage of the ground, it being a dense thicket, and kept the party that first attacked at bay until Gen. McIntosh arrived with the main force. McIntosh, though raised among savages, was a General; yes, he was one of God's make of Generals. I could hear his voice above the din of firearms — "Save the white woman! save the Indian women and children"
All this time Mrs. Stuart was between the fires of the combatants. McIntosh said to me, "Chulatarla Emathala, you, Brown and Mitchell, go to that woman." (Chulatarla Emathala was the name I was known by among the Indians. ) Mitchell was a good soldier and a bad cripple from rheumatism. He dismounted from his horse and said, "Boys, let me lead the way." We made the charge with some Uchees and Creeks, but Mitchell, poor fellow, was soon left behind, in consequence of his inability to travel on foot.
She was sitting among a few dwarf cabbage trees
I can see her now, squatted in the saw palmetto, among a few dwarf cabbage trees, surrounded by a group of Indian women. There I saw Brown kill an Indian, and I got my riflestock shot off just back of the lock. Old Jack Carter came up with my horse shortly after we cut off the woman from the warriors. I got his musket and used it until the fight ended. You saw her (Mrs. Stuart) when she reached the camp, and recollect her appearance better than I can describe it.
You say you have seen the old lady, the mother of Isaac Brown. I never saw her but once, and that was in Twiggs county, Ga., about the last of February, 1818. It was at her own house. I called there to get Isaac to go with me into Florida, as I had been ordered by General Jackson to collect as many Indians as I could and join him at Fort Scott. Isaac had no horse that was suitable for the trip. I left my horse with Gen. Wimberly, and we took it on foot to Fort Early, trusting to Providence for horses after that. When we were about to leave, the old lady said, "Isaac, my son, the Indians killed your father, and may kill you, but I had rather hear of your being killed than to hear that my son had acted the coward." This is all the acquaintance I ever had with the old lady; but I have had her history from many that knew her well.
Mrs. Brown drew her lifeless husband into the house
When Issac was an infant, his father, who was a fearless man, crossed the Oconee river near what is known as the Long Bluff. The Oconee was then the line between the whites and Indians. Brown built him a house, and was preparing for stock raising. He always kept on hand a number of loaded guns and some fine dogs.
One morning about daylight his dogs commenced barking; he opened the door to look out and was shot dead by an Indian, who had secreted himself near the house. At the report of the gun, the Indians raised the yell. Mrs. Brown drew her lifeless husband into the house, shut the door, and commenced firing at the Indians, and succeeded in driving them off. They soon returned, and set fire to a board shelter attached to the house. She climbed up the wall on the inside; and with a basin of milk extinguished the fire; and while in the act of pouring the milk on the fire, with her arm projecting through the log, the Indians shot at and broke her shoulder.
She succeeded the second time
With one arm and the aid of a small boy, the son of one James Harrison, she succeeded the second time in driving the Indians away. She then escaped across the river with her children. A company was collected and repaired to the house, and they said it had not been a sham fight for they found the white man in the house shot dead, and not far from the house two dead Indians, and not far from their trail were discovered signs as though they had been dressing wounds. Now you can account for Lexington and his half-brother, Lecompte, being race horses — it's in the blood.
The boy that was with Mrs. Brown, was the son of James Harrison, who was a man of great daring and had suffered much from the Indians, and they in return had suffered much from him. He was the man who killed the father of the present speaker of the Creeks, Hopopthleyoholo, and was known to the Indians as Epha Tustanugga, or Dog Warrior, and to the whites as Davy or David Cornels.
Ho-po-eth-le-yo-ho-lo was a Creek Indian chief.
From page 7 of HISTORY OF THE INDIAN TRIBES OF NORTH AMERICA by Thomas McKenney and James Hall, 1834, Alabama State Archives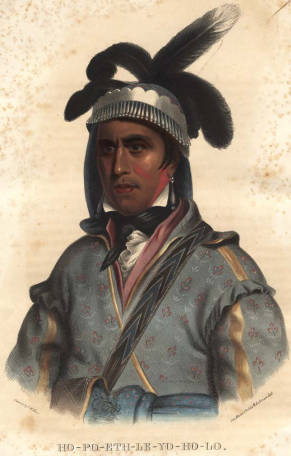 Davy Cornels, I suspect, was the cause of more mischief done to the whites by the Creek Indians than any man that ever lived in the nation. He was troublesome during the Revolution and long after.
Davy Cornels sent word he wanted peace
While Seagroves was agent, Cornels sent him word that he wished to be at peace, and would meet him at Colerain, not a great way from St. Mary's. Seagroves unfortunately let it be known that he was expecting a visit from Cornels. Harrison heard of it, collected a few men, and I suspect Brown's father among the rest. All had suffered long and much from the depredations of Cornels and his men; they knew his path; they watched it closely, and one day as he approached them with a white flag, Harrison killed him. So ended the life of the most bitter enemy the whites ever had among the Creek Indians, Sowanoka Jack excepted.
By the time you get through what I have here scribbled, I reckon you will be a little cautious how you write to your old Indian acquaintances who have little else to do than sit and think over old times. You say you reckon I am now an old man; you are right. Time, the common leveler of our race, has not passed me unnoticed, and according to the course of things it will not be a great while before I am turned over to the terror of kings. If you see Jack or Thacker Howard, tell them I am living. May you live as long as suits your convenience.
Respectfully,
T.S.W.
Some stories include:
The true story of the first Mardi Gras in America and where it took place
The Mississippi Bubble Burst – how it affected the settlers
Did you know that many people devoted to the Crown settled in Alabama –
Sophia McGillivray- what she did when she was nine months pregnant
Alabama had its first Interstate in the early days of settlement