(Transcribed excerpt from HISTORY OF JACKSON COUNTY, ALABAMA
by John Robert Kennamer, Decatur, Al 1935:
Condensed by Josephine Lindsay Bass on July 26, 1996
DOCTORS AND LAWYERS
Medicine was provided to the early settlers at no fee by its own old lady or gentleman, who prescribed barks and roots or bled people and pulled teeth.
Dental Extraction Forceps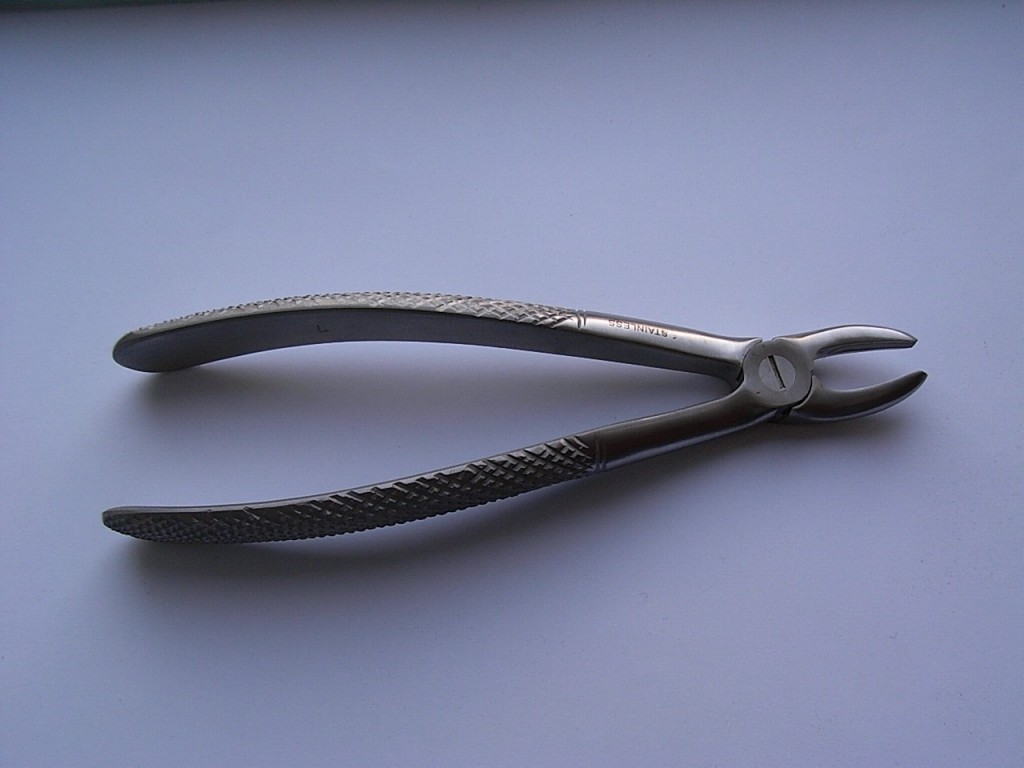 Described by his grandson as an educated doctor who attended medical school, his remedies consisted of the known processes of the day. He bled, blistered, vomited and purged his patients, and this was about all he knew to do. He did not have ether or chloroform.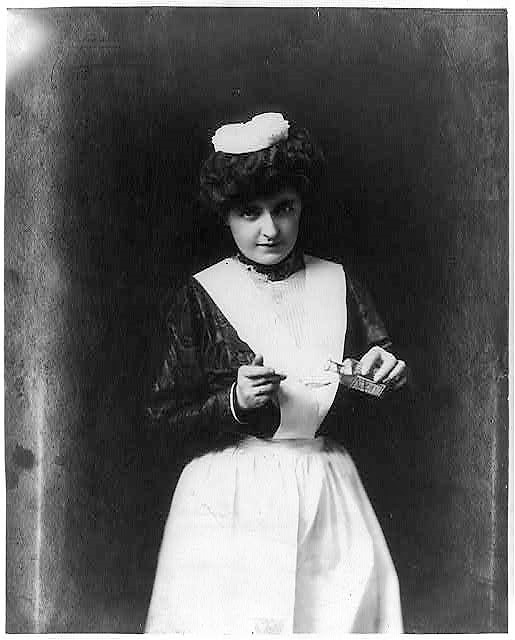 Woman in nurse's uniform holding spoon and bottle – 1907 (Library of Congress)
Early doctors in Jackson County, Alabama
Dr. William Mason (1809-1899) was born in Virginia, came to Jackson County when quite young and married Miss Elenor Cowan, daughter of Samuel Cowan. He was the first cousin of General Winfield Scott. He practiced medicine as long as he lived. Before the Civil War, he lived near Stevenson where he has a handsome residence, which was destroyed during the war. After the war, he lived in a modest cottage on South Coon Creek near Fabius. A charter member of the Bolivar Lodge of Free Masons, and with Charles Jones rode to Tuscaloosa on horseback to get the Charter for that lodge.
Other medical doctors during this period were: Dr. David Sterne, Dr. P. H. Helton, and Dr. Barton Brooks Smith, who was the second son of Brooks Smith, who came from Ireland to Virginia and then to Jackson county before the land was surveyed; Half-brothers Dr. Felix R. Grant, and Dr. J. O. Robertson; Dr. J. H. Boyd (1836-1899); Dr. Lafayette Derrick (1827-1897); Dr. James Knox Polk Rorex (1845-1909), his father was David Rorex, and mother Sarah A. Wilkinson he married Miss Ella Lou Whitworth, daughter of Wm. Whitworth; Dr. Francis Lee Dillard came from Lynchburg, Virginia, to Brownsville, Tennessee, and then went to Jackson, Mississippi. He moved then to Madison County, Alabama, and there married Miss Elizabeth Diggs Harris.
About 1836, they moved to Woodville, AL. He attended medical lectures in Louisville, Kentucky, owned 1200 acres of land. Jesse E. Brown married his granddaughter; T. Boyd Foster, born in Virginia and county surveyor for forty years, was the father of Dr. George W. Foster married to Miss Jennie Graham; Dr. Elisha L. Lee (b.1840) was born in Dunlap, Tennessee, married to Miss Millie A. BEAN. His father was Guilford Lee and his grandfather was John Lee (b. 1789), and his great-grandfather was William Lee of Virginia related to General Robert E. Lee He was also a partner with Dr. W. K. Spiller in the drug business; Dr. James M. Parks (1820-1900), who was in the Seminole war; Dr. Richard W. Jones (1821-1886) born in Virginia and came to this county when a boy. He graduated from West Point and was Captain of Company F, known as the Jackson Hornets in John R. Coffey's regiment in the Mexican war; Dr. Jack and Dr. David B. McCord were brothers, the latter served sixteen years as county treasurer.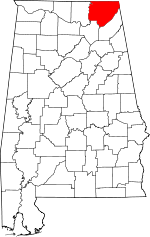 Judges covered large circuits traveling from county to county
For many years after the County was organized, there was quite a bit of litigation, both civil and criminal, and the judges covered large circuits, traveling from county seat to county seat by carriage or on horseback. Many lawyers rode the circuit with the court. Some of the ablest lawyers had a large practice in several different counties.
Some of those lawyers who resided in the county and practiced at Bellefonte are: Benjamin Snodgrass, John H. Norwood, W. H. Norwood, John W. Parks, Hugh Lawson Parks (son of W. D. Parks and Lucinda Kirby), Henry C. Bradford (son of General Bradford of Huntsville), Nelson Robinson, H. C. Cowan, William Logan Martin  (Attorney General in 1873), Judge John B. Tally, W. J. Haralson of DeKalb Co., Lemuel G. Mead, Jasper J. Jones, Lawson C. Coulson, W. D. Campbell, R. W. Clopton, Joseph J. Gregory, Sam W. Tate, Richard Hunt, Virgil Bouldin (State Supreme Court), and Jesse Edward Brown (1845-1905).
The writer says that Jesse E. Brown was the greatest one. He was born in Caney Cove, Jackson County, AL. He enlisted at first in the First Arkansas Infantry at the age of 16. After the death of his older brother at Shiloh, he was discharged. He at once enlisted in the Fourth Alabama Cavalry, Company C, which was commanded by Captain Frank B. Gurley, where he served as a private. He was severely wounded in the battle of Noonday Creek, to the right of Kennesaw Mountain, Georgia, and his leg was amputated six inches above the knee.
After the war, he went to school at Georgetown, Kentucky, served in the 1872 Legislature, delegate to the Constitutional Convention in 1875, owner and editor of The Progressive Age, but his greatest work was in the practice of the law.
Stories include:
The Yazoo land fraud;
Daily life as an Alabama pioneer;
The capture and arrest of Vice-president AaronBurr;
The early life of William Barrett Travis in Alabama, hero of the Alamo;
Description of Native Americans of early Alabama including the visit by Tecumseh;
Treaties and building the first roads in Alabama.