Continued from Part II
(Albert James Pickett has been given the title of the first historian in the State of Alabama. Col. Michael Leonard Woods was his son-in-law. The following is Part III of a transcribed speech given by Col. Woods about his father-in-law to the Alabama Historical Society prior to 1904 when it  was reprinted in book form by the Alabama Historical Society)
PERSONAL REMINISCENCES OF COLONEL
ALBERT JAMES PICKETT
BY COL. MICHAEL LEONARD WOODs1
Montgomery (Alabama)
PART III
Returning to a consideration of the public work of Colonel Pickett, I note that he was the author of a report by the grand jury of Montgomery county at the spring term, 1845, of the Circuit court, Judge George W. Stone, presiding, presenting for the consideration of the legislature, among other matters, the passage of a law prohibiting the constant introduction of negroes from other States by traders for sale in this State.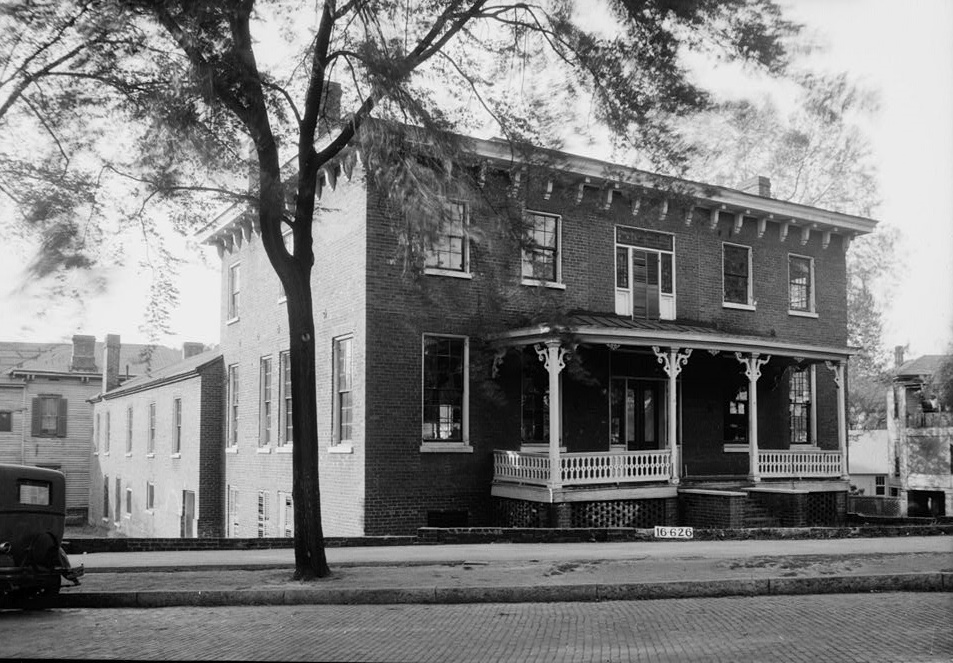 Albert J. Pickett home, 14 Clayton Street, Montgomery, Montgomery County, AL, later the Barnes School. (W. N. Manning, Photographer, April 19, 1934. FRONT -GENERAL VIEW – Library of Congress)
In September of that year, 1845, we find him addressing a communication to the grand juries of the State at the request of fourteen of the leading citizens of Montgomery county. They had advised him that they were well pleased with the views expressed in the grand jury report read by him to the court at the last spring term and requested him to publish his views in full upon the introduction of so many negroes into the State, which they viewed as most pernicious to our best interests. A copy of this address was to be sent to each grand jury in the State for their consideration so that they might speak out upon the subject in time to influence the approaching legislature. In this communication Colonel Pickett stated that he "simply proposed that the legislature pass a law prohibiting the introduction of negroes for sale here from other States, to be in operation for five years or longer."
This communication was the subject of general and, at times, acrimonious, discussion by the press and correspondents throughout the entire State. These comments and strictures drew from many persons, some in high authority, letters urging Colonel Pickett to continue the discussion of the subject, with the assurance of their approval of his views.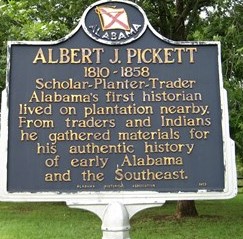 No political aspirations
In response to these requests Colonel Pickett, October 20, 1845, continued the discussion. It is worthy of mention that Colonel Pickett, at this time, in a note appended to the pamphlet copy of this paper, took occasion to say that he "had no political aspirations, nor did he ever expect to be influenced by such considerations, and that while his political opinions had nothing to do with the subject, inasmuch as certain writers and others had so frequently questioned his Democracy in order to satisfy their doubts upon that subject, he would say he was then and forever, in sickness and in health, in prosperity and in adversity, a pure, unadulterated, unsophisticated Jackson man," and that he cordially agreed "with that eminent person in every political opinion he ever held—in every military movement he ever made, and' in his whole career through life—both civil, religious, military and political." "His principles," he said, "are mine, and you can call me what you please."
In December 1846, and February 1847, be contributed most interesting and instructive articles to the Southern Cultivator, Augusta, Ga., upon the red lands of Alabama, which were of a practical character, and contained valuable information gained from the actual experience of the writer.
His History of Alabama well received
His History of Alabama, upon which he had been engaged since 1848, was published in 1851. Hon. Crawford M. Jackson, a man of much learning, in a Brief Biographical Sketch of Colonel Pickett, written early in 1859, says the history "was received with extraordinary favor by the public.
It attracted attention not only a home, but in other States, and was commented upon in terms of commendation and approval in Europe. The work is free from pomposity or ornate verbiage, but contains in a condensed and attractive form more valuable information in small space than is Often found in works much more pretentious and voluminous. It is a legacy to the people of Alabama of immense value."
Col. J. F. H. Claiborne, whom C. M. Jackson terms "the accomplished gentleman, erudite scholar and finished writer," late of Mississippi, thus spoke of it: "Colonel Pickett's History of Alabama, a work exhibiting the characteristics of its gifted and lamented author, scrupulous and laborious research, impartial statements, generous feelings, admiration for virtue and enthusiastic devotion to whatever concerned the fame and honor of Alabama."
Delivered annual address before Historical Society
His reputation as a historian having been established, Colonel Pickett was called upon to deliver the annual address before this Society. It was delivered July 12, 1854, at Tuscaloosa, the subject being "The Origin and Progress of History in the Eastern Hemisphere." By some of the newspapers noticing it at the time this address was entitled the "History of Historians," and by others the "Historians of All Ages." It was published in the Weekly Montgomery Mail, August 24, 1854.
Colonel Pickett also wrote in the latter part of 1854 a series of letters or essays addressed to a student of the University of Alabama, which were published in the Montgomery Mail, which were intended for the consideration of the young men of this State, "in whose welfare," he said, "he took the liveliest interest." These letters were characterized by careful study and much learning and were entitled "Hampden's Letters."
1'For a sketch of Col. Woods see the Alabama Official and Statistical Register, 1903, pp. 18-19.—Em'rox.