The Iron Bowl rivalry between Auburn University and the University of Alabama "has long been reckoned as one of the most heated, if not the most heated, of collegiate rivalries in the country."1
Since Alabama and Auburn played their first football game at Lakeview Park in Birmingham, Alabama on February 22, 1893, the matchup has been intense but the events that took place in 1957 brought the rivalry to a new level that would last for many exciting years.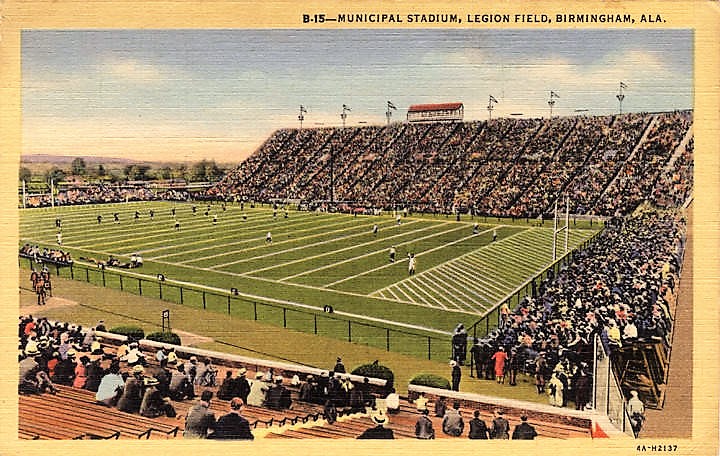 Legion Field, Birmingham, Alabama ca. 1940 postcard (Alabama Department of Archives and History)
Auburn won in a shutout in 1957
The December 1, 1957, headlines from the Gadsden Times screamed Auburn Blasts 'Bama With 40-0 TD Spree.
The story continued as follows:
Tigers Capture First SEC Title In Easy Romp
Undisputed No. 1 Spot in U.S. Seen
By Don Cox, Times Sports Editor
LEGION FIELD, BIRMINGHAM, Nov. 30 –
Mighty Auburn raked in all the chips here today before 45,000 shivering fans by pounding the once-proud Alabama Crimson Tide through the mud of Legion Field 40-0. The defeat was one of the worst ever administered in the series which was resumed in 1948, and virtually assured Coach Ralph (Shug) Jordan's Tigers their first national championship. It certainly gave the Plainsmen their first Southeastern Conference title. . .
The year 1957 was Ralph "Shug" Jordan's seventh year as head coach at Auburn. "Auburn was recognized as national champions by the AP Poll even though they were on probation and did not participate in a bowl game. Ohio State was named the national champion by the Coaches' Poll.This was the first of only two times in the history of the AP championship that it was awarded to a team on probation not allowed to participate in a bowl game (it would occur again in 1974 with Oklahoma)". 2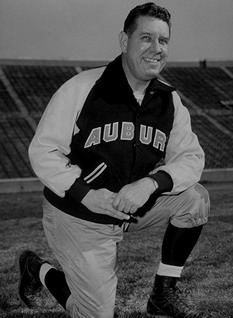 Coach Ralph (Shug) Jordan
Last year for Coach Whitworth of University of Alabama
In the football section of the Gadsden Times on December 1st, was a story with the headline Whitworth Era Ends At 'Bama. The Iron Bowl game on November 30th was the last game for Coach J. B. "Ears" Whitworth. The article by James W. Smith, Jr., Times Staff Writer, recorded his last day as follows:
LEGION FIELD, BIRMINGHAM, Nov. 30 – Darkness was seeping into this chilly, wind-swept stadium as the University of Alabama said goodbye to J. B. (Ears) Whitworth. This was his last day as head football coach at his alma mater, and it was the most heart-breaking of his three-year reign at the school where he won fame as a player, Auburn had just drubbed the Crimson Tide, 40-0, the biggest score posted against a 'Bama squad since 1951.
Whitworth bowed out with four victories, 24 losses, and two ties in three years. His contract expired at midnight. He did not ask for the contract to be renewed. . . (In the dressing room) Very little was said. Very little could be said. Alabama players think Whitworth is the "finest guy we ever saw." Whitworth thinks the 'Bama squad is "the swellest boys I ever coached."
As darkness descended on the now-empty stadium, an era ended.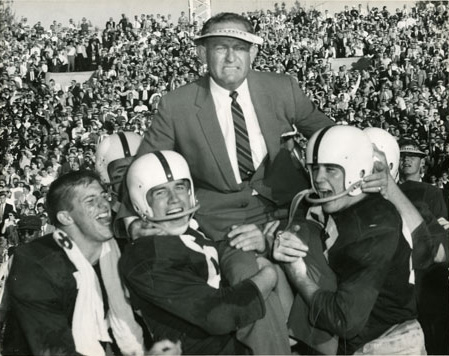 Coach J. B. (Ears) Whitworth
The Beginning of Coach Paul (Bear) Bryant era
Next to the article on the departure of Coach Whitworth in the same newspaper was a small article from Houston, Texas with the headline
No Announcement Forthcoming, Says Alabama's Choice
The article stated the following:
Texas A&M Coach Paul (Bear) Bryant said today "We're thrilled to death and highly honored to play Tennessee" in the Gator Bowl. Texas A&M was selected today to play Dec. 28 in Jacksonville, Fla. He said he had "no announcement to make at this time" concerning his rumored move to Alabama and added that he did not know of any announcement coming up in the near future. Bryant, who earlier said he did not know whether he would replace J. B. Whitworth at Alabama still has seven years left on his contract with Texas A&M.
At the close of the 1957 season, having compiled an overall 25–14–2 record at Texas A&M, Bryant returned to Tuscaloosa to take the head coaching position, succeeding J.B. "Ears" Whitworth, as well as the athletic director job at Alabama "The Tide was 5-4-1 in Bryant's first season. The next year, in 1959, Alabama beat Auburn and appeared in a bowl game, the first time either had happened in the last six years. In 1961, under his leadership, with quarterback Pat Trammell and football greats Lee Roy Jordan and Billy Neighbors, Alabama went 11–0 and defeated Arkansas 10-3 in the Sugar Bowl to claim the national championship."3

Coach Paul (Bear) Bryant
Both Coaches successful
Both coaches, Ralph (Shug) Jordan and Paul (Bear) Bryant, were so successful in their careers at their respective Universities that the college stadiums were named after them, Jordan-Hare Stadium in Auburn and Bryant-Denny Stadium in Tuscaloosa. The The Bryant-Jordan Student-Athlete Scholarship Program is also named in honor of these two great coaches – Coach Ralph "Shug" Jordan of Auburn and Coach Paul "Bear" Bryant of Alabama. Both of these men had high work ethic and strived to instill in students commitment and academics as well as athletics.
Discordance:: The Cottinghams (Volume 1)

Inspired by true events and the Cottingham family that resided in 17th century Somerset, Maryland and Delaware, colonial America comes alive with pirate attacks, religious discord, and governmental disagreements in the pre-Revolutionary War days of America. This Cottingham family's descendants migrated and settled in Bibb County, Alabama.