FROM OUR PATRON MEMBER ARCHIVES – this story is now visible to the general public  – Click to Become a Patron and see stories like this FIRST!
Comfort food for those afflicted with the flu often includes Chicken Soup – Here are three recipes from the past for Chicken Soup – Serve it with your favorite Corn Bread recipe
Do you have a favorite recipe? Share it in the comments below
OLD-FASHIONED CHICKEN SOUP
(Transcribed from The Coosa River News, Centre, Alabama September 2, 1892)
For this soup you may take the very oldest and toughest of hens, requiring nothing save that she be very fat. Cover this fowl with cold water and put to simmer in a deep, covered pot over a slow fire. After an hour add half a cup of rice, two Irish potatoes sliced very thin, a lump of butter the size of a turkey egg, a bunch of thyme and parsley. Boil rapidly until the fowl falls to pieces, then add a cup of cream, pepper and salt to taste and three sliced, hard-boiled eggs. – Atlanta Constitution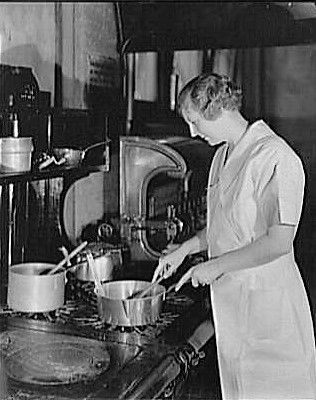 (Transcribed from The Marion Times-Standard, Marion, Alabama September 20, 1882)
CHICKEN SOUP – Roast or bake a chicken until turning brown; put it in a soup-kettle with three pints of water, and set on a slow fire; skim off the scum; add a middling-sized onion, a little celery, and simmer about three hours; take out the chicken and vegetables, strain, and use: the chicken may be used for salad.
Transcribed from The Troy Messenger, Troy, Alabama, July 3, 1884
CHICKEN SOUP – One Chicken jointed, two and a half pounds of beef cut into strips, two onions, two turnips, one-half cup of sago, pepper and salt; chop onions and turnips; put all to boil in seven quarts of water. Take out meat and put into a jar. Strain soup through a sieve. Cook two hours.