Oakman Male and Female College
The citizens of Oakman in Walker County, Alabama did not let a fire defeat them. In the 1890s, they built an elegant school building, the Oakman Male and Female College, only to have it destroyed by fire before it was occupied in
Instead of lamenting their loss and giving up, they simply built another to take it's place.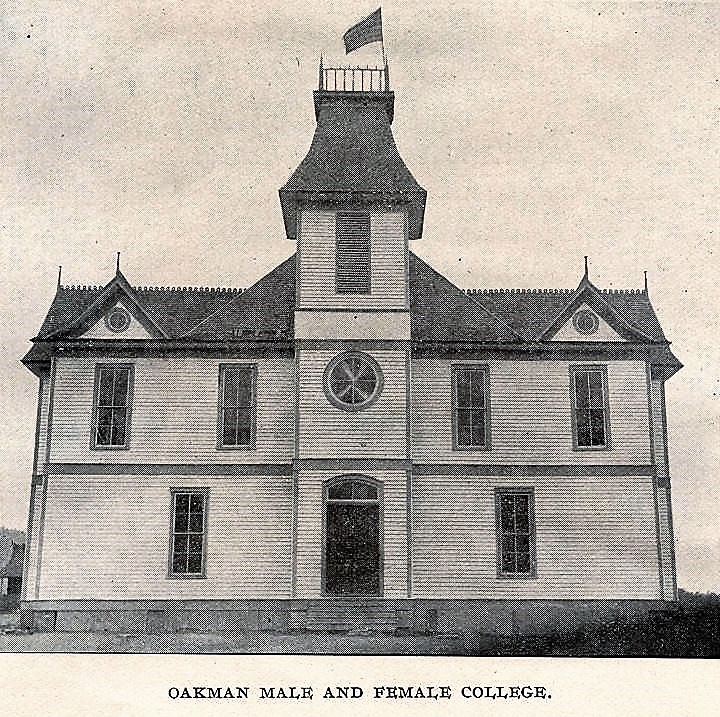 Oakman Male and Female College in Walker County, Alabama (Alabama Department of Archives and History)
Oakman was once named Day's Gap
The town of Oakman is located in the southwest corner of Walker County between Jasper and Tuscaloosa. It was initially named Day Gap or Day's Gap after the first settler, W. B. Day, who came in 1862 and settled at the lowest point in the mountainous ridges that surround the town, and through which the railroad ran. When the post office was established in 1884, it was first called York, but the Post Office Department in 1890 changed the name to Oakman in honor of W. G. Oakman, one of the Sloss-Sheffield Iron & Steel Co.1
There are two interesting stories why the town was renamed, Oakman. It is said that sometime around 1888 when a man named Oakman came to Days Gap on the train, he offered the town officials $10,000.00 to change the town's name to Oakman. After a little consideration, the town's officials decided to accept the offer and the name was changed that very day.2 The other story is that the town is named after W. G. Oakman of the Sloss-Sheffield Iron and Steel Company.
"With the coming of the railroad, the community sprang into immediate prominence as a distributing point for the entire county. A stagecoach route was operated to Jasper, South Lowell and Birmingham, and it was seriously considered making Oakman the county seat."3 The town soon had five saloons and many shops.
The town was incorporated on February 18, 1895, with the name of Oakman. The total area of Oakman is only 3.1 square miles and it is one of only four towns in Alabama with perfectly round city limits. The corporate limits described a circle, with a radius of 1 mile from the old public well as a center. At the time it had a city hall, 1 mile of concrete sidewalks and school buildings as well as a bank, 3 cotton ginneries, 2 gristmills, a shingle mill, a sawmill, a planing mill, a cotton warehouse, and 2 coal mines. Oakman was the first town in Walker County to install telephone lines.
Other early settlers4 include:
Thomas Davis, who was born on Cane Creek, near Oakman in 1826
Tinson Shepherd, who settled on a nearby farm in 1827
John Key settled on Lost Creek, northwest of Oakman, in 1824
Hugh Lollar settled near Providence Church , a few miles east about 1820
Reason Courington settled before 1832
John Washington Gurganus settled near Oakman about 1830
William Jones resided on Cane Creek, in 1838
Morris Family was on Lost Creek before 1839
Elijah Blanton was born at Wolf Creek, near Oakman in 1846
Isaac Brown was born on Lost Creek-
William Swindle settled in the 1840s
Samuel H Simpson settled in the 1840s
William Cobb settled in 1840s
Samuel Tubbs settled nearby in 1840s
Robert Palmer was settled on Wolf Creek in 1859.
Mortimer Corry was an early settler
John Key was on Lost Creek by 1833
David Blanton was a settler by 1833.
Today, the Old York USA Heritage and Music Park in Oakman includes 20-period buildings and includes the first post office in Oakman. Reconstructions surround the 1852 home of the Corry family, who engaged in farming, timbering and coal mining on the homestead lands.
NOTE FROM JOEY SMITH: Great site! Just a slight correction to the article Donna Causey wrote on the Oakman Male and Female College. One of the early settlers was my 4th Great Grandfather, John Key, and it states he settled NW of Oakman on Lost Creek in 1824 when in fact it was NE and 1820. I have a copy of the original land patent for this issued by President John Q. Adams in 1820. Thanks!
ALABAMA FOOTPRINTS Confrontation:: Lost & Forgotten Stories 

Prior to statehood, Alabama was a vast wilderness with a large Native American population. It is only natural that when new immigrants from other states arrived, conflicts over the land would arise. Soon, these small conflicts exploded into war. Alabama Footprints Confrontation is a collection of lost and forgotten stories that reveals why and how the confrontation between the Native American population and settlers developed into the Creek-Indian War as well as stories of the bravery and heroism of participants from both sides.
Some stores include:
Tecumseh Causes Earthquake
Terrified Settlers Abandon Farms
Survivor Stories From Fort Mims Massacre
Hillabee Massacre
Threat of Starvation Men Turn To Mutiny
Red Eagle After The War
Amazon.com – Read eBooks using the FREE Kindle Reading App on Most Devices
READ THIS BOOK FOR FREE ON YOUR COMPUTER!
THEN SIGN-UP FOR THE 30-DAY FREE TRIAL BELOW: