One of the largest artesian well in the world was reported to be on the "Goodrum Place", a plantation that was owned by the Gov. Pickens family.
Artesian wells were drilled by Carthusian monks
"The term Artesian Well is named for the former province of Artois, France, where many such wells were drilled by Carthusian monks since 1126. A flowing artesian well is one that has been drilled into an aquifer where the pressure within the aquifer forces the groundwater to rise above the land surface naturally without using a pump Artesian wells have been very important to man as he settled and developed this country, as they offered a reliable source of clean water for drinking and irrigation."1
Picken's family owned the artesian well
Umbria Plantation, also known as Samuel Pickens Plantation near Sawyerville, Alabama was the home of Samuel Pickens, the younger brother of Alabama's third governor, Israel Pickens. He annexed the nearby Goodrum Place plantation where the artesian well was located. Goodrum, with the annexed Mallory Place was located in what was called the prairies in early days of Alabama.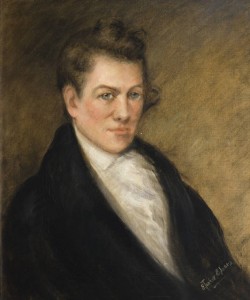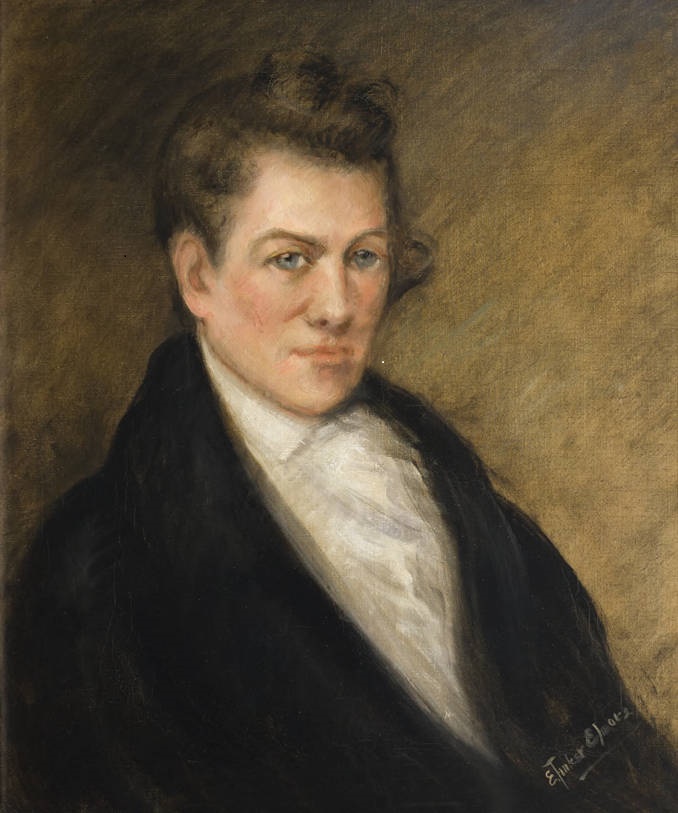 Gov. Israel Pickens
Artesian Well near Greensboro, Alabama
The following excerpt from HISTORY OF GREENSBORO, ALABAMA From Its Earliest Settlement by William Edward Wadsworth Yerby, Montgomery, Alabama refers to this large artesian well.
While a number of unsuccessful attempts have been made to get overflowing wells in Greensboro proper, yet a few miles south, and also west, of the town there are many of these wells—some of them furnishing great quantities of water. There is one located twelve miles southwest of Greensboro on what is known as the "Goodrum Place," that possibly furnishes a greater amount of water than any other in the United States.
It is ten inches in diameter, and the water gushes out of the earth from a depth of six hundred feet in such volume that a sufficient quantity is furnished to run a grist mill, cotton ginnery, cotton press and saw mill. It was bored in 1852 by Col. Samuel Pickens, and for over half a century it has continued to flow with imperceptible diminution in the quantity of water.
To give an idea of the amount of water that is furnished by the well, it is only necessary to state that the trough around it is four feet across, and when the water falls back it fills the trough from side to side. The grist mill, ginnery and saw mill run by the water from this well are situated on a hillside about a hundred yards away, and the water is carried to it by means of a canal cut in the solid limerock. Just under the mill house is a well three feet in diameter and forty feet deep. In this, at a depth of twenty-five feet, is a turbine wheel, and the water from the canal is turned on when it is desired to put the machinery in motion.
A tunnel from the bottom of this 40-foot well has been cut a distance of a hundred yards—ranging upward—and the waste water is turned into a branch. The accompanying picture gives some idea of the magnitude of this remarkable artesian well.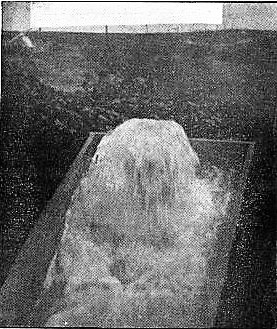 Artesian well near Greensboro (HISTORY OF GREENSBORO, ALABAMA From Its Earliest Settlement by William Edward Wadsworth Yerby, Montgomery, Alabama )
Experiment at Goodrum
The following is another excerpt about the large artesian well from: The New Country Life, Volume 34, Issues 1-5, Doubleday, Page & Company, 1918
When Robert Pickens returned from travels abroad, having studied the wells in Artois, France,  he began experiments at Goodrum and succeeded in bringing in the first artesian well in this country. Wells rapidly multiplied and promoted quick settlement of the prairies. Mr. Pickens brought from É (Europe). an engineer who drew plans for utilizing the water power at Goodrum.
Water from well No. 1 issued from a lofty tube, flowed thence into an elevated trough, and in its escape therefrom emptied into the cavities of an overshot wheel, the shaft of which operated machinery that converted raw cotton into hanked thread, and this, in turn, was converted into cloth in the plantation looms.
After moving this machinery, the water flowed into long, wide canals, cut in the lime rock underlying the soil, and was there impounded to furnish power for a grist mill and cotton gins. During the night the canals filled nearly to their brims, and the volume of water was sufficient to operate the mill and gins continuously the entire day. This mill ground sufficient meal and grits for the estate, and more besides.
Canebrake and Goodrum produced 500 bales of cotton
Cotton, corn, peas, sorghum, and clover were grown at Goodrum. At the time of its settlement, cedar trees so abounded there that rail fences, cribs, cabins, and stables were constructed of the wood. Annexed to this place and extending to the Black Warrior River was Port Royal, with a steamboat landing and brick warehouse, used for estate purposes only. Most of the Port Royal tract consisted of hard-wood forest and swamp, and here were raised and slaughtered great numbers of hogs of good breed. They ranged the forest at will until rounded up and corraled for fattening at the approach of cold weather. So extensive was the range and so abundant were the nut-bearing trees, that many of the animals reverted to a state of wildness, and after the annual roundup all without earmarks became "game" and afforded exciting and sometimes perilous sport for privileged hunters. Canebrake Place, with deep, black, and fertile soil, was the chief cotton and corn plantation, and large quantities were produced there.
At Canebrake and Goodrum places about 500 bales of cotton were produced annually as early as 1844. At Umbria were grown excellent tobacco (for home consumption), small grains, and hay. Each plantation had a gin house and cotton screw press. On this estate were trained slave mechanics who manufactured nearly everything needed. There was a tanyard, in which was prepared leather from hides of animals raised and slaughtered at the several places.
Faith and Courage: 2nd edition -A Novel of Colonial America 

Inspired by real people and actual events, the family saga of colonial America continues with Ambrose Dixon's family and their life during

 Pre-Revolutionary War days of America, intertwined with a love story.