This well-written news article from 1920, tells of a time when railroad travel was flourishing, but it also paints a beautiful picture of life in Parrish during that time. It is long, but well-worth reading. At the 2010 census the population of Parrish was 982, down from 1,268 in 2000.
PARRISH PULSATING WITH PROGRESS
NO LONGER SLEEPY JUNCTION TOWN
Development of Big Warrior Coal Fields Works Wonderful Transformation at N. A. Terminal.
Monthly Pay Roll $125,000
"P-a-r-r-i-s-h! Change cars for the NawthernAlabama."!
This familiar cry of flagmen and conductors on the Southern Railway passenger trains, has for years brought a feeling of dread to passengers for whose benefit the call echoed through the coaches. A dread that changed to dismay when the passengers upon alighting would discover that the train bound in the opposite direction was several hours late, which meant the Northern Alabama train awaits for them a dreary, tiresome wait. For the arrival of both east and west bound passenger trains on the Southern, before it begins its journey through the broken hills of North Alabama for Sheffield.
Group standing in front of a train, probably part of the Southern Railway ca. 1920 (Alabama Department of Archives and History)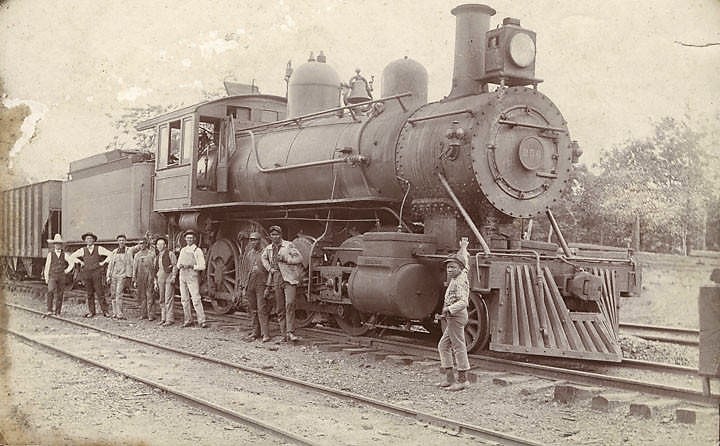 For, until three or four years ago, Parrish was just a collection of frame shanties, mounted on stilts, opposite the depot. A few idle loungers, whittling upon a piece of plank, chewing homespun twist, constituted the sights to be seen. Sometimes a poor, bony, tick-laden cow, looking like she was from Armenia, would become a part of the landscape. And, thus it was that the traveling public learned to have a horror of the name of Parrish.
Parrish woke up!
In all directions around Parrish the country was waking up, and the hidden seams of coal were being opened and developed. Busy mining towns were born, had their day and some died. At Drifton, Bankhead, Gayoso, Aldridge and America, fortunes were made and lost! Men lived and died, but Parrish just nodded in the sun and the inhabitants whittled on their pine boards.
Then the Railway Fuel Company's engineers got off a Southern train one day and they didn't give a darn whether the other Southern train was late or not, for they came to work, and to wake up Parrish. And all Parrish woke up at the same moment!
Pine whittling boards were thrown away; pocket knives went where they belonged – in their owner's pockets, and all Parrish got busy.
The people of Parrish realized that they had slept too long; that they were twenty years behind the procession. And let me say right here that in the past four years they have overcome fifteen years of the time they were behind.
Disorder that accompanies industrial activity
I might start out by saying that Parrish is a neat, orderly, well-kept town but it is nothing of the sort. Everything is in disorder, but it is the disorder that always accompany great industrial activity in new fields of development. The kind of disorder that could have been seen in Birmingham thirty years ago.
Scores of handsome residences have been erected, and more are being built. In fact, building has just started.
And the people are painting Parrish not red but in many colors. By the time the carpenters quit nailing on a house the brushes of the painters begin slapping its walls.
Think of it! Four years ago just a few dilapidated shanties. Now today thirteen big business houses in substantial buildings, carrying as varied stocks as can be found in any town in the county. Scores of handsome new residences whose interiors are as attractive as the outside. Dry goods stores, a drug store, hardware stores, groceries, meat markets and big general department stores; barber shops, restaurants, pool room and a brand new brick bank building, with a strong financially healthy bank, numbering among its officials and directors some of Walker County's foremost men.
Map of Parrish, Alabama  (Wikipedia)
Parrish in 1920
Getting off the Southern at Parrish last Friday, the writer started to "see" Parrish. The first stop was at Stephenson's pharmacy, a regular drug store, soda fountain and all. The proprietor is the hustling son of Dr. Stephenson of Oakman. The next stop was at the bank, where Asa Cranford holds forth. Most readers of the Eagle know Asa. He seemed to suspect that the Eagle man was hunting some news, for right away he began to tell what Parrish already had, and would have. Talking about town boosters, Parrish is full of them but Asa leads the band. From him I learned that:
The Bank of Parrish, not six months old, has deposits amounting to $50,000.
The town will incorporate shortly, with the commission form of government.
The town is expecting to close a deal with the Railway Fuel Company by which they will secure a water supply from the company's deep, overflowing wells for the entire town.
Connections will be made with the Alabama Power Company's line at the railway mine, and Parrish will have electric lights soon.
A system of streets, already laid out will be graded and cherted.
A shortage of lumber is hampering building operations, so Mr. W. J. Bolden is setting down a saw mill just north of Parrish, where he has a quarter million feet of timber to saw. This will relieve the lumber situation some as far as rough lumber is concerned.
William Crawford Gorgas Steam plant ca. 1933 (Library of Congress)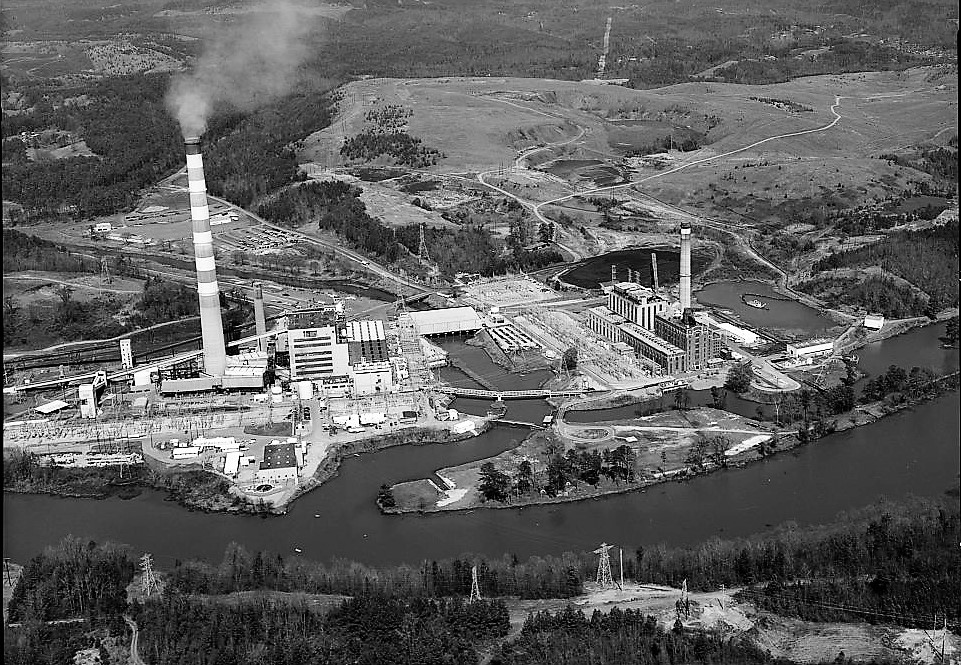 First chick – coal
Naturally, one asks, what is behind all this sudden frenzy in building up a town that had been asleep for twenty years. Just this: Parrish is setting like a hen on a nest of eggs, on top of one of the biggest beds of coal in the country. Parrish is the voting place of beat 22, and this great bed lies under the entire beat. It is the Black Warrior seam, ranging from 5 to 9 feet in height, and easy to clean. The Railway Fuel mine was the first chick to hatch, and if the other chicks that will hatch are as big and husky as the first, Parrish will be a city of paved streets within a few years.
One mile from the Parrish depot towers the big tipple of the Railway Fuel Company's mine. The writer reached the mine about 11 o'clock and stopped at the office as a beginner. The temporary office has comfortable quarters in a building near the mines, that would be considered good permanent quarters at many mines. The time keeping department is in charge of the Kitchens brothers, Jesse Kitchens, and W. H. Kitchens, both of them Walker county boys, and sons of the late J. S. Kitchens, who was at the time of his death county treasurer of Walker county. Their good nature, courtesy and hospitality helped the writer to make a day's pleasure out of what he expected to be a day's work.
Observing closely it was seen that the same courtesy extended to all employees who had business at the office, one thing that helps a mine to keep good miners.
Plan for big things
The Railway Fuel mine is simply a big proposition. And those who are directing the work of development are making every plan with the idea always in view that they must plan for big things.
The mine in under the superintendency of Mr. Dan McDonald. Mr. McDonald is of the new type of mine superintendents. A graduate of Auburn, and also a practical mine man. He is a son of former mine inspector McDonald. While his language is the cultivated speech of the man of education, yet his orders seem to carry a punch that secures prompt fulfillment. Or robust frame, with a square jaw and a strong set of perfect teeth, his entire personality breathes resolution. Yet, perfect understanding and friendliness seems to exist between him and all his men.
Mr. McDonald said it would require some time yet to bring up to the desired maximum output. The goal aimed at is 2000 tons daily.
Mine is a twin slope
The mine is a twin slope, about 720 feet deep. One slope is used for a manway. The entire manway is concreted to the solid rock, and over 700 concrete steps lead to the bottom of the mine. The coal ranges from 5 feet to 9 feet in height. It is under cut by machines, the Jeffrey machines being used almost exclusively.
The second slope is used as a coal hoist and a double track laid with sixty pound steel is the best guarantee that 2000 tons a day is not too much to expect. All the main entry track is laid with 60 pound steel; the cross entries with 40 pound, and the rooms with 20 pound steel. Electric motors handle the coal inside.
Outside a big Nordberg hoisting engine, set in massive foundations of concrete, operated by powerful electric motors bring the mine cars from the bottom of the mine to the tipple, in a twinkling.
The mine supply house is one of the most complete in the district. Here are kept duplicate parts of all the machinery, and motors. Also mining supplies for the miners. It is said that the value of the stock in the supply house approximates $25,000. Mr. Phifer, another Walker county boy, is in charge of the supply house and took pleasure in showing the writer through.
The houses are models of beauty, neatness and comfort. The camp was laid out with an eye to perfect drainage and sanitation – and they have both.
Dick Pressley not overlooked
One of the institutions that must not be overlooked is bit "Dick" Pressley. His initials are W. E. and if any one can make the word "Dick" with those two letters they can beat me. Any way everybody calls him Dick, and when everybody calls a fellow by a familiar first name they like him. dick is peacemaker, peacekeeper and official horse trader. Rough in his speech and bluff in his ways, yet when you scratch down beneath the surface you will see the glisten of the diamond, for Dick Pressley is a good man, and a good fellow.
Local stores accept store checks
The company's system of issuing store checks will meet the approval of every miner in Alabama. The company does not operate any commissary and the checks issued are accepted by every merchant in Parrish, dollar for dollar. Mr. W. D. Leake, the company's general manager, made a rule at the very beginning that if any merchant was found to be discounting the employees' checks, that merchant would not be allowed to handle checks. As a result of this rule, every miner receives 100 cents on the dollar for every check he spends. A miner will go to Parrish with say, a five dollar check. He spends three dollars, buying goods at the same price he would pay cash for. He receives back two dollars in cash as change. This system is satisfactory to both miners and merchants.
The usual pay roll stoppages are conspicuous by their absence here. Free doctor, free insurance – no deductions of any kind except house rent, and the rent is very reasonable. The pay roll, every two weeks in around $45,000! Many of the miners, both white and colored earn from $75.00 to $100,00 every 15 days. The company does not dock for slate. If a miner persists in loading rock in his coal he is dismissed. The occasional offender has his attention called to his shortcoming, and that usually gets the desired result – clean coal.
Second Chick
So much for the first chicken hatched in Parrish's nest of eggs.
Returning to Parrish a stop was made at the big department store of the Star Mercantile Company. This company is composed of four bright young men, well known over Walker county, they are: Sam Childers, T. J. Norris, Walter Guttery and F. A. Merrell. They handle everything including dry goods, clothing, furniture, groceries and fresh meats. In past six months, this firm did a business of $100,000.
Below them is the big new store of the Parrish Coal Company. This store is not yet completed, but is well filled with a general merchandise stock. The Parrish Coal Company is composed of Joe Bell and John Kilgore of Jasper. They operate a mine on the Pratt seam about half mile south of Parrish on the Drifton branch. Their mine is working steadily, and their future prospects are bright.
Ad from The Mountain Eagle, Jasper, Walker County, Alabama, Wednesday, February 11, 1920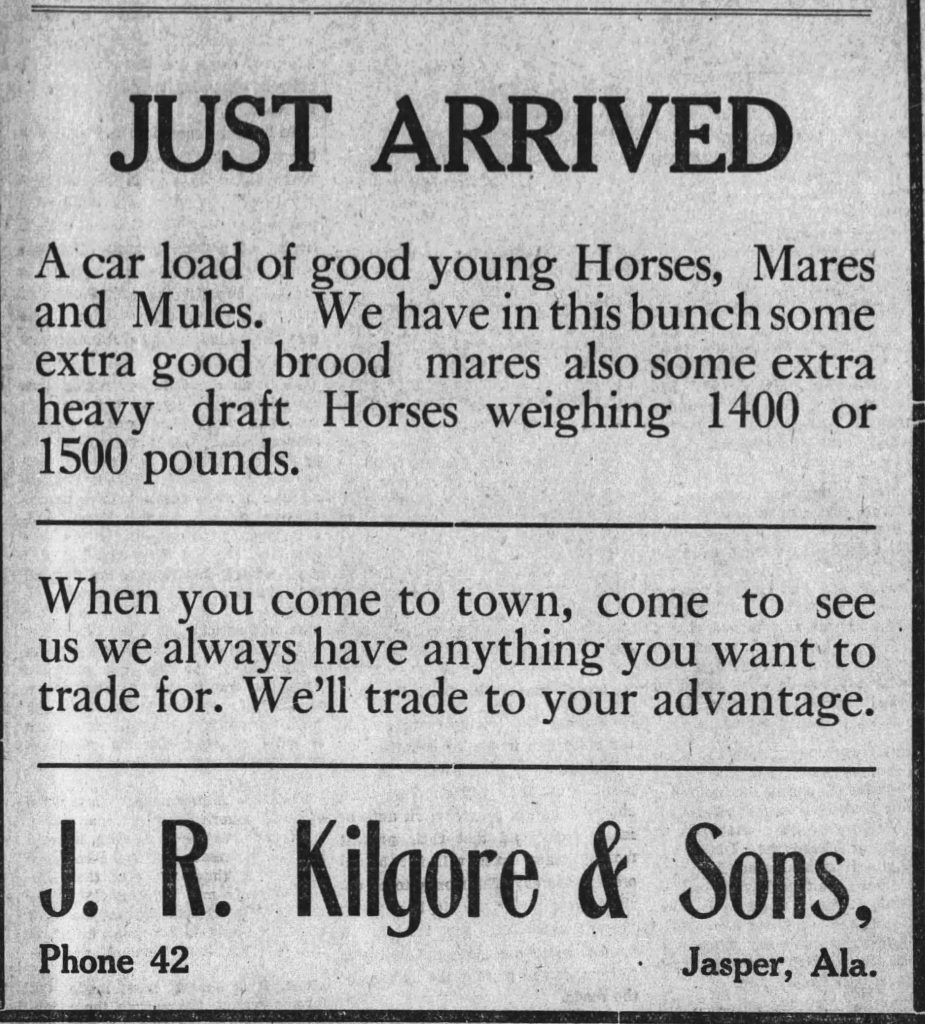 Down the street, we came to the big store of Jim Key. Jim says his store is tax collector's headquarters until next January. Jim is a hustling, wide awake, business man, and says he has no time to whittle. But he is a firm believer in Parrish and its future.
On down the street are the two connecting stores of the Parrish Mercantile Company. Both their stores are filled to the top with new, fresh goods, and they, too, are doing a big business.
A brand new hardware store came next, filled with all kinds of farming implements, stoves, ranges, miners tools, in fact everything in the hardware line. This big store is owned by Mr. J. M. Dunn.
Then the Cooper Mercantile Company which the writer did not have time to visit.
At the depot are several places of business that cater to man's immediate inner wants. A combined grocery and lunch room operated by Mr. Stocks, and a lunch room and cold drink place run by W. M. Douglas. Just a word about Manse Douglas. He is one of Parrish's best boosters. He believes that Parrish has a great future. He is a director of the Bank of Parrish and has other interests that are bound up in the town's future.
New modern school
Parrish has a modern school building and the school has an enrollment of 350 pupils, and up to the 9th grades are taught. Prof. J. W. Smith is the principal. The writer met the professor, and being an old acquaintance chatted awhile, and the conversation turned upon the starvation salaries paid the school teachers in Alabama. The writer sympathized with the teachers, and said so. Then he was taken around and shown the professor's handsome residence, which he has just completed, a fine graded, Jersey cow, two extra fine, thoroughbred Durod-Jersey pigs, and a flock of thoroughbred silver laced Wyandotte chickens, then we felt like we had been over hasty with our sympathy. But the professor explained that he pieced out his slender pay by farming every summer. Just can't keep a man at the bottom who possesses that kind of dynamic energy.
One of the oldest business houses in Parrish is that of Frank Legar. Frank is an old miner. He moved to Parrish some fifteen years ago, bought some land – for land was very cheap. He worked in the mines and opened a store. He did not put any time in whittling though. Today, he has one block of land covering 10 acres in a few hundred yards of the depot. He has several other lots, a good store, a comfortable home and Frank digs no more coal, – he does not have to.
The next chickens
At the depot the men of Parrish can while away idle hours if they choose, chasing billiard balls around the tables, Walter Robins, formerly of Jasper operates this pleasure resort.
It is rumored that two more new slopes by other companies will be the next chickens that Parrish will hatch in the near future.
I have missed telling of some of the things I saw. I know that some of the hustling, busy men I met, whose names do not appear in this article, are fully as deserving of mention as the others, but just as I was taking out my book to make some more notes, I heard a train whistle for the station. Again came the cry "P-a-r-r-i-s-h, change cars for the Nawthern Alabama." A stream of passengers disgorged from the big Southern express train: then came the big, booming voice of Walter James, "A-l-l A-b-o-a-r-d, the Nawthern Alabama." For both Southern trains were on time, and the Eagle man landed in Jasper, very tired, and feeling well repaid for his eight hours spent in Parrish.
Just keep your eyes on Parrish, and watch the other chickens hatch.
SOURCE
Transcribed from The Mountain Eagle, Jasper, Walker County, Alabama, Wednesday, February 11, 1920