This biography is included in the book Biographies of Notable and Not-so-Notable Alabama Pioneers Volume I
BRIGADIER GENERAL WILLIAM FLANK PERRY
BIOGRAPHY and GENEALOGY
(1823 – 1901)
Chambers, Talladega and Macon Counties, Alabama
General William Flank Perry was born on March 12, 1823, in Jackson County, Georgia, the son of Hiram and Nancy (Flank or Flake) Perry. He traveled with his parents to Chambers County, Alabama in 1833. Largely self-educated, he became one of the leading promoters of free education for Alabamians.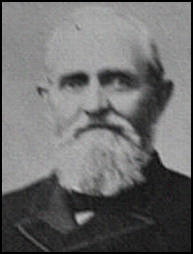 In 1852, he was head of one of the leading high schools in Talladega. Perry moved to in 1853 Tuskegee where he read law with Judge Chilton and passed the bar in 1854. However, his interest in education remained and rather than start a law practice, he devoted himself to improving education in the state of Alabama and establishing free education for everyone. He was elected as Superintendent of Education for Alabama in 1854 when the position was established by the State Assembly that year. He was reelected twice and served in this position until the Fall of 1858 when he resigned to again enter the educational field and became head of the East Alabama Female Academy of Tuskegee. In 1862, he resigned this position and enlisted as a private in the Confederate Army.
Perry quickly rose through the ranks in the Confederate Army. He was elected Major of the 44th Alabama when it organized in May 1862 and became Lt. Colonel after the resignation of Col. Kent in September 1, 1862. When Col. Derby died at Sharpsburg, Perry was promoted Colonel in command of the regiment.
At Gettysburg, he led his regiment in an assault at the battle of Little Round Top and cited for gallantry at Chickamauga. Perry was commended by Longstreet for gallantry at Dandridge and commended again at the Wilderness where the brigade under him was first to reach the field in Longstreet's Corps and in time to retrieve the disaster which was facing troops under Gens. Heth and Wilcox. Col. Perry's horse was shot from under him twice during this daring charge.
At Spotsylvania, his regiment joined in an attack on Warren's Corp of 20,000 men, forcing their retreat and entrenchment and Perry and his regiment shared in a commendation for their gallant effort. General Law was later wounded and Perry continued in command of the brigade until the end of the war. However, he was not commissioned Brigadier-General until February 21, 1865.
After returning home to Alabama, Gen. Perry became a farmer until 1867 when again he resumed his career as an educator. He later moved to Bowling Green, Kentucky to become an English and Philosophy Professor at Ogden College. Brig. Gen. William Flank Perry died in Kentucky on Dec. 18, 1901.
General Perry was an eminent officer, displaying calmness in the battlefield, discipline in the bivouac and consideration for his men everywhere. He was a man of stainless character.
He married a niece of Hon. William P. Chilton of Montgomery. He is buried at Fairview Cemetery in Bowling Green, Kentucky.
SOURCES
Find A Grave Memorial #8931
Biographies of Notable and Not-so-Notable  Alabama Pioneers Volume I