(Transcribed exactly as published from the Wilcox Progressive Era, Camden, Wilcox County, Alabama, June 2, 1910)
SUNNY SOUTH
Sunny South is an unincorporated community in Wilcox County, Alabama.
Dr. J. C. Hope has returned with his family, from Oak Grove and has decided to practice his profession in this place. There is no place like home.
Mrs. J. C. Grantham has been very sick for several days, but at this time is reported much improved; she is being missed at the home of her father, Mr. W. W. Morgan.
The Sunny South High School under the direction of Prof. J. H. Hightower assisted by Miss Irma Purcell has closed a most successful year; the concert which was rained out Friday night was rendered Saturday night to the entertainment and delight of a packed house made up of the citizens of the neighborhood and surrounding communities. A marked improvement is being made in this community by the good school work that is being conducted here from year to year.
Prof. Hightower and Miss Percell were unanimously elected for another term; they have given unusial (sic) satisfaction in the faithful work done in the school the past year.
The young ladies of the community who have been away teaching the past year, Miss Mary Ellis Carmichel, May Morgan and Cammie Pearson are at home for the vacation. "OBSERVER"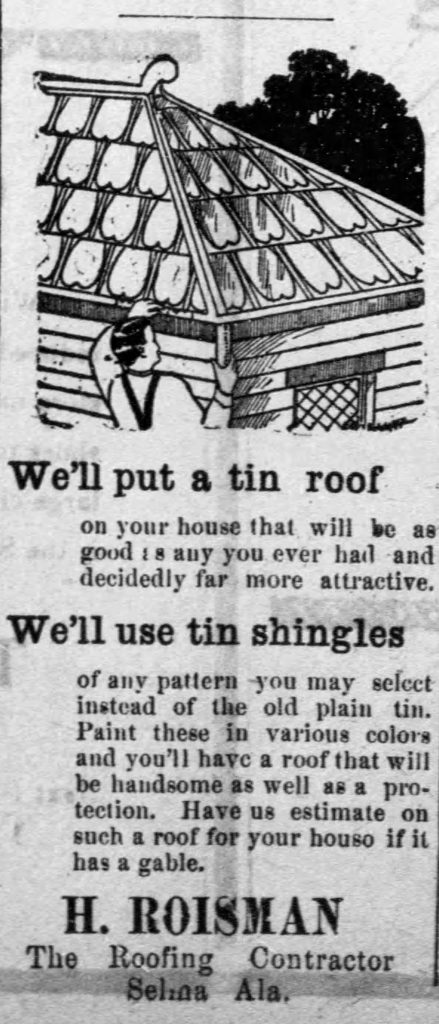 SHAWNEE
Shawnee is a populated place in Wilcox County, Alabama
We are glad to report that Mrs. G. W. Hall is improved and hope that she will soon be up again.
Mr. J. B. Tait and daughter Annie Matt, of Neenah passed through our town Monday from Camden. Both are always welcomed to our midst, come again:
Mrs. W. H. Hall who has had quite a long spell of sickness is improving very rapidly and we hope to soon see her out again.
Miss Mattie Bell Stewart, a student of Judson College, has returned home for the vacation
We will soon have with us Miss Ellie Bryce Tait, a graduate of Barton Academy, Mobile, also Miss Allie Gaston of the Baptist Collegiate Institute, of Newton.
Messrs Henry Stewart and Ira Gaston paid Neenah a pleasant visit last Sunday, wonder what the attraction was?
Miss Alma Stewart, attended commencement at Judson College, returned home Sunday night, she stopped on her way home at McWilliams to pay Miss Bonnie Pearl Watts a short visit.
Mr. Jink Sharpe is at home on a visit to his parents Mr. and Mrs. J. T. Sharp.
Mr. and Mrs. W. F. Hasselvander of Ackerville were the guests of their daughter Mrs. T. G. Tait Sunday.
Mrs. A. C. English, who was called here to her mothers bedside returned to her home in Birmingham Thursday.
Mrs. Ella Carter was summoned to Bessemer the past week on account of illness of her sister, Mrs. C. M. Gavin.
Mrs. J. T. Sharpe and daughter Estell are visiting friends and relatives in Nellie.
There will be a picnic at the County Steel Bridge over Pine Barren the second Saturday in June all are cordially invited to come and bring a basket. MINERVA
SOME DESCENDANTS OF KENNETH STEWART
Though it has not been completely proven, some researchers believe Kenneth Stewart who arrived in North Carolina from Scotland is the first immigrant to America of the line in this book. He arrived in 1775 in Wilmington, North Carolina with family members: Wife Isobel 30; Son William; Son John 5; Son Banco 3; Daughter Christian 3; Son Alexander 14.
The John listed above is believed to be John R. Stewart born ca. 1770 and this is the line we follow in this book as he travels further south, through Georgia and finally his descendants settle in Randolph, County, Alabama.
The GEDCOM records, genealogy notes, and biographical information in this e-book include descendants who were pioneers of North Carolina, South Carolina, Pike County, Georgia and Randolph County, Alabama. Descendant surnames included in this book are: AIKEN, BUSTER, CARVER, CLARDY, COTTINGHAM, CREWS, DAVIS, DENNIS, DEWBURY, DOBSON, FRENCH, GAY, HARWELL, HAY, HINTON, HOBBS, HOLLOWAY, HOUSTON, JORDAN, LYNCH, MAYBERRY, MCKINNEY, MCLEOD, MOORE, NELSON, PATTON, PHILLIPS, RAMPY, WORTHAM