(Transcribed from THE GUNTERSVILLE DEMOCRAT, January 15, 1903, Guntersville, Alabama)
LOCAL AND PERSONAL
Our esteemed patron, Wm. Boling, has presented to the DEMOCRAT one of the early receipts given by Mr. Neely for a year's subscription to the paper, and 75c in payment for a cord of wood. Those were days when Marshall's products were not so greatly affected in their value by the developing mineral resources of the state.
J. V. Walls, County Commissioner, has received his appointment from President Roosevelt as postmaster at Guntersville. While wishing for him everything that is good and congratulating him on his good fortune, we are sorry to lose our faithful and tried representative of Uncle Sam, who for so many years has preserved an unbroken record in the postoffice and of whose management so little complaint has ever been made.
Mr. and Mrs. O. D. Street have returned from a several weeks trip north, spending most of their time in New York City. Alabama has interests in the Empire State and the great American metropolis, of vaster importance than million dollar trusts and brown stone palaces. Her boys are there – some of whom, well known to us – have achieved fame and wealth, and others, though yet unknown to the world, have the promise in them of great ends in life.
Col. Dick Hunt, out witty and wise chancellor, is all enthusiasm over the "Fiddlers' Convention," which is booked for Fort Payne Feb. 9th. Among the prizes is a gold medal, which will be awarded the most gifted contestant. Among the Marshall county fiddlers who will likely participate are the following: – Charley Lowery and Andrew Vines, Arab; Abe Harris, Grassey; Jimmie Black, Oleander; Grip White, Eddy; Charley White, Union Grove; Wm. M. Steward, Albertville; A. J. Arendell and A. H. McGhee, Guntersville; Wm. H. Rollings, North; A. H. Parkhill, Cottonville.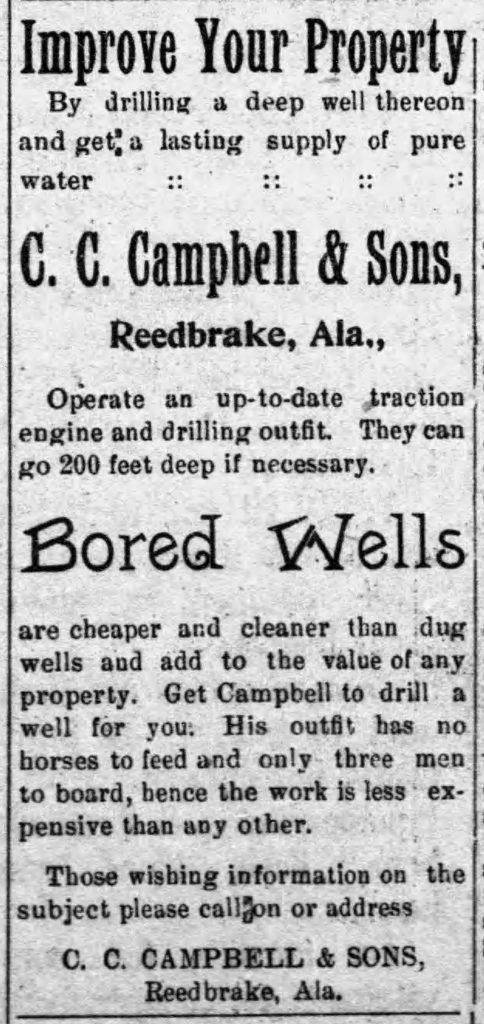 STOCKHOLDERS MEETING
The annual meeting of the stockholders of the Bank of Guntersville was held Jan. 6, 1903.
The following officers and directors were elected:
L. D. Lusk, president
W. M. Baker, vice-president
W. M. Cantrell, cashier
L. D. Ramsey, teller
Directors –
W. M. Baker,
John Gilbreath,
R. T. Coles,
B. P. Cautrell,
A. M. Ayres,
L. D. Lusk,
Jasper Smith,
P. B. Lusk,
H. C. Henderson,
W. M. Cautrell
An 8 per cent, dividend was declared, and the stockholders expressed their gratification at the successful year's work and the rating of the bank.
CLOSING OUT
We will close out our entire stock of groceries, or any part of them at a great bargain. Some things at cost and some at less than cost. Those wanting to buy groceries or fixtures have the best bargain of a lifetime offered to them now.
W. M. KIRKLAND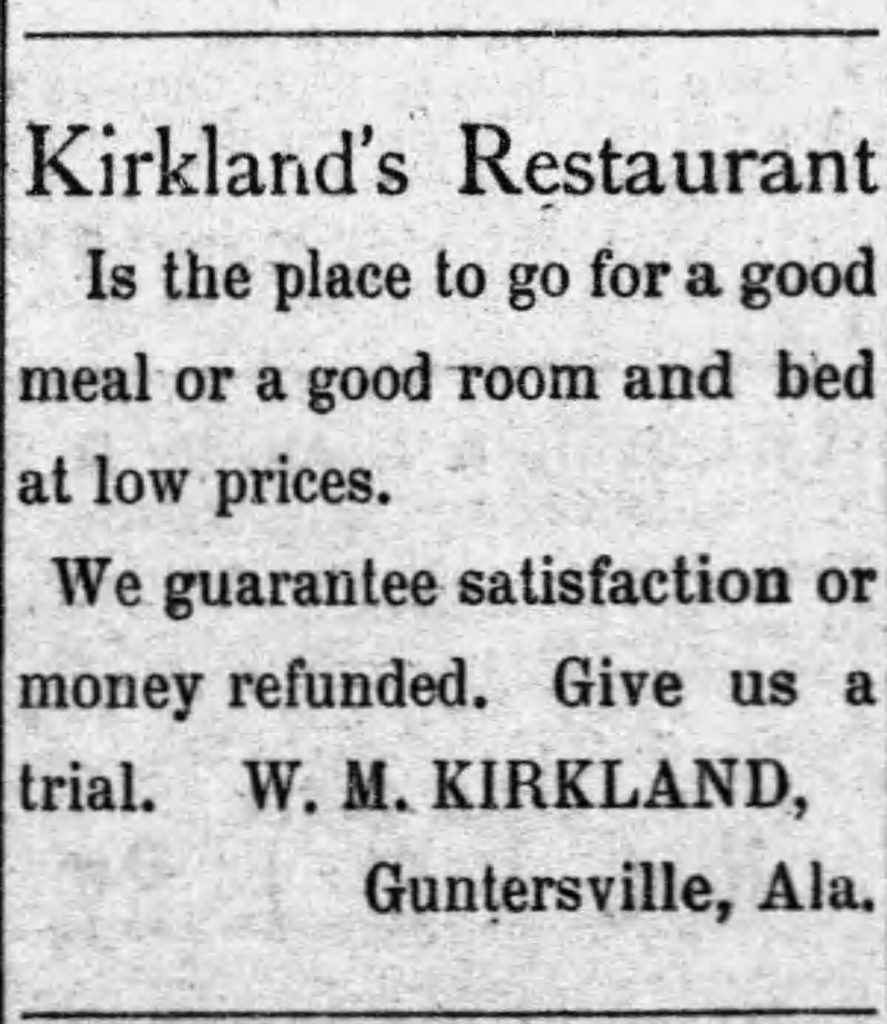 POULTRY SHOW AT HUNTSVILLE
Great interest has been taken in the exhibition of thoroughbred poultry in Huntsville the last week and we rejoice that Guntersville made so good a showing. On Pet Games, Mr. H. B. Lansden won 1st trio, 1st cock, 1st hen, 3rd hen, 3rd cock, 3rd stag, 4th trio. On White Leghorns, Mrs. W. M. Cantrell won 1st pullet, 3rd pullet and 2nd cockerel, and all awards on Pekin ducks. F. T. Marshall, the judge, is from Atlanta, Ga., and has a national reputation of being one of the best qualified judges in the country.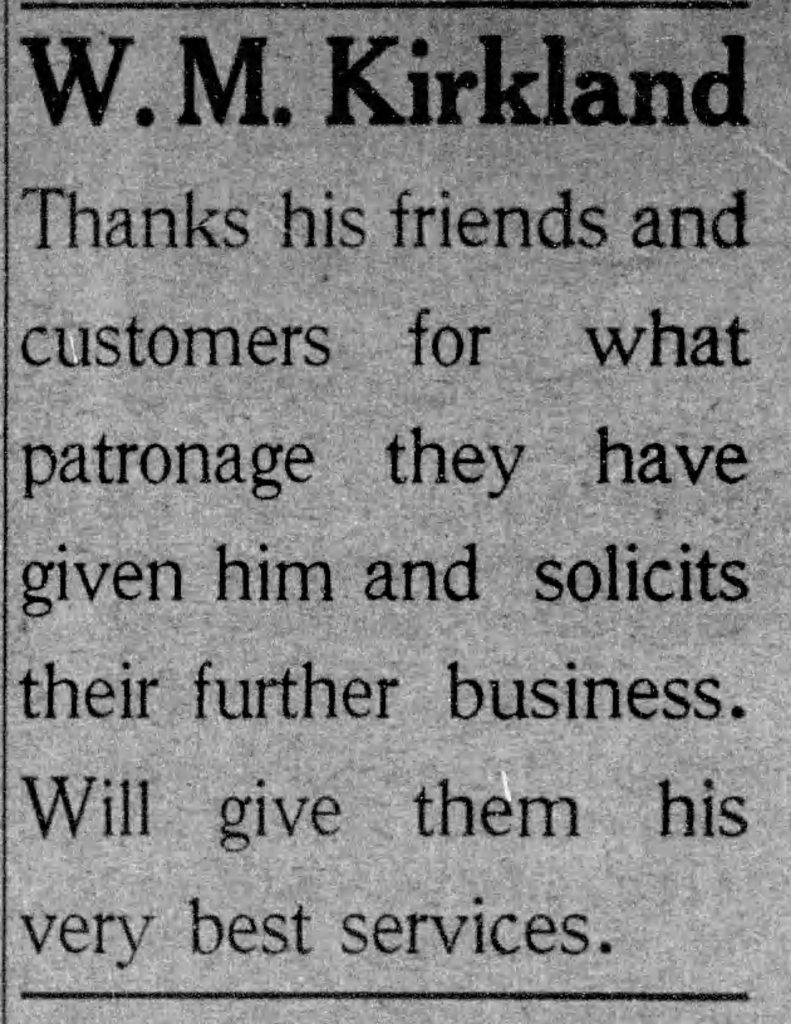 TEACHERS' INSTITUTE PROGRAM
Following is the program of the Marshall County Teachers Institute, to be held at Mount Hebron, Friendship P. O., February 12, 13, and 14th, 1903:
Thursday 1:30, Devotional Exercise, Rev. H. G. Bynum
Welcome Address – W. J. Nash, response, W. H. Garrett,
Appointing Committees
Miscellaneous Business
Should we Encourage the Study of Latin in the Rural Schools? – Capt. Henry Baker and Mrs. E. B. Elder.
Friday 9:00 a. m. Co-operation of Pupils in School Government – B. F. Moody and J. R. Kenname
Paper, "Child's Study" – Mrs. Omega Hewett
Child's Individuality – J. B. Sherrill and Miss Bettie Loftis
ROUND TABLE
Afternoon session. Topic, Model Recitation – Spelling, F. T. Stevenson; History, D. J. Davis; Arithmetic, J. B. Hobdy; Reading, Miss Annie Stearnes
Recitation – Miss Dora Rains
7:30, Local Talent
Address, Are We Drifting? – G. H. Smith.
Saturday 9:00 a. m. How to Teach Literature in Rural Schools? – O. B. Cooper, L. T. Hearn and Miss Evelyn Mussetter.
Grading Rural Schools – J. T. Terry and Miss Edna Sells
The Relation of Public Schools to the College – Luther Fowler and C. W. Boen
Recitation – Miss Bettie Moore Hanserd.
Let every teacher feel that this is his Institute and study every question, that we may make this the most profitable institute we ever held. The good people of Mount Hebron say come one, come all, welcome. So let's respond liberally.
J. L. BARNARD, Supt.
JAY MABRY
MISS BETTIE M. HANSERD,
D. L. WALKER
Committee
The Grand Masters of Free & Accepted Masons of the State of Alabama 1811-2011
Many early photographs of the Grand Masters are included in this work.
Biographies of the following men are included listed in order of their service: THOMAS WADSWORTH FARRAR, WILLIAM B. PATTON, NIMROD EARLE BENSON, THOMAS BIVIN CREAGH, WILLIAM JORDAN MASON, WILLIAM LEIGH, JOHN C. HICKS, EDWARD HERNDON, NATHANIEL WYCHE FLETCHER, JAMES PENN, FELIX GRUNDY NORMAN, RUFUS GREENE, WILLIAM HENDRIX, DAVID CLOPTON, STERLING ALEXANDER MARTIN WOOD, JAMES MCCALEB WILEY, ROBERT HUGH ERVIN, STEPHEN FOWLER HALE, WILLIAM HUTCHINSON NORRIS, JOHN ADAMS LODER, WILLIAM C. PENICK, WILSON WILLIAMS, GEORGE DASHELL NORRIS, WILLIAM PARISH CHILTON, JOSEPH HENRY JOHNSON, ISAIAH ATWATER WILSON, JOB PALMER PILLANS, HENRY CLAY ARMSTRONG, HENRY CLAY TOMPKINS, RUFUS WILLIS COBB, JOHN HOLLIS BANKHEAD, JOHN GIDEON HARRIS, MYLES JEFFERSON GREENE, HENRY HART BROWN, GEORGE MILBURN MORROW, FRANCES LEIGH PETTUS, GEORGE PAUL HARRISON, JAMES ANDREW BILBRO, BENJAMIN DUDLEY WILLIAMS, RUSSELL McWHORTER CUNNINGHAM, ROBERT JAMES REDDEN, HENRY HUDSON MATTHEWS, BENJAMIN MOSES JACOBS, HUGH SHEPPERD DARBY MALLORY, LAWRENCE HAYWOOD LEE, DANIEL ARTHUR GREENE, HENRY CLANTON MILLER, WALTER SMITH, ROBERT STERLING TEAGUE, PERCY BLACKETT DIXON, JULIAN FLETCHER SPEARMAN, DUNCAN CHALMERS CARMICHAEL, OLIVER DAY STREET, JAMES MADISON PEARSON, ROBERT FRANKLIN LOVELADY, WILLIAM LOVARD LEE, SAMUEL A. MOORE, COKE SMITH WRIGHT, SAMUEL BOYD ADAMS, ENCY FENDLEY YEILDING, GEORGE UNDERWOOD POTTER, WILLIAM EARL JAMES, JAMES MATHEW JONES, CLARENCE EDWARD MICHAELS, JOSEPH CLIFTON ROE, WILLIAM JOSEPH NASH, FRANKLIN WARREN PARKS, WILLIAM LIPSEY LEGG, JOSEPH SPANGLER SOUTHALL, LEONARD STACY TERRY, JOHN W. PREDDY, TROY LEANDER NUNN, CARL CHARLES COOPER, EELY ELBERT JACKSON, ROBERT RUFUS BERRYMAN, JAMES LEW LAWSON, GORDON LEE EVATT, ARLIS RICHARD FANT, PENSON RABON GRAHAM, WILLIAM WALLACE, JR, TOLBERT DAVID SHARP, FRED W. VAUGHAN, JAMES W. COOPER, WILBUR HALE ARMISTEAD, HOWARD E. BLACKWELL, WILLIAM JOHN BRANNON, MARVIN P. LYNN, PAUL E. BRADFORD, CHARLES CECIL ROBINSON, JOSEPH DANIEL BRACKIN, JAMES M. EIDSON, SR., THOMAS B. WHALEY, WILBUR O. HARDEN, ROBERT CHARLES COLEY, GERALD S. BORDEN, JAMES G. MACON, JAMES FRANKLIN GLASGOW, HERMON WEBB TAYLOR, CHARTER LEE NICHOLSON, JACK SMITH, J. B. ROBINSON, JR, RALPH HARRIS HENDERSON, SR., MARVIN EUGENE LEACHMAN, FLOYD HAMBRICK, JR., DAVID L. SHIREY, J. C. BRADY, E. WAYNE LUCAS, WARREN MALCOLM KILLINGSWORTH, ROBERT L. JONES, WILLARD RAY FULLER, LUTHER EUGENE GROOMS, LARRY W. WORTHAM, DELTON EARL HAVARD, STEVE BROWNFIELD, JERRY UNDERWOOD, ROBERT THOMAS CRAWFORD, V. WAYNE CAUSEY, RODGER SIMMONS, BILLY C. FORD, DARRELL NEILL, GENE ANDERTON, FRANK W. LITTLE, JAMIE A. SMITH, LARRY W. STINSON, TEDDY R. GROGAN, LARRY A. HANCOCK, RONALD ANDRESS, C. STERLING HUGHES