( Here's some quick facts and names of charter members and early members of the Colonial Dames and DAR of Alabama. Most of the facts come from early 1900'2 when it was written.)
The National Society of Colonial Dames of America was organized in Wilmington, Deleware, in 1892, having for its purposes the collection of manuscripts, traditions, relics, etc., of Colonial and Revolutionary times, and the commemoration of the success of the Revolution.
Membership is restricted to women who are especially invited, and who are descended from some ancestor of worthy life who came to reside in an American colony prior to 1750. Today it has approximately 12,000 members. (ca. 1900) It is not to be confused with the Colonial Dames of America or the Daughters of the American Revolution, both formed around the same time.
The Alabama Society Colonial Dames was incorporated February 22, 1898, Mrs. Hortense A. Batre of Mobile being the founder and for sixteen years president. She was succeeded by Mrs. James G. Thomas of Mobile, and she by Mrs. J. Morgan Smith, of Birmingham, March 1916.
Marker for Fort Tombeckbe on the banks of the Tombigbee River
at Epes, Alabama.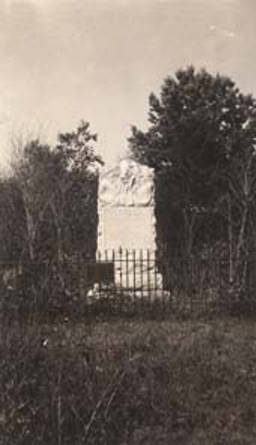 The following memorials were erected by the Society by 1916: Fort Toulouse shaft on site of old Ft. Toulouse, now Ft. Jackson, at the confluence of the Coosa and the Tallapoosa rivers; the Bienville Cross, in Bienville Square, Mobile; the Tuscaloosa boulder, Tuscaloosa; Tombeckbee monument on the site of old Ft. Tombeckbee; Lunetter window in Y. M. C. A. building, Mobile; marked two old cannon with bronze tablets in Bienville Square, Mobile, one from Ft. Conde and one from Ft. Charlotte.
Bienville Cross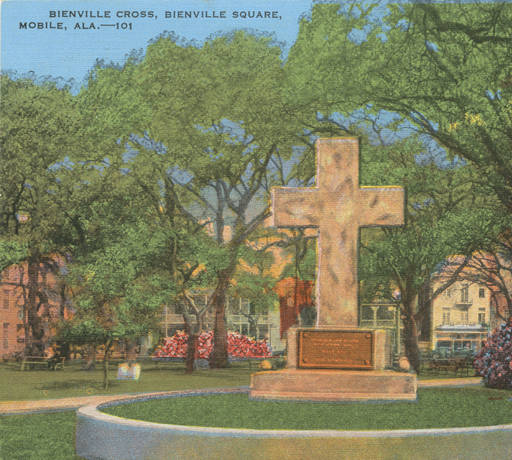 Charter members were Mrs. Hortense A. Batre and Mrs. Harvey Ellis Jones, Mobile; Mrs. Mary R. Kent Fowlkes, Selma; Mrs. Douglass C. Peabody, Mobile; Mrs. Ellen Peter Bryce, Tuscaloosa; Mrs. Benjamin Rhett, Mobile; Mrs. Albert J. Henley, Birmingham; Mrs. James J. May field, Tuscaloosa; Miss Elizabeth Benagh, Birmingham; Mrs. Samuel G. Wolf, Demopolis; Mrs. Minthorne Woolsey, Mrs. J. P. Furniss, Mrs. Frank Gaines, Selma; Mrs. Martha G. Snow, Mrs. Charles Shawhan, Mobile; Mrs. Fleming Tinsley, Selma. The first officers were: president, Mrs. Batre; first vice president, Mrs. Jones; second vice president, Mrs. Fowlkes; corresponding secretary, Mrs. Peabody; recording secretary, Mrs. Bryce; treasurer, Mrs. Rhett; historian, Mrs. Mayfield; registrar, Mrs. Henley. There were 224 members in 1916.
SOURCES
Thomas McAdory Owen.History of Alabama and dictionary of Alabama biography
Alabama State Archives