The newspaper was the major means of communication between communities in the past. Letters were written to the major newspapers about the state of a small community and posted in the newspaper. Many included news about local families. Here's some articles from Lauderdale County that were posted in the Florence Times on October 6, 1905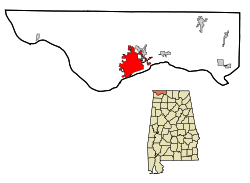 Florence, Lauderdale county, Alabama
ARKDELL
The general health of the community is not good, the families of Messrs. I. N. Allen, A. D. Goodwin and J. M. Wilcoxson have been sick, but are improving at this writing.
There was an exhibition at the Arkdell school house Friday night, and a nice time was enjoyed by those present.
Mr. J. D. Richardson has improved his ginnery by adding a seed conveyor, and will begin ginning this week.
The cotton crop is short in this neighborhood and will only make about a half crop.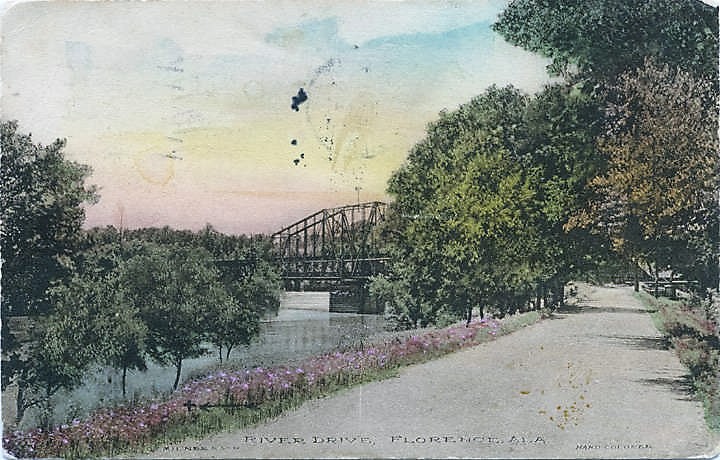 River Drive, Florence, Alabama postcard 1924 (Alabama Department of Archives and History)
We have heard, in a round about way, that A. D. Goodwin and family were going to Texas this fall, and we are going to try to persuade him from the notion if possible, for we think old Lauderdale is good enough for anybody; and anybody who works can make a living, especially on Bluewater.
We presume Mr. A. D. Allen is waiting to attend another birthday dinner.
The people of this and the surrounding neighborhood will reroof Ebenezer church soon. The money is all paid in and roofing ordered.  OBSERVER
HOPE
Farmers are very busy making molasses and saving hay.
Cotton is opening very fast and picking will soon be in full headway.
Health in the neighborhood is very good at present.
The rural route No. 1 from Hines will start Oct. 2 with Mr. W. A. Adkisson carrier. Hope post office will be discontinued. This will be a great help to the whole country.
A number of young people from Bethel Grove attended church at Parsonage Chapel Sunday night.
The saw mill at Bethel Grove which belonged to Faires & Victory now belongs to May & Victory.
The school at Bethel Grove closed September 22, which progressed very nicely under the management of Miss Lilla Hipp. She was liked by every one and we would like to have her teach for us again.
What has become of Jake Reynolds? I guess he is asleep.
Mr. J. N. Keeton, a merchant at Hope, has a new stock of goods which he purchased at Nashville. He has added more to his building. Respectfully L. C. B.
MORE FROM HOPE IN THE SAME NEWSPAPER
The health of this community is not so good at present. Some of our people are having chills.
Mr. Ed Myrick is quite sick with fever.
Mr. Isaac Bretherick has some children sick with fever.
The people of this place are employed picking peas and cotton.
The little son of Mr. R. L. Lemay is very sick.
Mr. Guss Grey, of Atlas, has purchased a new buggy.
Miss Lizzie Jenkins, of this place, spent last week with her brother, Mr. Will Jenkins, of St. Joseph, Tenn.
Miss Eva Stutts spent yesterday with Miss Lizzie Stutts and Miss Lizzie Jenkins.
Rev. Holdridg preached to a large congregation at the New Milner's Chapel Sunday last, and had one addition. Rev. Holdridge will hold a series of meetings at that place, beginning October 1. All are cordially invited.
Mr. C. M. Clemons, of this place is staying with Mrs. Will Lemaster, of Green Hill, who is very low with dropsy.
Mrs. Tom Stantford spent Sunday last with Mrs. Martha Cochran.
Miss Mary Ellen Peden and sister, Martha, visited Miss Minnie Myrick Sunday last.
Mr. John Myrick and wife visited Mrs. Lucie Butler Sunday last.
Mrs. Bille Peden and Miss Bessie Killen visited Miss Eva Stutts Sunday last.
Mr. A. T. Clemons is making molasses for Bill Peden this week.
Mr. Henry Burx and family were the guests of Mr. Ben Stutts Sunday.
Miss Ausie Hines spent Sunday with Miss Eva Stutts.
For fear my letter is too long, I will close with much success to The Times and its many readers. I am yours. Tomato.
ANOTHER LETTER FROM HOPE
Dear Mr. Editor: – There has been a great deal of sickness, but I am glad to report all are better at present.
People are all as busy as bees now. picking cotton, pulling fodder and making molasses.
The school closed at this place on Friday last. Our teacher bid all good bye and left for her home, near Smithsonia.
Brother Hutton's meeting closed at Bethelberry on Friday night last with one addition.
Quite a crowd from this place went to Florence on Saturday last. Among the crowd, was Mr. Guy Hendrix and Miss Mamie Haddock, Mr. Chesley Givens and Miss Viola Willis, Mr. Ed Phillips and Miss Naomi Hipps, and several others. They all report a good time.
Mr. Will Campbell and Miss Suddie May, Mr. Prior Hendrix and Miss Nona Wilkes, Mr Ed. Phillips and Miss Rosa Wilkes, all attended the Pleasant Hill singing on Sunday last. They report a large crowd, good singing, plenty of dinner. Yours truly, Snow Ball
Begin your family research with

 Where Do I Start?: HINTS and TIPS for BEGINNING GENEALOGISTS with ONLINE RESOURCE 

-REVIEW – This book is great for beginners! Helps you find where to start your family search. I found many helpful hints that put me on track for finding information I could not locate before. Many internet websites to search!
Did you know you can read Ebooks on your computer? Click below to see how.