RANDOLPH COUNTY ESTABLISHED
By J. M. K. GUINN1
Number One Written for The Randolph Toiler, Wedowee, 1896
Number Two
The General Assembly, in 1832, passed an act establishing Randolph County, as follows, to wit: That all that tract of county bound as follows, to wit: Beginning at a point where the line dividing Townships 16 and 17 cross the line dividing Ranges 8 and 9, East of the Meridian of Huntsville; thence east along said line to the Eastern boundary line of the State; thence along said boundary down to the line dividing Coffee's and Freeman's Survey; thence due West along said line to the aforesaid line dividing Ranges 8 and 9; thence along said line due North to the beginning; shall constitute one separate and distinct county to be called and known by the name of Randolph. Approved December 18, 1832.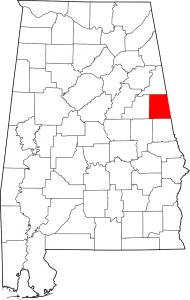 Randolph County, Alabama today
Randolph County once embraced 551,880 acres
Randolph County at that time embraced Townships 17, 18, 19, 20, 21 and North fractional part of 22, and Ranges 9, 10, 11, 12, 13 and 14, the latter two being fractional on account of the Georgia State line on the East. This made the county about 31 1/2 miles North and South, 24 1/4 on North end and 30 1/3 on the South end; an average of 27 3/8miles wide, with an area of 862 5/16 square miles or 551,880 square acres.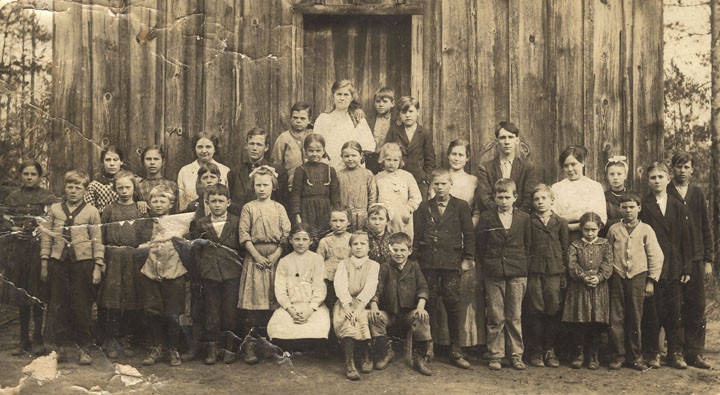 Students standing in front of a one-room schoolhouse in Randolph, Alabama (Alabama Department of Archives and History)
Randolph County is situated in the Coosa Land District, which is all that tract of country east of the Meridian of Huntsville, with Township line running East and West and numbered from North to South from 1 to 22; and range lines running north and south and numbered from west to east, from 1 to 14.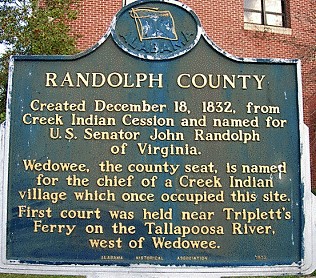 The line dividing Randolph and Chambers counties is the line dividing Coffee's and Freeman's Survey and makes Township 22 fractional. A Township is six miles square, bound on north and south by township lines and on the east and west by range lines, and with 36 Sections each one-mile square; containing 640 acres divided into 16 quarter Sections or 80 acre lots.
Sections in a township are designated by numbers commencing at the northeast corner and run from 1 to 36 consecutively; sections are divided into quarter sections, thus: Ne 1-4 Nw 1-4 Sw 1-4 Se 1-4. Range one is a true meridian line east from Huntsville and runs north and south; all range lines or sub-division lines running north and south are parallel, and with the same variations. Surveyors generally in order to find the variations of a section commence at the southeast corner of Section 36 and run north: this is supposed to give them the correct variations of that section and range line. It is said, by old surveyors, the variations change every fifty years from east to west and vice versa.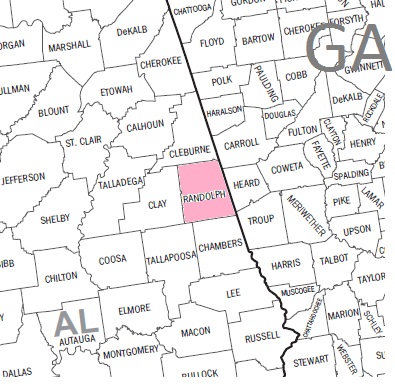 The Coffee and Freeman line dividing Randolph and Chambers counties is neither township nor a sectional, but a made line, and that gives fractional townships, fractional quarter sections which are designated by letters A. B. C. etc. The line dividing Alabama and Georgia is another made line with a variation of about 1-5 of a mile to the section west of north running north; this also gives fractional townships, sections, and quarter sections. Little and big Tallapoosa rivers gives fractional quarter section; so ti happens these fractions are some times larger than quarter sections but generally smaller. T 21, R. 13, Sec. 1, contains only 0.17 of an acre; Tp. 21, R. 14, Sec. 3, contains only 2.97 acres. Robert W. Higgins entered Sec. 1, Tp. 21, R. 13, and Benjamin Zachary entered Sec. 3, Tp. 21, R. 14.
In 1868 the General Assembly in establishing new counties cut off Township 17 on the north to Cleburne and Range 9 on the west to Clay. Now the county from north to south is 25i/2 miles in length and an average of 21% miles wide with an area of 545 1-16 square miles, or 348,840 acres.
There was a treaty made March 2, 1832, with the Creek Indians which gave to each Indian a half Section 320 acres to be selected and located by him; with this, the United States reserved the 16 sections for school purposes and the rest was subject to entry.
1JAMES MILES KILLIAN GUINN, author of this history of Randolph County, published in the Randolph Toiler, Wedowee, Alabama, in 1896, the third son of James W. and Catharine Ann (Dobson) Guinn, was born November 5, 1835, at Franklin, Macon County, N.C., and died at Langdale, Alabama, June 8, 1903 and is buried at Wedowee. He was educated in the common schools and in 1858 removed to Texas but returned to Alabama and volunteered for service in the Confederate Army and was mustered into service at Montgomery, July 28, 1861. He arrived at Richmond, Va., a few days later and was made Lieutenant of Company K, 13th Alabama Volunteers and afterward promoted to Captain. The Colonel of the Regiment was Birket D. Fry, a Californian, who was at the time living in Tallassee, Ala., holding a position with the Tallassee Mills. Mr. Guinn's regiment was in A. P. Hill's Division under Stonewall Jackson. He lost his left arm at Cold Harbor in the seven days fight. He was at Chancellorsville, in the Wilderness Battle and at the seige of Yorktown. He married first Emily F. Burton, at Wedowee, Ala., February 27, 1862, and three children were born of that union, Emily, Katy and Robert. His wife died November 6, 1865, at Alto, Texas. The next year he returned to Alabama and on February 21, 1869, married at Wedowee, Mary F. Foster, daughter of Byrd Culbertson. This wife died August 1, 1907. Mr. Guinn was a farmer, owned and edited the Enterprise Publisher, Wedowee, from 1873 until 1875. He was County Superintendent of Education between 1873 and 1879; was in the mercantile business in Roanoke, 1879 until 1883 and was U. S. Storekeeper and Guager under Cleveland's first administration.
SOURCE
Alabama Historical Quarterly, Vol. 04, No. 03, Fall Issue 1942.
Faith and Courage: 2nd edition -A Novel of Colonial America 

Inspired by real people and actual events, the family saga of colonial America continues with Ambrose Dixon's family and their life during

 Pre-Revolutionary War days of America, intertwined with a love story.