During the Spanish flu pandemic in 1918-1920 the death toll worldwide reached 20 million including 548,000 Americans in 10 months. Compared to 20 million soldiers and civilian deaths in all of WWI. It reached all parts of the globe, annihilating Eskimo villages in Alaska and one out of every 5 people in Western Samoa.
The Spanish flu killed more Americans than all American wars. Yet it is estimated only half the world's population was infected, only 25 percent exhibited flu symptoms, and 1 to 5 percent died.
The earliest known case in the US was in the spring of 1918 in Kansas but scientists believe the strain originated earlier. So many soldiers were stricken that entire divisions were laid low. Each side in WWI accused the other of germ warfare. By the fall of 1918, it was epidemic across the United States
Below is a transcribed news article from Montgomery Advertiser, Montgomery, Alabama. World War I was still going on. It would not end until November 1918.
WASHINGTON, Oct. 19, 1918 – (Associated Press) Reports to the public health service Friday from thirty-five States showed that Spanish influenza still is on the increase in most parts of the country. Conditions in army camps also were less favorable, the 4,791 new cases reported to noon Friday showing that the disease apparently was stationary after the marked decline noted for several days.
The epidemic still is more pronounced in the eastern section of the country than it is west of the Mississippi river, due undoubtedly to the more crowded conditions in the large cities. Up to October 16 New Jersey had reported 107,839 cases with 2,232 deaths, while in New York City 4,733 cases of influenza with 336 deaths and 646 cases of pneumonia with 287 deaths were reported Thursday.
Deaths in Pennsylvania up to October 15 were placed at 10,046. In Delaware the epidemic apparently was subsiding, but many cases of pneumonia were reported. Fewer cases also were reported from Massachusetts, but in Maine, Rhode Island and New Hampshire the disease still was epidemic. Maryland also reported many new cases, as did Virginia, North Carolina, South Carolina, Tennessee, Alabama and Mississippi.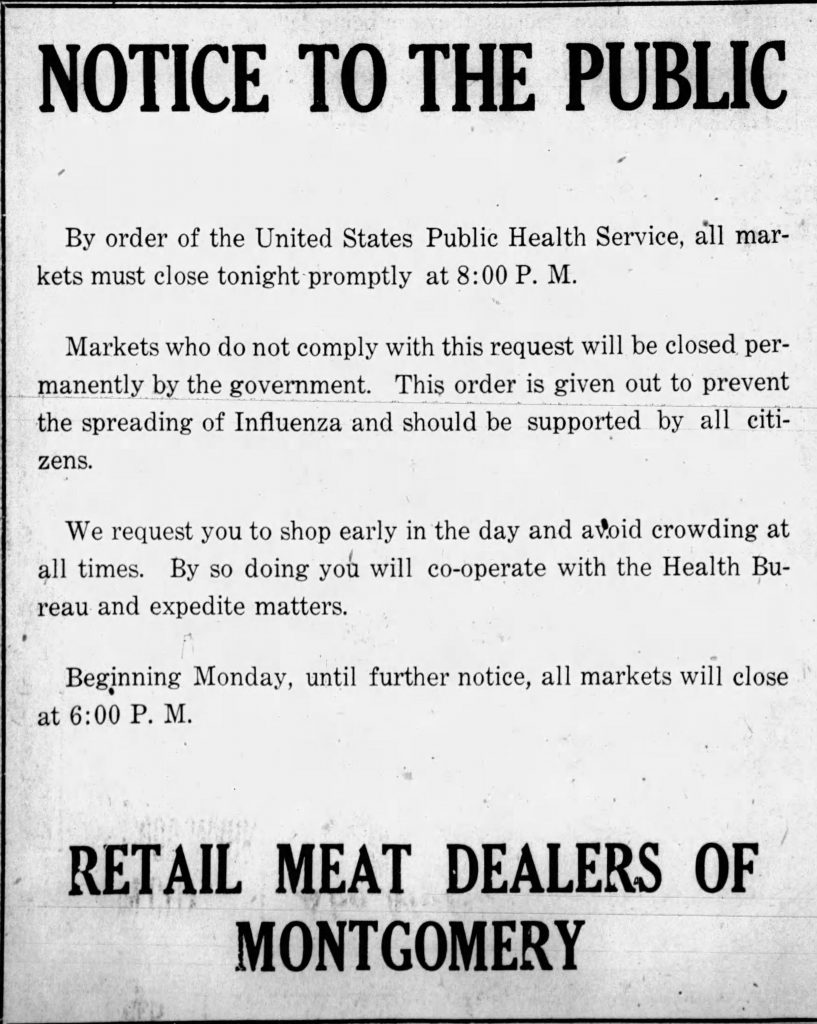 CONTINUES IN WEST
The epidemic also continues in the Middle West. Louisville and five other cities in Kentucky have many cases, while Indiana Thursday reported 2,688 new cases outside of Indianapolis, where the disease is epidemic. The malady also continues in Illinois and Michigan, while Ohio reported that it is prevalent in thirteen cities of that State.
Missouri reported epidemics in seven cities: Minnesota in thirty-six districts; Colorado in seven cities and Kansas in seven cities and many counties. There is a serious epidemic at Oklahoma City with many cases in other parts of Oklahoma. The disease was increasing in nine counties in North Dakota and was reported from six cities and several counties in New Mexico. The epidemic also is widespread in Arizona.
Idaho reported new cases from five cities; South Dakota reported the disease throughout the State; Wisconsin had new cases in ten cities and Wyoming reported 2,500 cases during the last week. Montana reported 2,000 new cases during the week ending October 12. In Arkansas the peak seems to have been reached in most cities, but the disease is increasing in the rural districts.
In the District of Columbia both the number of new cases of influenza and of deaths increased. Friday portable hospitals were opened to take care of the overflow from public and private institutions.
INCREASE IN CAMPS
Although influenza cases in army camps increased slightly, the number of pneumonia cases, 1,599, decreased during the 24-hour period ending Friday at noon. Deaths were 657 against 684 Thursday. Influenza cases reported from all camps since the epidemic began now total 279,945; pneumonia cases 42,675 and deaths 13,681
BUY LIBERTY BONDS
ALABAMA FOOTPRINTS – Volume I – IV: Four Volumes in One
The first four Alabama Footprints books – Volumes 1-IV have been combined into one book