Though it was not his intent, this photographer with the Historic American Buildings Survey who was simply taking pictures of a historic house may have captured images of ghosts of Rocky Hill Castle. I found these pictures at the Library of Congress and had a hard time understanding the white filmy shadow in picture two. Then in picture four there seems to be a clear image of large man's face on the right with a white collared shirt.
I've published many photographs of houses taken by photographer Alex Bush before and never ran across this.  Most of his photographs are very vivid without shadows.  Do you have an explanation and do you see anything else?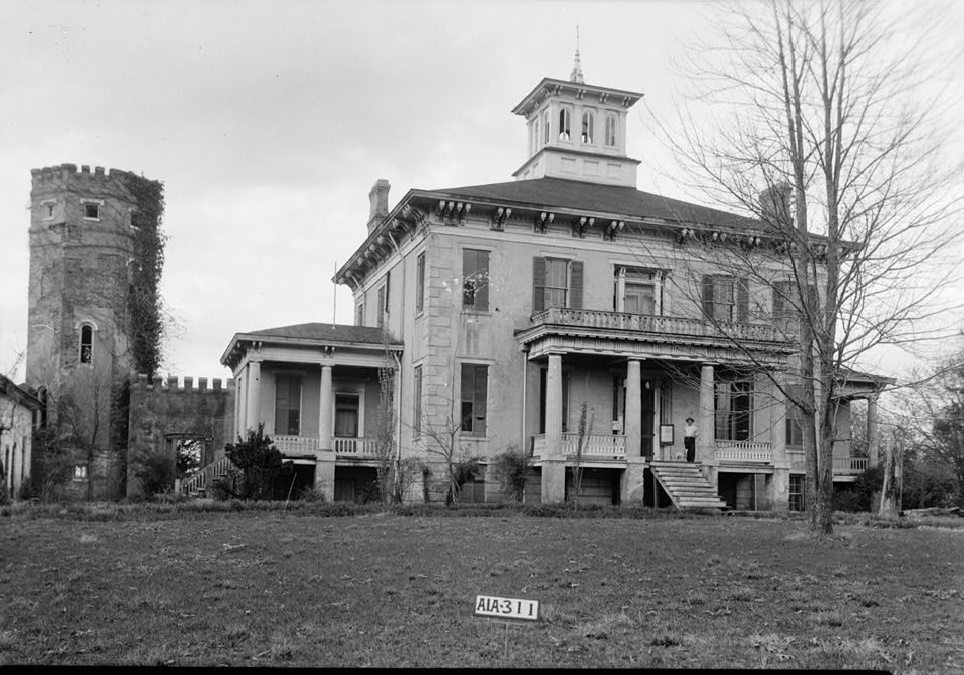 In 1933, NPS established the Historic American Buildings Survey following a proposal by Charles E. Peterson, a young NPS landscape architect. It was founded as a make-work program for architects, draftsmen and photographers left jobless by the Great Depression. Guided by field instructions from Washington, D.C., the first HABS recorders were tasked with documenting a representative sampling of America's architectural heritage. By creating an archive of historic architecture, HABS provided a database of primary source material for the then-fledgling historic preservation movement. Alex Bush was a photographer for the HABS when he took these pictures of Rocky Hill Castle in Lawrence County, Alabama in 1935.
Strange white shadow coming down from ceiling?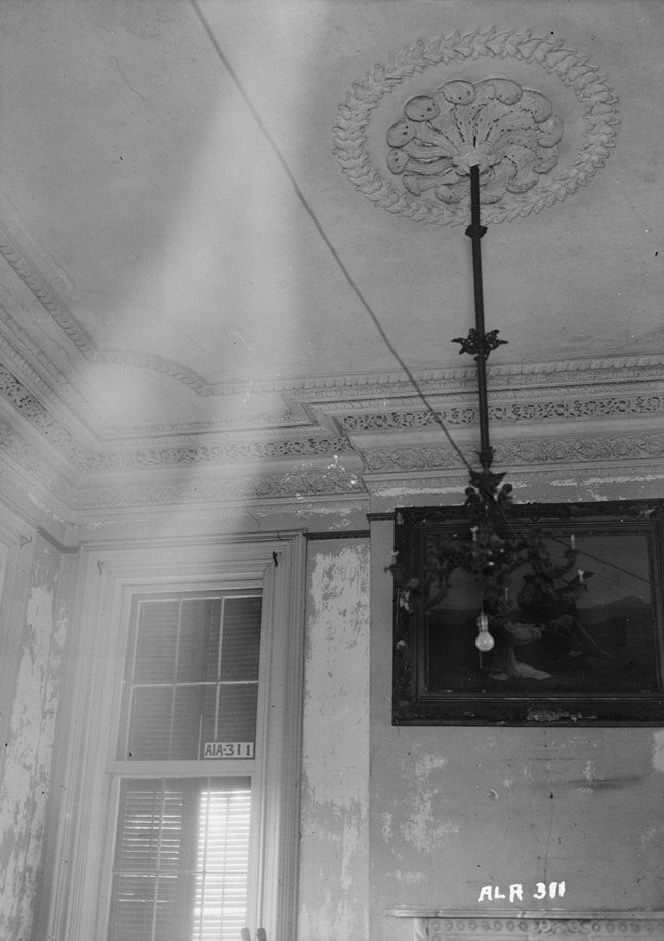 Rocky Hill Castle ceiling by photographer Alex Bush 1935 (Library of Congress)
Many ghost stories are connected with the house
Rocky Hill Castle between Decatur and Muscle Shoal was built in 1821. This once proud mansion has many ghost stories told about it. Tales include the clank-clank of chains tapping in the basement, the little Confederate Lady, and a corpse sitting up. The tower of the castle has six floors, some of which were used for slave quarters. It is said that the top floor was a lookout from which the master surveyed his land and could shout orders to his slaves a mile or more away.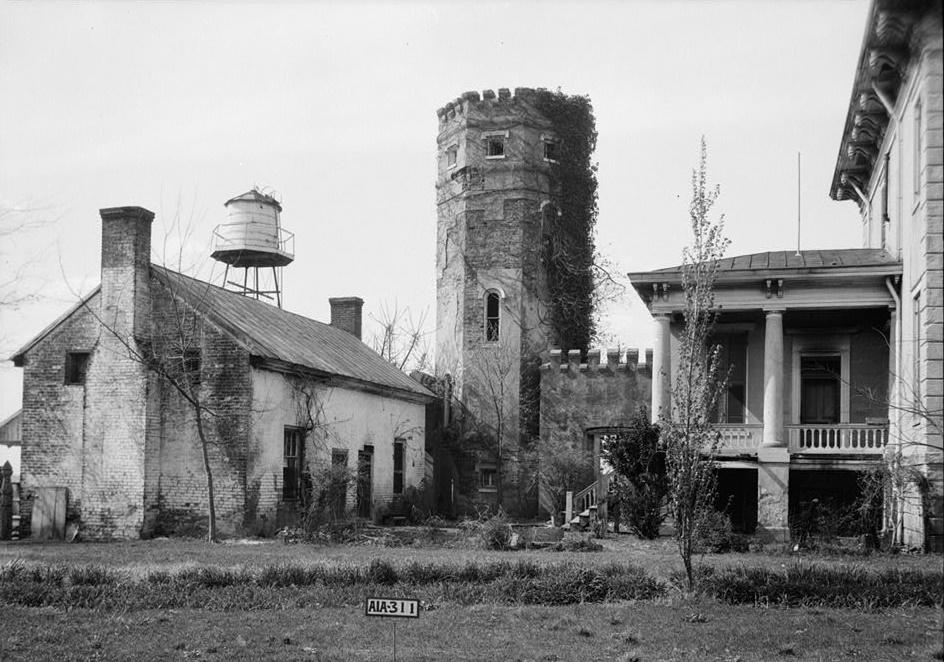 Rocky Hill Castle back of house by photographer Alex Bush 1935 (Library of Congress)
This photograph seems to have an image of a man on far right floating like a shadow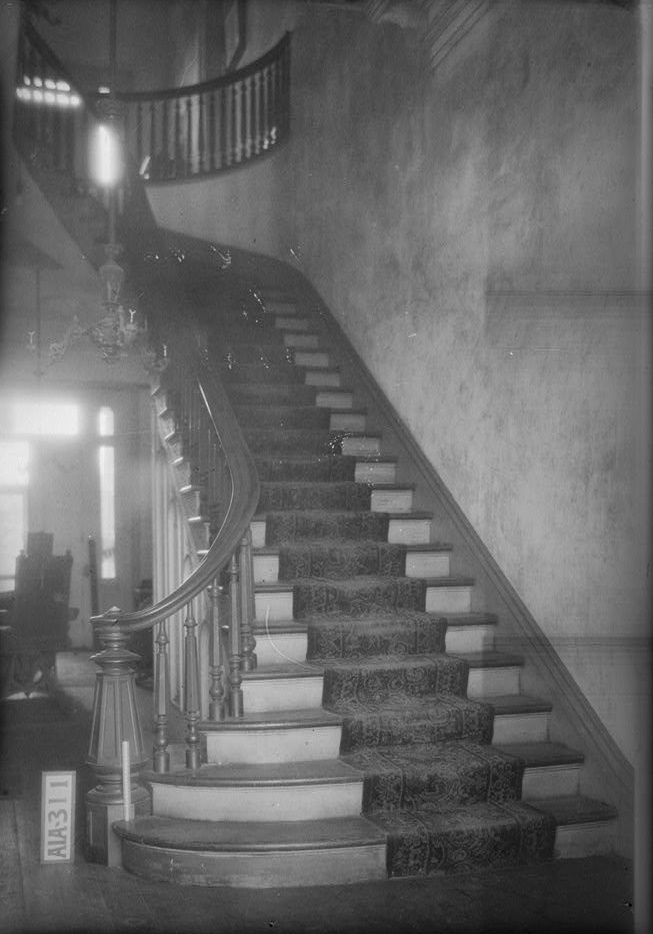 Rocky Hill Castle winding staircase by photographer Alex Bush 1935 (Library of Congress)
House served as a Confederate hospital
The house is the site of author Kathryn Tucker Windham's story "The Ghost of the Angry Architect", in Thirteen Alabama Ghosts and Jeffrey (Jeffrey Books)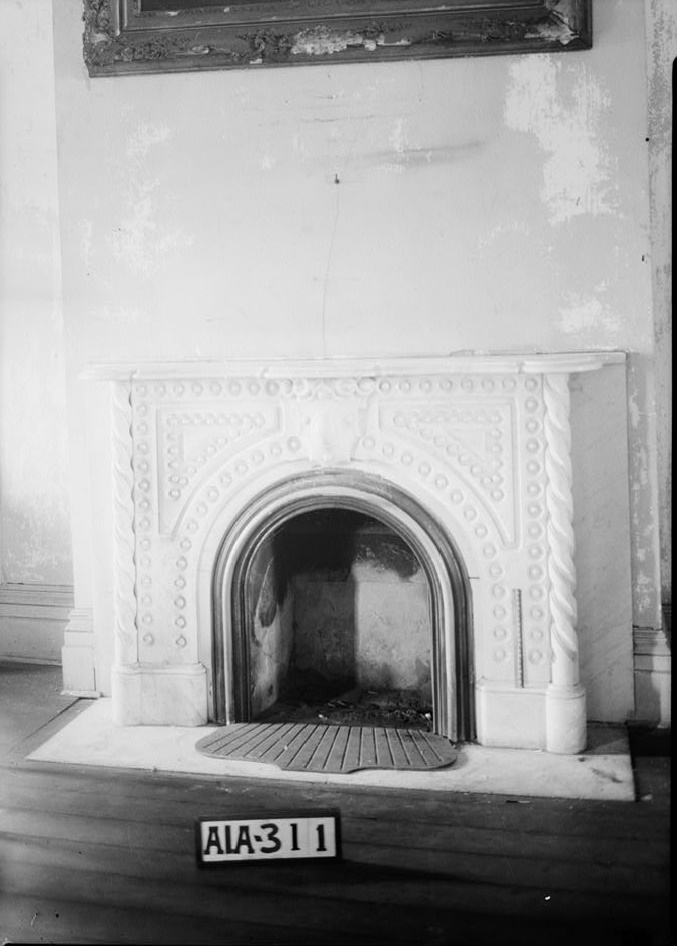 Rocky Hill Castle fireplace by Photographer Alex Bush 1935 (Library of Congress)
The plantation at Rocky Hill Castle was founded by Col. James Edmonds Saunders in the mid-1820s, shortly after he and his wife came to Alabama from their native Georgia. Saunders, born on May 7, 1806, and was a planter and a lawyer.
It is said that Saunders built one house, but he wanted a grander dwelling and demolished his first house and hired a French architect to build Rocky Hill Castle in 1858, "but he refused to pay the French architect's exorbitant bill. Shortly after the architect died, his apparition materialized in the cellar and started hammering away at the foundation. The pounding continued as long as the house stood."
The house served as a Confederate hospital during the war and several soldiers are buried in the Saunders' family cemetery on the grounds. "Later, the ghost of a beautiful Southern lady came looking for her lost lover. The Lady in Blue started appearing on the stairway and was later seen in the wine cellar. When an aggressive male ghost actually spoke to Mrs. Saunders in her bedroom, the whole family packed up and left within two hours."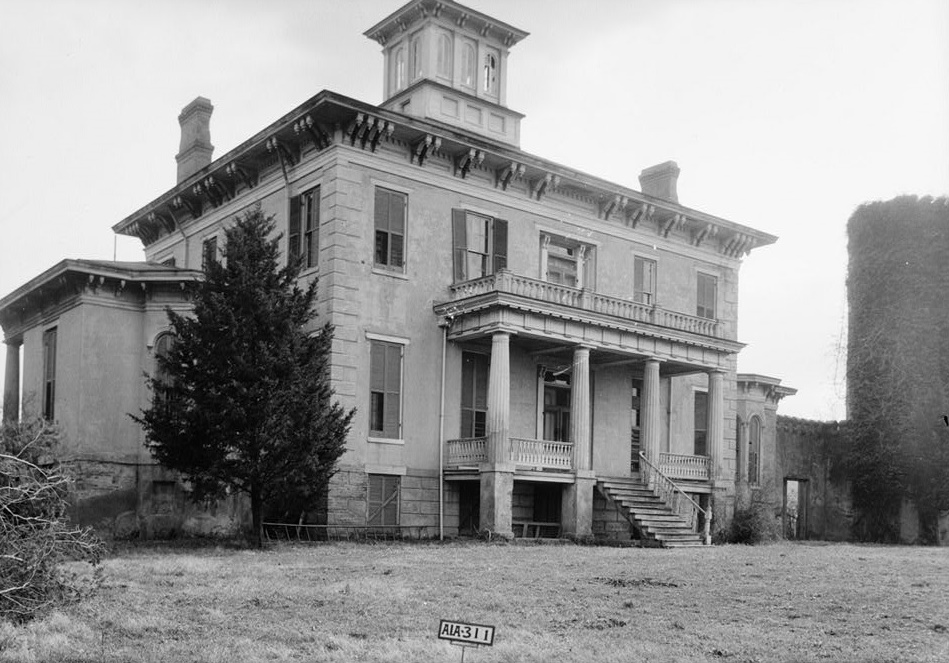 Rocky Hill Castle rear of house by photographer Alex Bush 1935 (Library of Congress)
Doctor left abruptly because of ghosts
After James Saunders died in 1896, there were many owners. The last member of the family to own the house was Dr. Dudley Saunders. It is alleged that he and his family abruptly abandoned Rocky Hill Castle in the 1920s after ghostly activity occurred.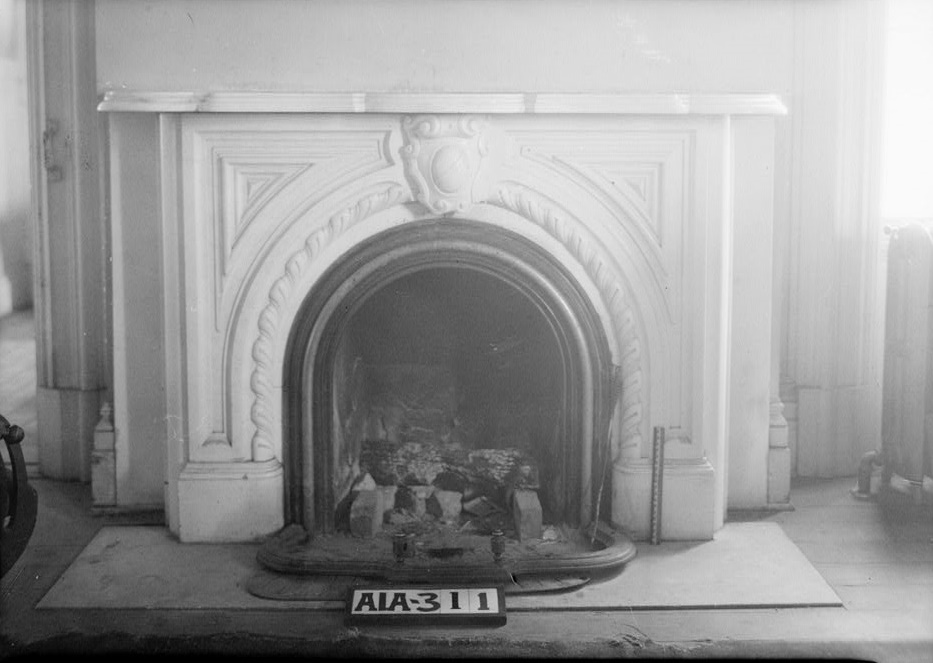 Rocky Hill Castle fireplace by photographer Alex Bush 1935 (Library of Congress)
The house was purchased by H. D. Bynum and R. E. Tweedy in the 1920s who utilized the farmland but did not reside in the house. It was finally demolished in 1961 by the new owner, Gordon McBride.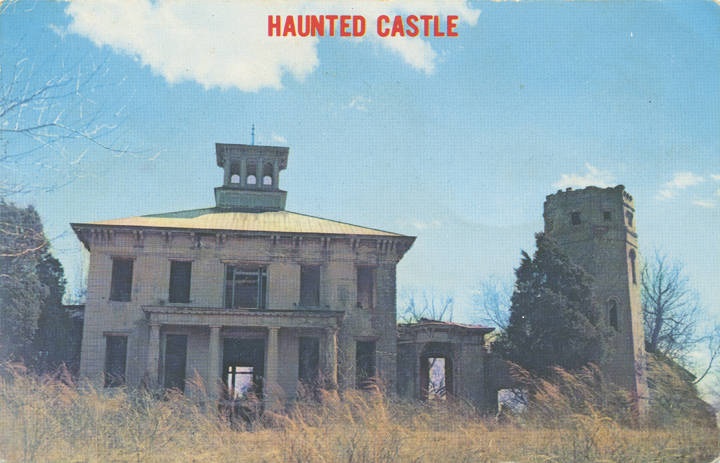 Haunted Rocky Castle, Lawrence County, Alabama  (Alabama Department of Archives and History)
SOURCES
WIKIPEDIA
Haunted Places: The National Directory: Ghostly Abodes, Sacred Sites, UFO Landings and Other Supernatural Locations By Dennis William Hauck 2002
LIBRARY OF CONGRESS
ALABAMA DEPARTMENT OF ARCHIVES AND HISTORY
WHERE TO FIND – on-line resources, experienced genealogists will not be aware of many of these.
COURT RESEARCH – how to do court house research, where to find birth, death, social security records free on-line.
EIGHTY – ONE QUESTIONS – you should ask your elderly loved-ones before it's too late.
TIPS ON BREAKING DOWN THE WALL –