COL. JAMES EDMONDS SAUNDERS
BIOGRAHPY and GENEALOGY
(May 7, 1806 – 1896)
Lawrence County, Alabama
James Edmonds Saunders was born in Brunswick County, Virginia, 7th of May, 1806. His ancestor, Edward Saunders, " Chirurgeon," was already seated in Northumberland County, Virginia, in 1658; and, in 1669, as one of the justices for the county was administering both medicine and law, pari passu, and in drastic doses, no doubt. His commission from the Royal Governor Lord Berkeley as " one of the king's justices for Northmnberlamd County" is yet preserved in the old Records at Heathsville.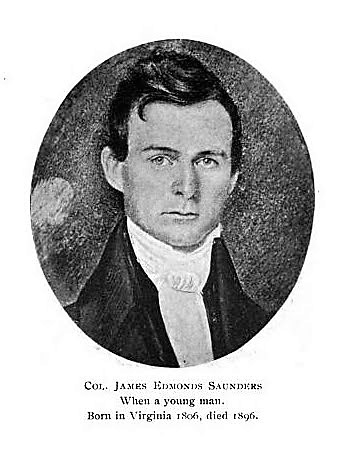 His descendants lived, later, in the adjoining county of Lancaster on the Wicomico River, in Wicomico Parish (which was included in both counties), and record of these is preserved at Lancaster C. H.
His great-grandson, Thomas Saunders (born 1739), removed to Brunswick County, after the Revolution, in which, he, and four brothers, served with great credit in the American army, in Virginia and North Carolina.
Rev. Turner Saunders, of Tennessee, Alabama, and Mississippi (born 1782), was the second son of Thomas, and father of the subject of this sketch. He removed in 1808 to Franklin, Williamson County, Tenn., and with him came his brother-in-law, Maj. David Dunn, of Brunswick county, and other Virginia families, who soon formed a refined and energetic community. Descendants of some of these are, to the present day, busy making noble history for the South. His son, James Edmonds Saunders, attended Old Harpeth Academy.
In 1821, Rev. Turner Saunders built his home between Town Creek and Courtland. James Edmonds Saunders attended the University of Georgia (at the time it was called Franklin College) when Rev. Moses Waddell was its president. The following year he attended Princeton College.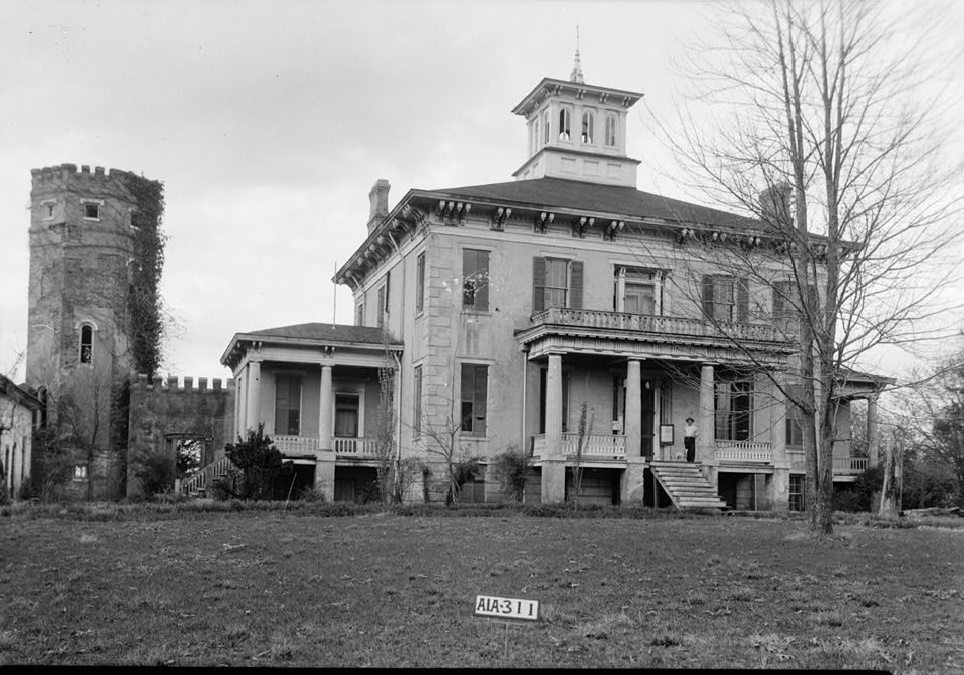 Married life
On July 14, 1824, when eighteen years of age, he married Mary Frances Watkins (aged fifteen), eldest daughter of his neighbor, Major Robert h. Watkins, who had recently moved from Petersburg, Broad River, Georgia (and before that from Prince Edward County, Virginia). Major Watkins bought much land from the government through its office at Huntsville. Alabama, and patents on parchment, of many original tracts, signed by Presidents Monroe and Jackson, are preserved in the family. The couple was wed for sixty-five years and had nine children.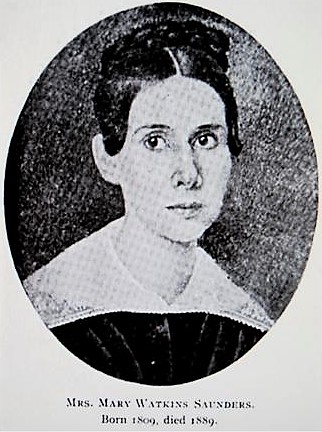 Practiced law in Courtland, Alabama
In 1825, James was installed in the law office of Ephraim H. Foster and Francis B. Fogg in Nashville, Tennessee. His first years of practice began in Moulton, Lawrence County, Alabama. One of his earliest clients was Mrs. Leetch, the aunt of future President, James K. Polk, who became a life-long friend.
In Courtland, James formed a law partnership with Judge John J. Ormond, who later served on the Supreme Court of Alabama.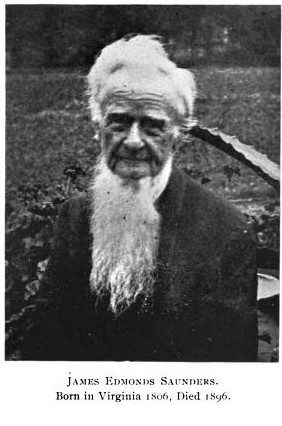 He built a commodious residence three miles west of Courtland which was named Rocky Hill in 1832. The land was first bought by Mr. Norment of Virginia and a log cabin stood on the hill prior to Saunders ownership. Norment settled there among his friends, the Butlers, Sales, Burruss, Fitzgeralds, and Booth families from Botetourt County, Virginia. The Rev. Freeman Fitzgerald and his wife Elizabeth were the second purchasers of the land called Rocky Hill. His daughter was married to Dr. Thomas Watkins, of Georgia (and Austin, Texas). His brother, Mr. William Fitzgerald, and "Aunt Letty," his wife, lived nearly opposite Capt. Charles Swoope's place, later the Barclay home in Wheeler, Alabama. Mr. William Booth was brother-in-law to the Fitzgeralds. All moved to Mississippi, Florida, and Louisiana in later years.
Rev. Turner Saunders and his step son-in-law, Bishop Robert Paine preached at the local Methodist Chapel, Ebenezer nearby and Colonel James Saunders was the class leader there for many years. Mr. Saunders was also President of the Board of Trustees from the beginning of the nearby Lagrange College which was founded in 1830 by the Southern Methodist Church. He later became a trustee of the University of Alabama and served in the Legislature. In the year 1840, Col. Saunders was the acknowledged party leader in the Lower House of the General Assembly of Alabama. As chairman of its judiciary committee, his strength in a debate, and graceful bearing, gave him great distinction throughout the State.
In 1843, Saunders health became impaired so he moved to Mobile, Alabama where he appointed the collector of customs by President James K. Polk. He became director of the Bank of Mobile and formed a cotton commission house with his brother-in-law, Gen. Benjamin M. Bradford.
He served the State again as elector for Pierce and King in 1852, and in 1860, he was elector for Stephen A. Douglass.
Col. Saunders demolished the first house he built at Rocky Hill and began building Rocky Hill Castle in 1858 because he wanted a grander home. The Civil War stopped construction and the house was used as a Confederate hospital during the war.
Rocky Hill Plantation was in built in Lawrence County, Alabama by Col. James Edmonds Saunders. The plantation was the subject of many ghost stories including The Ghost of the Angry Architect that was published by Kathryn Tucker Windham and Margaret Gillis Figh in 13 Alabama Ghosts and Jeffrey.
"The plantation passed through many owners following the death of James Saunders in 1896. The last Saunders to own it was James Saunder's grandson, Dr. Dudley Saunders. Dr. Saunders and his family are alleged to have abruptly abandoned Rocky Hill Castle in the 1920s, purportedly after ghostly activity."1
It was finally demolished in 1961 by the new owner, Gordon McBride.
During the War Between the States, Saunders served as a colonel and lost his fortune at the end. He continued to live at Rocky Hill and tried several business enterprises, including vineyards. After his death, his descendants continued to live in the Rocky Hill mansion until 1926.
In 1880 Colonel Saunders began a series of letters in his local county paper relating to the Early Settlers of Lawrence County, Alabama and the Tennessee Valley. These letters continued until 1889 Col. James Edmonds Saunders died August 23, 1896. His wife Frances (Watkins) Saunders preceded him in death on February 6, 1889.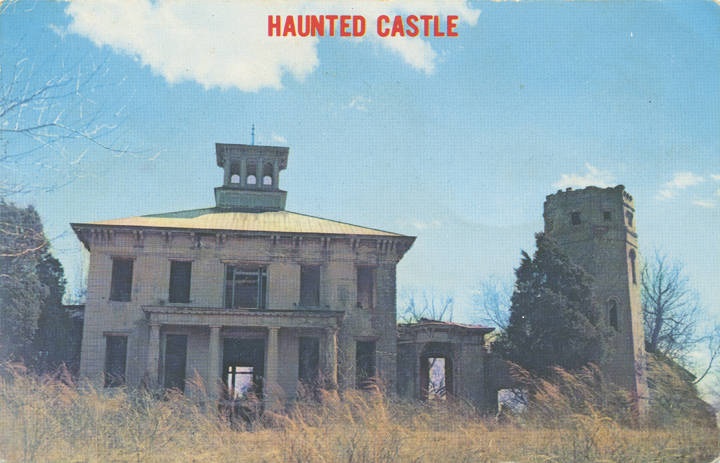 Haunted Rocky Castle, Lawrence County, Alabama (Alabama Department of Archives and History)
CLICK HERE TO READ MORE ABOUT ROCKY HILL CASTLE
SOURCES
Early Settlers of Alabama Part 1, by James Edmonds Saunders, L. Graham & son, Limited, printers, 1899 Alabama