We've all heard the song "Stars Fell on Alabama" and assume it came from the book titled with the same name written by Carl Carmer in 1934 as well as the song with the same name written by Mitchell Parish and Frank Perkins a few years later.
STARS ACTUALLY FELL ON ALABAMA
However, few people realize that the words probably came from an actual event on Nov. 12-13, 1833 in Northern Alabama. On the night of Nov. 12, 1833, people in North Alabama went to bed as normal only to be awakened around midnight when a number of shooting stars began streaking across the night sky.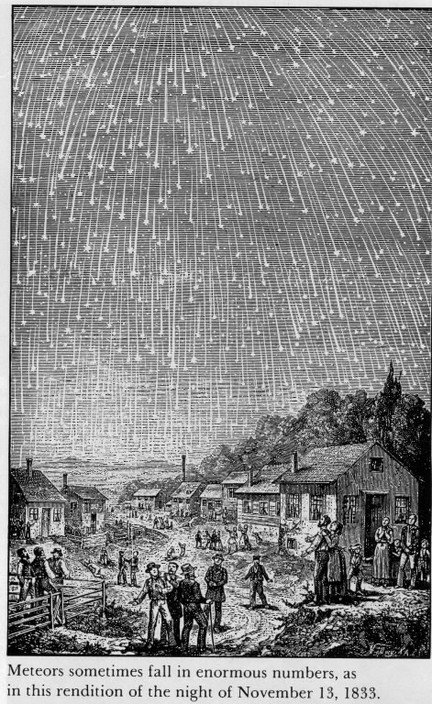 The Heavens appeared to be crashing down
The number increased to tens of thousands by 3:00 am. The light was so constant from the streaming meteors that the roosters began crowing and people starting arising thinking the sun was up. Cows headed for pasture and chickens left their roost due to the brightness of the sky. The Heavens appeared to be crashing down in the startling meteor display.
A Huntsville editor wrote "people were praying and shouting, thinking the day of judgment had come. The Heavens were on fire as 10,000 meteors fell in one hour." From newspaper accounts, the people of North Alabama literally thought the world was coming to an end. Travelers, packed and headed for home to be with their families "in the final hours. The Florence Gazette reported: "thousands of luminous bodies [were] shooting across the firmament in every direction. There was little wind and not a trace of clouds, and the meteors succeeded each other in quick succession."
The shower of meteors was visible far and wide over North America
The maximum shower display was between 2:30 and 4:00 am on the 13th of November. At the Pulaski Pike Race Track, confusion erupted during the annual holiday of horse racing, card playing and cock fighting as sportsmen and planters hid under chairs, tables, and beds to protect themselves from the meteors.
The shower of meteors was visible over North America but was nothing compared to what the people of Southeastern states and particularly North Alabama experienced that night. One astronomer claimed that one meteor was as large as the moon. The shower of Leonids occurs every 33-34 years but nothing has compared to what Alabamians experienced the night of Nov.13, 1833.
The song of this spectacular event has inspired many renditions
The memory of that night stayed was talked about well into the 1890's and probably inspired the title of Carl Carmer's book.
Related Stories
Check out these books by Alabama Author Donna R Causey
Stories include:
The Yazoo land fraud;
Daily life as an Alabama pioneer;
The capture and arrest of Vice-president Aaron Burr;
The early life of William Barrett Travis in Alabama, hero of the Alamo;
Description of Native Americans of early Alabama including the visit by Tecumseh;
Treaties and building the first roads in Alabama.