Click to see an enlargement of this Map of 1875 Huntsville with names of property owners (Library of Congress)
{Interesting story about what Doctors had to deal with in early Alabama}
THE EARLY DAYS OF THE MEDICAL PROFFESSION IN TALLADEGA COUNTY
By Dr. J. L. Stockdale
We cannot too highly esteem, and justly appreciate the merits of those men who were the forerunners, so to speak, the pioneers of the healing art in Talladega Valley. When we consider the limited number of practitioners, the wide expanse of country worked, the scarcity of drugs, medicine and medical appliances, and the poor compensation they received for these services, we sometimes wonder why men of such intelligence should engage in a profession so arduous and unprofitable. And the only answer is, that they loved the profession.
Only Two Physicians
In 1832, before this county was organized, and while it was a part of St. Clair county, there were only two physicians in the limits of the county, Dr. William Edwards, who lived in Talladega, moved to his farm on Choccolocco, then back to Talladega, thence to Texas. His gentleness and kindness as a physician, I have often heard spoken of by his patrons.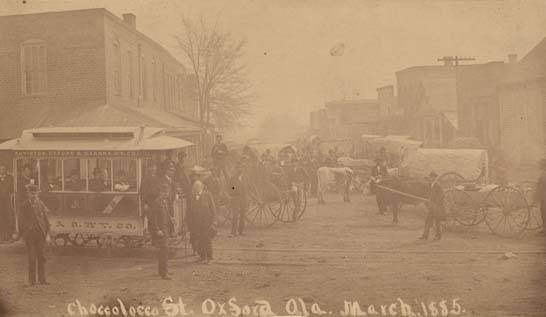 Choccolocco St., Oxford, Ala., March 1885 – Oxford is a city in Calhoun and Talladega counties in the State of Alabama (Alabama Department of Archives and History)
And Dr. William Somners, of Pond Springs, who enjoyed a very large, if not lucrative practice, in the mountains east of us. He was a good physician, much interested in the study of comparative anatomy and minerology, (sic) though a rather eccentric individual, who liked nothing better than to place himself at the head of a crowd of bad boys at Christmas times and fourth of July, and amuse himself by going around to peoples' houses beating tin pans, blowing trumpets, ringing cow bells, calling themselves cowbellions! Keeping the "wimin" folks awake and scaring the children; or attending barbecues dressed in phantastic (sic) costumes, riding bulls, oxen, cows, or goats, calling themselves Arabs! He died in 1852.
Great favorite of the ladies
In 1833, the year the county was organized, two more physicians were added to the list: Dr. Elisha Dodson, of Fife, and Dr. Henry McKenzie, of Talladega, who built himself a small dwelling on the same block as the Exchange Hotel.
Dr. McKenzie was a great favorite with the ladies, especially the maternal portion of them. Kind and sympathetic, he often mingled his tears with theirs and wept over their troubles, woes, sorrows, and joys.
He didn't pay his bill
I recollect an incident connected with his practice: A man living a few miles below Talladega, in whose family he had practiced for a number of years, without receiving any compensation, though a well to do farmer, rode into town one day and called upon the doctor, whom he found sitting in his office reading, and accosted him in the customary manner:
"Well, Doc., my wife is complaining a little, I wish you would ride out and see her."
The doctor laid aside his book. "Mr. —, I have been your family physician now for three or four years, and you have never paid me one cent; I can't go."
"But," said Mr. 9 "I will make you go; I will take the law on you."
The doctor smilingly said, "Mr. —, do you really think you can compel me to go."
"Why, yes, I do, and will show you in a few minutes." Then, bouncing out of the office, he called on the justice of the peace, a judge and two or three lawyers. They laughed at him. He went to Dr. Knox, requesting him to go and see his wife.
Dr. Knox said "I can't go, I am not your family physician; go and get the money and pay Dr. McKenzie and he will go."
He went, got the money and paid up his bills! Dr. McKenzie went, and was his family physician as long as he lived in the county. He made a useful member of society, and ever afterwards paid his doctor bills promptly. He went to Texas.
A worthy sire of a worthy son
During the following year, 1834, two others were added to the faculty: Dr. Benjamin McKenzie, brother to the last mentioned, and Dr. Joseph D. Heacock, of Sylacauga, the father of our townsman, and "A worthy sire of a worthy son."
The next year, only one new name was added to the list of physicians; but he was a host in himself—Dr. James C. Knox. He was a native of Georgia, and was acknowledged the leading surgeon of his time, and is best described in the language once ascribed to the great Napoleon, "Grand, gloomy and peculiar, he sat on his horse a sceptered (sic) hermit, wrapt (sic) in the thought of his own originality." He practiced here for nearly forty years.
More Doctors arrived
In 1836 Drs. Wheeler and Osborn L. Echols, of Mardisville, and Dr. Milton McGuire, of Talladega, another very popular physician, joined the band. In 1837 the names of Dr. Elias Brock, of Plum Branch, and Dr. James Tounsend, of Talladega, were added to the roll. Between the years of 1837 and 1844, Drs. Thomas Riser, Harrison Rippatoe, and Ed. Gant, practiced medicine at or near Sylacauga; Dr. Poe at Mardisville; Dr. Acker at Blue Eye; Dr. James Simmons at Brownville and Dr. B. W. Groce, at Kelly Springs; Drs. Hant, Pearson and Mason at Talladega.
Medical Society organized
In 1844, three years before the State Medical Association was formed, the doctors of the county met, and organized the Talladega Medical Society. They prepared and adopted a fee bill, also a code of ethics. A board was also created called The Talladega Medical Board, whose duty it was to examine all applicants for license to practice medicine, who had not a diploma from some regular medical college, and if found qualified, to grant them a license to practice medicine, to examine all persons who applied with reference to their fitness and ability for doing road duty, military duty, or patrol duty; also all persons against whom a complaint of insanity or lunacy was made. Drs. James C. Knox, Henry McKenzie and Dr. William Sommers, constituted said board.
Subsequently to 1844, and prior to 1850, Drs. Thomas Chilton, Walter W. Wylie, J. H. Vandiver and Meredith G. Moore were practitioners in Talladega; Dr. Balus Abercrombie at Blue Eye; Dr. R. Pinkney Lawson at Howell's Cove; Dr. Jacob King at Bluff Springs, Martin G. Slaughter at Pinckneyville, and Dr. Jones at Chinnabee.
Such were the names of the gentlemen, as I recollect, who preceded us in the early days in Talladega county in the battle against disease. But they have nearly all passed over the river and gone to their reward, except Dr. Vandiver. About a score lie entombed in yonder cemetery, and when ever I pass by the resting place of one such, I involuntarily stop, and then uncover my head. (Copied from J. A. Binghams' Scrap Book.)
SOURCE
(The above has been transcribed from The Alabama Historical Quarterly, Vol. 08, No. 04, Winter Issue 1946)