(Updated with the Newspaper article from 1813)
BATTLE OF TALLADEGA
The Battle of Talladega was an engagement between Gen. Jackson's army and a body of hostile Creeks, who were attempting to reduce what was known as Leslie's Station.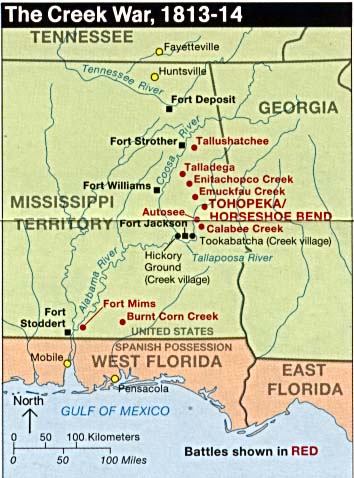 Located in the old Indian Town of Talladega
This was a trading post at the old Indian town of Talladega, situated on a hill about a quarter of a mile southwest of the big spring, and near the present town of Talladega.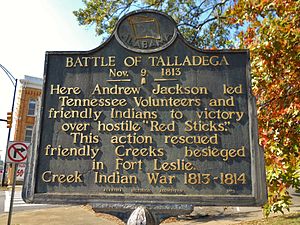 It was named after Alexander L. Leslie, the half  Indian son of Alexander F. Leslie, a Scots Indian countryman in the Creek nation. The station was occupied by 17 white men and about 120 friendly Creeks, under the leadership of Jim Fife and Chinnabee.
Leslie built a stockade just above the spring to protect the friendly Indians from the " red sticks" in 1813.
These Indians had refused to join the hostiles, and in consequence, they were attacked by them and driven into the stockade at Fort Strother, with an army badly in need of rations.
The latter surrounded the defense with a largely superior force and had reduced the inmates to extremities when a messenger bore to Gen. Jackson, who had just arrived at Ten Islands, an urgent request for aid. Jackson at once put his troops in motion and marched to within six miles of the place Nov. 8, 1813.
On the morning of November 9, his intrepid Tennesseans moved upon the Indian forces from the common center. The Indians fought bravely and repulsed Robert's militia brigade, but they, in turn, were beaten back by fresh troops. The Tennesseans, under Jackson and his courageous lieutenants, pressed steadily forward. The Indians gave way and numbers escaped though Jackson's lines. Many were pursued and shot down as they ran. The battle lasted scarcely more than an hour and a half.
For miles around, the woods were filled with dead and wounded Indians.
Two hundred and ninety-nine were wounded on the battlefield proper, and there were doubtless many others that were not located. Jackson's losses were 15 killed and 80 wounded.
The forces of Gen. Jackson consisted of about 2,000 men, infantry and mounted, while the Indians had about 1,000. The garrison in the fort was thus relieved.  Jackson's dead were buried on the field. In recent years, the Talladega chapter, Daughters of the American Revolution, had their remains removed to the city cemetery, where they were reinterred, and a handsome monument erected in commemoration of their valor.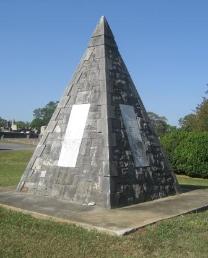 Read more at Battle of Talladega
On the morning of November 10, Jackson's army returned to Fort Strother, where it remained for a number of days, resting and preparing for further advance.
SOURCES
Pickett, History of Alabama (Owen's ed., 1900), pp. 554-555; Parton, Life of Jackson (1861), vol. 1, pp. 440-446; Buell, History of Jackson (1904), vol. 1, pp. 306-310; Eaton, Life of Jackson (1824), pp. 57-63; (Eaton) Memoirs of Jackson (1848), pp. 50-55; Frost, Pictorial Life of Jackson (1846), pp. 139-147; Jenkins, Life of Jackson (1852), pp. 69 73; Colyar, Life and Times of Jackson (1904), vol. 1, pp. 129-130.
Brewer's Alabama History
See Newspaper article from 1813 Battle of Talladega Nashville_Whig_16_Nov_1813_Battle_Talladega
The soldiers in this volume are JAMES CALDWELL, JOHN YOUNG, CAPT. ANTHONY WINSTON, WILLIAM SANDERS, CAPTAIN WILLIAM ARMISTEAD, WILLIAM WICKER, BRYANT ADAMS, WILLIAM PULLEN, GEORGE AGNEW, JOHN WEBSTER, ROBERT WESTON, GEORGE TAYLOR, GOV. JOHN SEVIER, JAMES ROBERTSON, HARRISON NICHOLSON, JAMES MCCRORY, DAVID MURRAY, CHARLES LITTLETON, DAVID LINDSAY, EPHRAIM KIRBY, JOHN WADE KEYES, COL. JOSEPH HUGHES, SAMUEL TOWNSEND, JOHN TOWNSEND, HENRY TOWNSEND, and ANDREW TOWNSEND