Alabama News from the past on April 30, 1874
Tuscumbia is out of debt, Alabama Governor has a toothache and a hog with horse feet – were all items of interest in early Alabama.
Tuscumbia is out of debt, and consequently, is disposed to strut a little. (Note by Donna R. Causey, transcriber: This was a particularly poignant statement in regard to what happened in Tuscumbia only a few months later.)
We understand that his excellency, David P. Lewis, governor of Alabama passed through Birmingham a few days ago, on his way to North Alabama. We regret to add, in this connection, that his excellency was suffering from a severe attack of toothache. A gentleman who opens his mouth as little as the Governor does, ought not to suffer with toothache.—[Montgomery Ledger]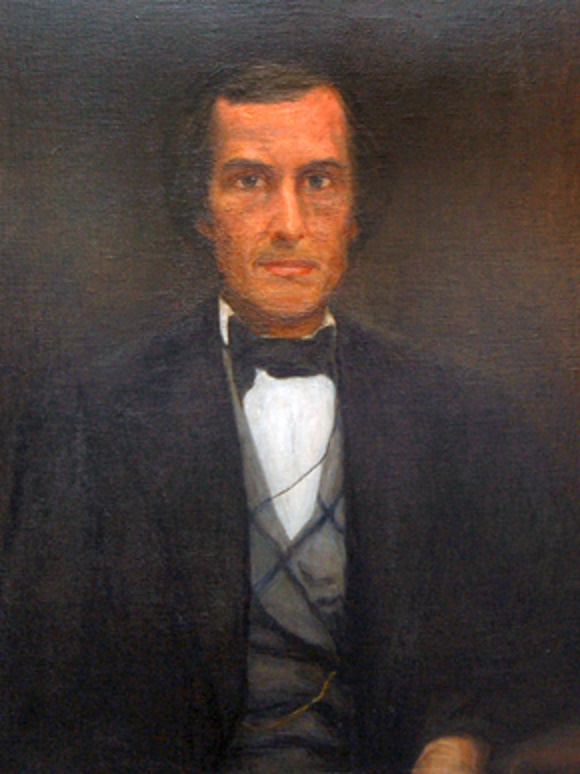 The Eufaula News knows of six young men who lived in that city last year, who are now living and farming in the country and doing well. Sensible young men!
Mr. B. F. Johnson of Opelika has improved on the ancient "half horse and half alligator," and has a hog with horse feet.
At a recent session of the Coosa County Circuit Court a young man—a son of a minister, plead guilty to stealing two horses.
One hundred and forty tons of coal, from near Tuscaloosa, were received in Mobile, the other day.
Capt. W. H. Homer, of Mobile, has been shipping green peas and radishes at the rate of about 350 bushels a week, to Atlanta, Nashville, Louisville, Chicago, St. Louis, and New York.
The Opelika Daily Times thinks the curse of the South is idleness, and what she needs most, is to have her army of lecturers and advisers converted into an army of workers.
An old lady in old Coosa county calls the Cerebro Spinal Meningetis, the serious old final come and get us.
The annual convention of the diociese (sic) of Alabama (Protestant Episcopal Church) will convene in Eufaula on the 2nd Wednesday in May, the 13th.
The Alabama and Chattanooga railroad now has control of the branch between Attalla and Gadsden, and has put on passenger coaches.
The Revenue man played havoc with all tobacco found in Greenville that had been taken out boxes. The law requires tobacco to be kept in the boxes bearing the official stamp.
Huntsville is still going ahead with its idea of manufactory of agricultural implements.
Maj. Chardavoyne, formerly Private Secretary of Gov. Lindsay, was elected Mayor of Courtland, Ala., a few days ago on the Democratic ticket.
A lady, well known in Mobile, who has been married, some say four times, others two, has been left by a former husband, lately deceased, the handsome fortune of $400,000, as an atonement for former wrongs.
The postmaster at Selma has had a Talladega man arrested for sending a scandalous postal card to a citizen of the former city. Right.
Montgomery was lighted by gas for the first time, on the night of the 7th of February, 1854.
The tax sales of Macon county occupy seven columns in the county paper. A Radical county.
Bishop Keener, of the Methodist church will visit Montgomery in May.
There is said to be $1,000,000 in U. S. bonds hoarded in Madison county.
A Talladega farmer is raising fine clover.
Miss Julia C. Tyler, daughter of Col. Robert Tyler, of Montgomery, was married on the 15th to Henry H. Tyson, of Maryland.
The cotton factory of Mr. Matthews at Selma, has commenced operations. There are only four or five operatives employed at present, but the force will be increased when needed. The thread made is said to be very good.
The Eufaula News of Saturday makes this alarming report: "We learn from farmers that the cotton caterpillar fly has made its appearance in this and adjoining counties. If the cotton crop is destroyed in this section, by these pests this year as it was last, the majority of our farmers will be utterly bankrupt.
The Alabama river is now about two feel four inches above the high water mark of July, 1872, and lacks a few inches of being as high as it was in 1865. There is no dry land at the Ferry landing and the railroad track of the Gulf road at the depot is about a foot under water. The river was still rising though very slowly at 10 o'clock last night. [Selma Times]
There are three-hundred-and twenty-five patients in the Insane Hospital at Tuscaloosa, and more on the way.
As family historian, do you have friends and family ask you how to get started in family research? This is a hard question to answer in a few minutes. Refer them to the book below to help them get started in this fun hobby. Purchase several – Books make great Christmas gifts!