Homecoming Day at the University of Alabama began when the University's first Alumni Homecoming was held in 1920 on Armistice Day. This joint celebration provided a patriotic occasion with football as the added feature. Alabama's Thin Red Line defeated Louisiana State University, 21 to 0 with about 3,500 people attending the game. Denny Field was dedicated at that game.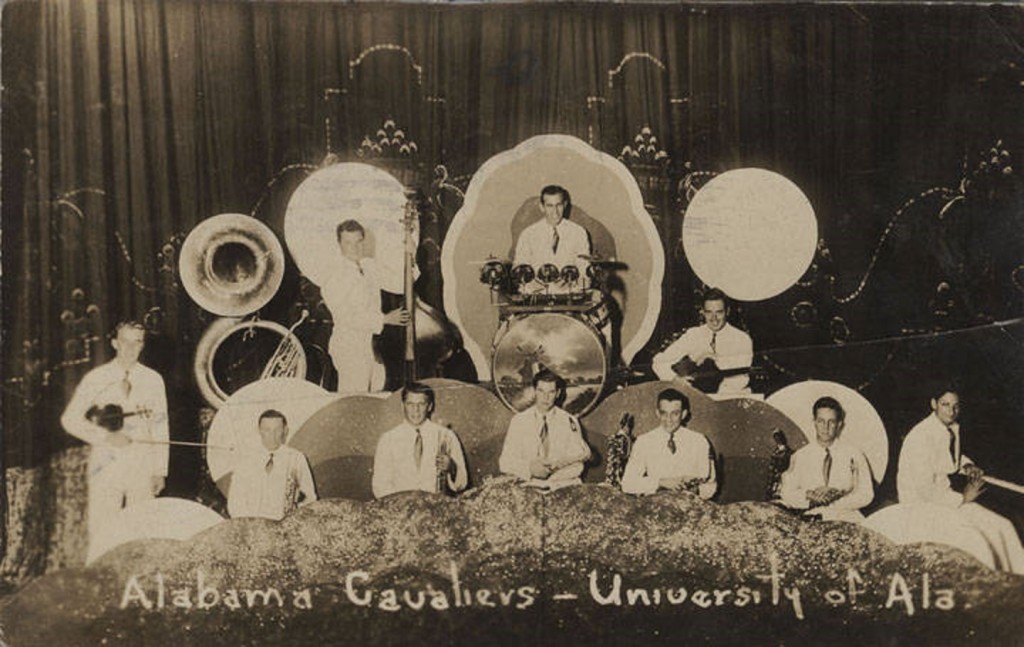 Alabama Cavaliers – University of Alabama – The postmark date on the back of this postcard is October 1933 (Alabama Department of Archives and History)
The University of Alabama alumni had petitioned University authorities twice before the day was finally approved. Similar gatherings had been held at other colleges throughout the United States.
Homecoming Day was tied to the Armistice Celebration for the first three years. On November 10, 1923, the Armistice Day celebration was merged with the Homecoming rites for the last time. Coach Wallace Wade's first Alabama team won the game that day, beating Kentucky 16 to 8.
The following year, on Nov. 8, 1924, Johnny Mack Brown ran a 95-yard touchdown on a kickoff return against Kentucky. The University of Alabama won with a score of 42 to 7.
Dedication of Denny Stadium which was built with funds from two Rose Bowl trips was held on October 13, 1929, with a then all-time record of 12,000 fans on hand to see Alabama defeat the University of Mississippi, 22 to 7.
SOURCES
The Tuscaloosa News November 29, 1940
Plan for Indian Removal Started With President Thomas Jefferson

   

Intrigue and Murder After Treaty At Indian Springs

   

President Adams And Governor In A Stand-off

   

Gold Causes Expulsion Of The Cherokees

   

Cherokee Chief Ross Became Homeless