Happy Birthday!
ELISHA DAVID ACKER
BIOGRAPHY and GENEALOGY
(1861-1949)
Talladega, Cherokee County, Alabama
Elisha David Acker, a lawyer, was born February 14, 1861, at Lincoln, Talladega County. He was the son of Albert S. Acker and Elizabeth (O'Rear) Acker, (1823-1901) the former of Williamston, S. C., a member of Co. C, 30th Alabama infantry regiment, C. S. Army, and as a physician assisted in brigade hospital service; grandson of Amos Acker and Ruth (Halbert) Acker of Williamston, S. C., and of William O'Rear and Dorothy (Reed) O'Rear of Lincoln, but of Irish ancestry.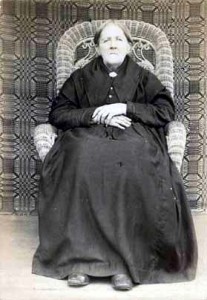 The paternal great-grandfather, Peter Acker, came from Germany, settling near Jersey City, and was a soldier in the Revolutionary War. The maternal grandfather, William O'Rear, assisted in removing the Creek and Cherokee Indians, and held the rank of major in that service. Mr. Acker was educated in the public schools of Talladega County; graduated at Oxford college A. B., 1882; taught at Alexandria in 1882 and 1883, and in the latter year entered the law department of the University of Alabama, where he graduated, LL. B., 1884. He practiced law and edited "The Weekly Post" at Piedmont, June 1884, to September 1886; later taught in various schools; was a member of the county board of examiners for teachers in Cherokee county, 1889-90; and a magistrate at Lincoln for fifteen years. He was a Democrat; a Baptist; and a Knight of Pythias. He married at Alexandria, December 3, 1884, to Lula Mattle Ragan, (b. Feb. 4, 1861) daughter of Rev. Robert G. Ragan and Mary A. (Easley) Ragan, of Oxford. Rev. Mr. Ragan was a Virginian, in early life moved to Alabama, was a member of the North Alabama conference from the date of its organization as long as he lived, and a teacher in Oxford college at the time of his death. Elisha and Lula's children were:
 Mae Belle Acker; (b. 1886)
Joseph Ragan Acker; (b. 1867)
Frank B. Acker (b. 1889-1892)
Ruth Acker; (b. 1894)
Mary Elizabeth Acker. (b. 1903)
Elisha David Acker died March 11, 1949. Lula died Nov. 16, 1937. They are buried in Lincoln City Cemetery.  SOURCES
History of Alabama and dictionary of Alabama biography, Volume 3 By Thomas McAdory Owen, Marie Bankhead Owen
ADAH digital archives
http://trees.ancestry.com/tree/2391051/person/-1034786557
Find A Grave Memorial

# 12103431

# 7096596