The National Holiday which is known today as Veterans Day was called Armistice Day before 1954. The change in the name came about due to Raymond Weeks from Birmingham, Alabama.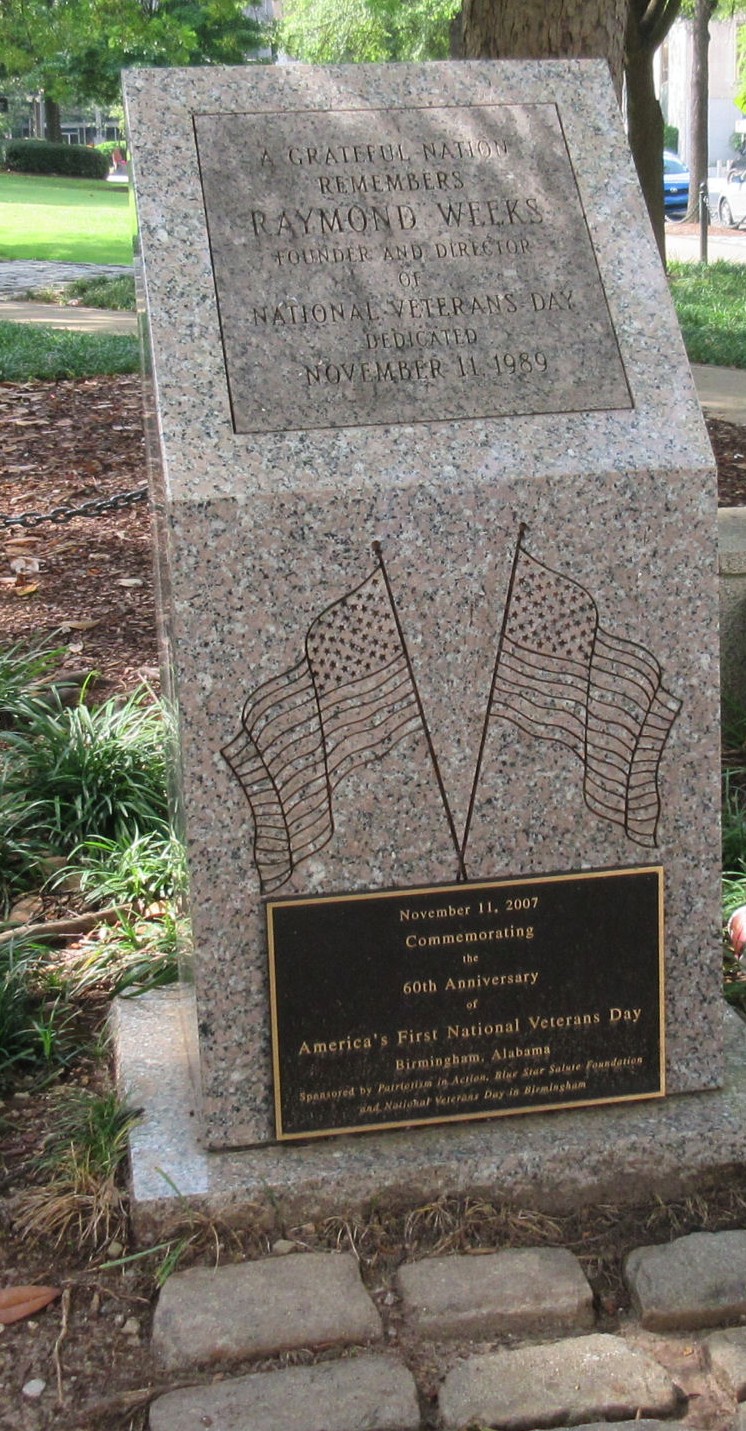 Raymond Weeks memorial at Linn Park, Birmingham, Alabama
Originally, Armistice Day was commemorated every year on 11 November to mark the armistice signed between the Allies of World War I and Germany at Compiègne, France, for the cessation of hostilities on the Western Front of World War I, which took effect at eleven o'clock in the morning—the "eleventh hour of the eleventh day of the eleventh month of 1918.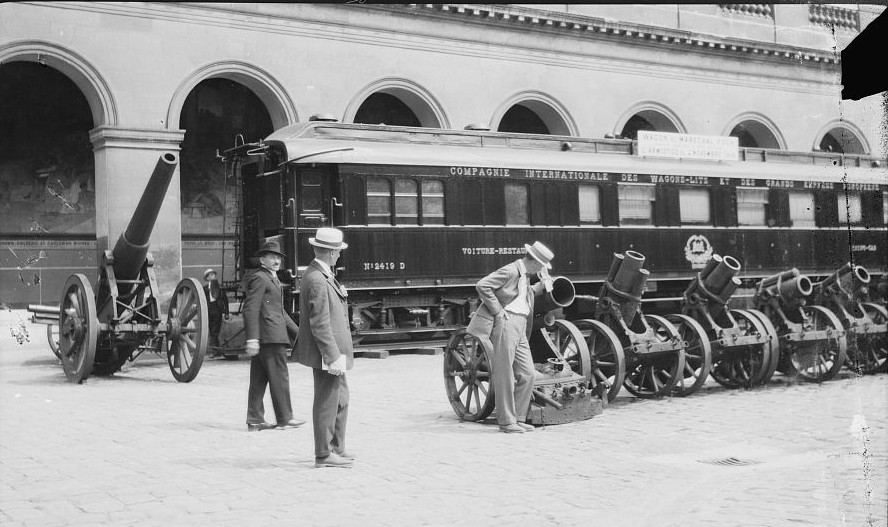 Railroad carriage of French Marshal Ferdinand Foch, in which the armistice ending World War I was signed. Probably depicts its location betweem 1921 and 1927 when it was on display in the Cour des Invalides in Paris. (Source: Wikipedia, "Armistice with Germany")
The date was declared a national holiday in many allied nations, to commemorate those members of the armed forces who were killed during the war.
Armistice Day at Buckingham Palace
"The first Armistice Day in Great Britain was held at Buckingham Palace, commencing with King George V hosting a "Banquet in Honour of The President of the French Republic" during the evening hours of 10 November 1919. The first official Armistice Day events were subsequently held in the grounds of Buckingham Palace on the morning of 11 November 1919.
In November 1919, President Wilson proclaimed November 11 as the first commemoration of Armistice Day with the following words: "To us in America, the reflections of Armistice Day will be filled with solemn pride in the heroism of those who died in the country's service and with gratitude for the victory, both because of the thing from which it has freed us and because of the opportunity it has given America to show her sympathy with peace and justice in the councils of the nations…"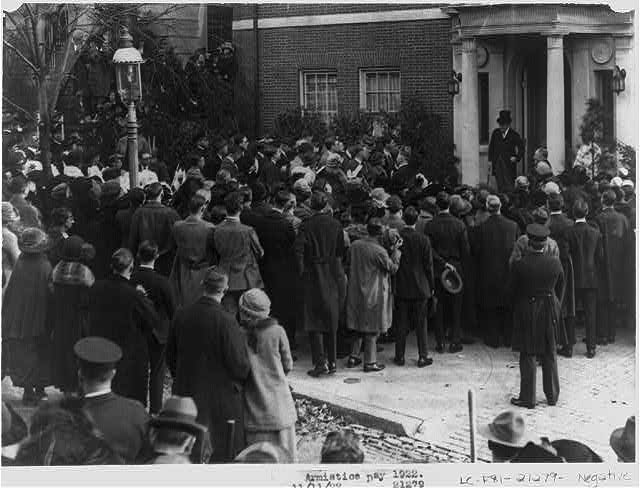 President Woodrow Wilson standing on the porch on Armistice Day November 11, 1922
The schools in the state of Alabama were quick to respond to this proclamation. Preparations were made for the 1st observance of Armistice Day on November 11, 1919. The schools also helped raise money for the State Memorial Fund.1
In 1921, an unknown World War I American soldier was buried in Arlington National Cemetery. This site, on a hillside overlooking the Potomac River and the city of Washington, D.C., became the focal point of reverence for America's veterans. Similar ceremonies occurred earlier in England and France, where an unknown soldier was buried in each nation's highest place of honor (in England, Westminster Abbey; in France, the Arc de Triomphe). These memorial gestures all took place on November 11, giving universal recognition to the celebrated ending of World War I fighting at 11 a.m.2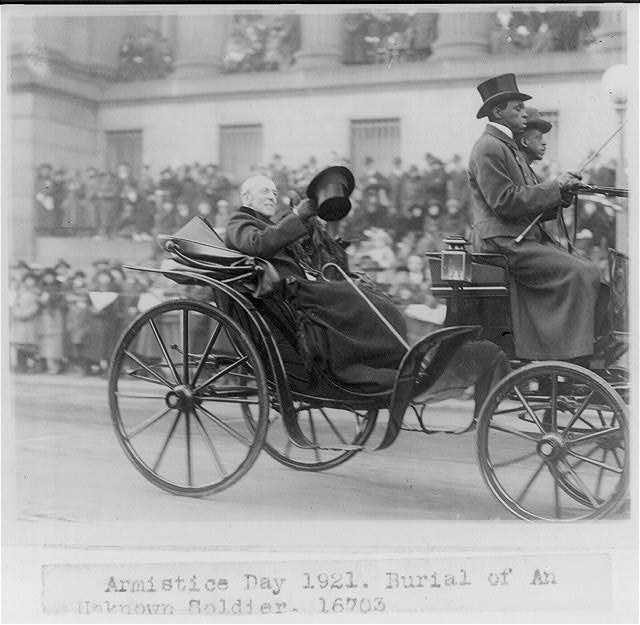 President Wilson Armistice Day 1921 – Burial of an Unknown soldier (Library of Congress)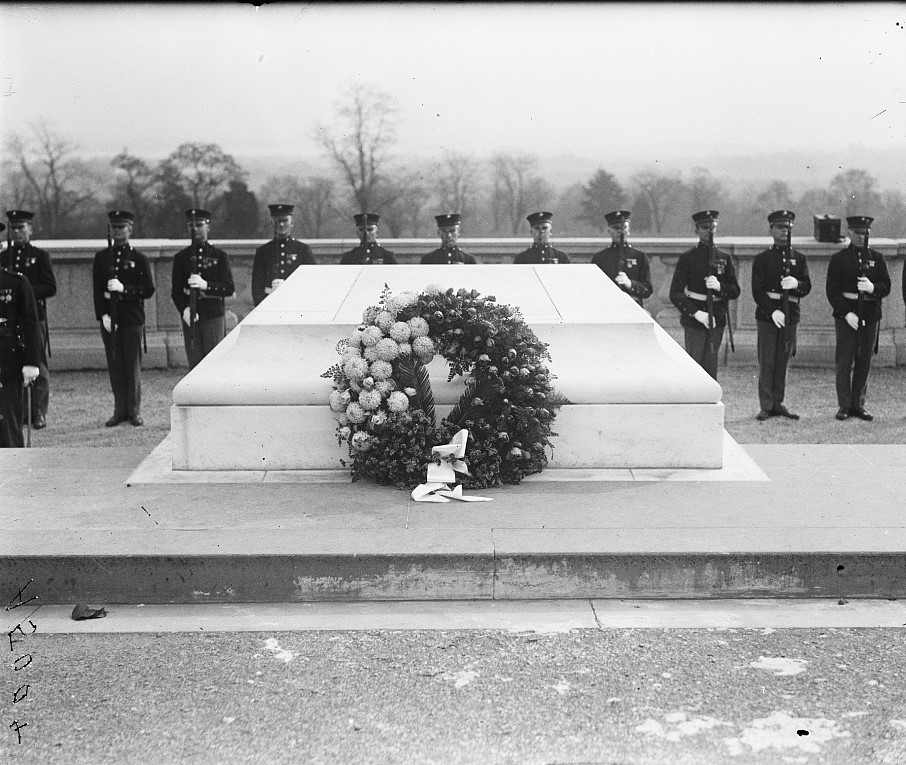 Armistice Day – November 11, 1922, at Tomb of Unknown Soldier, Arlington Cemetery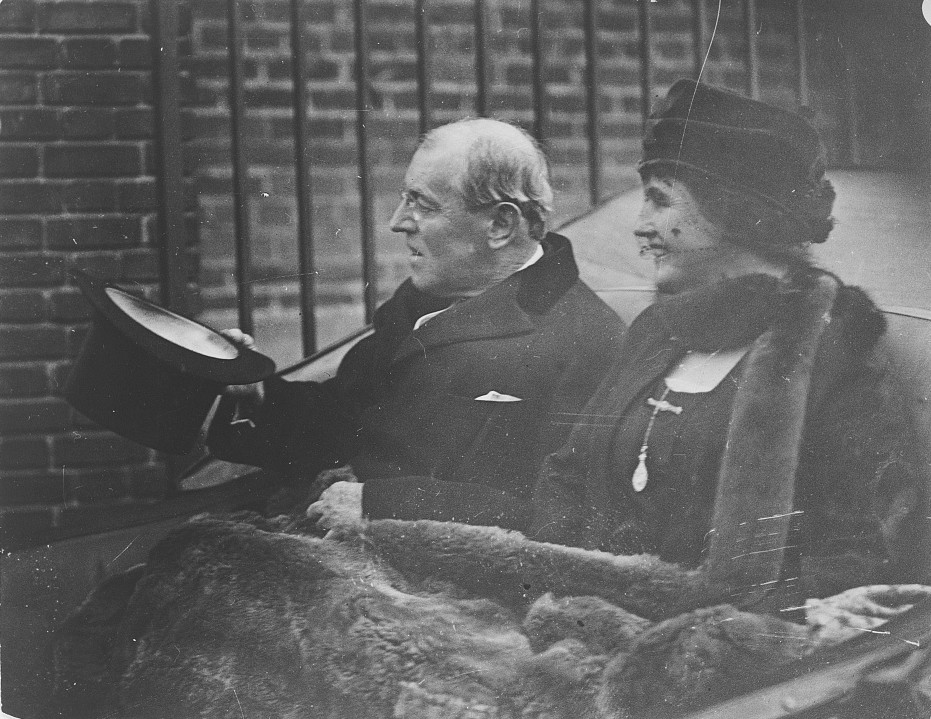 President Woodrow Wilson and Edith Wilson participating in Armistice Day, November 11, 1922
The original concept for the Armistice celebration throughout America was to have a day with parades and public meetings and a brief suspension of business beginning at 11:00 a.m. "Armistice Day officially received its name in America in 1926 through a Congressional resolution. It became a national holiday 12 years later by similar Congressional action. If the idealistic hope had been realized that World War I was "the War to end all wars," November 11 might still be called Armistice Day. But only a few years after the holiday was proclaimed, war broke out in Europe. Sixteen and one-half million Americans took part. Four hundred seven thousand of them died in service, more than 292,000 in battle."3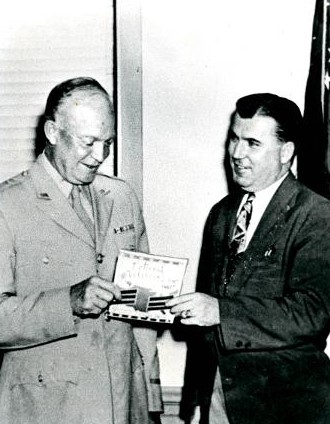 Raymond Weeks petitions President Eisenhower, Nov 11, 1946, to establish National Veterans Day
Birmingham, Alabama had the first celebration using the term Veterans Day
The first celebration using the term Veterans Day occurred in Birmingham, Alabama, in 1947. Raymond Weeks, of Birmingham, Alabama, and a World War II veteran, organized "National Veterans Day," which included a parade and other festivities, to honor all veterans." i
Raymond Weeks geared his whole life to serving his country, associates said after his death on May 8, 1985 at the age of 76.4 After serving in the Navy in World War II, Weeks thought a day should be set aside to honor veterans of all the nation's wars and not only those of World War I. He first established Veterans Day in Birmingham in 1947 and remained its chairman until his death of heart failure.
The first Veterans Day event was held on November 11, 1947, which was then designated Armistice Day. Later, through Weeks efforts, U.S. Representative Edward Rees of Kansas proposed a bill that would change Armistice Day to Veterans Day. In 1954, Congress passed the bill that President Eisenhower signed proclaiming November 11 as Veterans Day. Raymond Weeks received the Presidential Citizens Medal from President Reagan in November 1982, one of many medals he received over the years. Weeks' local parade and ceremonies are now an annual event celebrated nationwide."5
"Weeks "was amazing to watch work," said Jessie Deason, public relations director for the Veterans Day celebration in Birmingham. "When he wanted to talk to (President) Reagan or (Vice-President George) Bush, he just picked up the telephone. He'd call four-star generals and tell them what he wanted done. They listened. They knew he had support from the top down."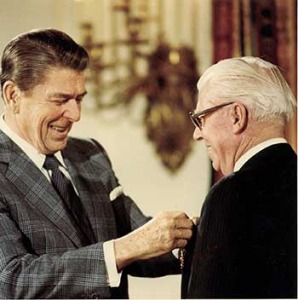 Raymond Weeks receiving the Presidential Citizens Medal from President Reagan November 1982
Raymond Weeks was an honorary life member of the Army, Navy and Air Force veterans in Canada. He received the Army's Outstanding Distinguished Civilian Service Medal in 1966, and in 1979 was awarded the Distinguished Service Medal of Alabama. As a state representative from 1967 to 1974, Weeks drafted a resolution that put Alabama on record opposing amnesty for draft evaders during the Vietnam War.
More unknown soldiers buried
On Memorial Day 1958, two more unidentified American war dead were brought from overseas and interred in the plaza beside the unknown soldier of World War I. One was killed in World War II, the other in the Korean War. In 1984, an unknown serviceman from the Vietnam War was placed alongside the others. The remains from Vietnam were exhumed May 14, 1998, identified as Air Force 1st Lt. Michael Joseph Blassie, and removed for burial. To honor these men, symbolic of all Americans who gave their lives in all wars, an Army honor guard, the 3rd U.S. Infantry (The Old Guard), keeps day and night vigil. A law passed in 1968 changed the national commemoration of Veterans Day to the fourth Monday in October. It soon became apparent, however, that November 11 was a date of historic significance to many Americans. Therefore, in 1978 Congress returned the observance to its traditional date.6
United States Observance
The focal point for official, national ceremonies for Veterans Day continues to be the memorial amphitheater built around the Tomb of the Unknowns. At 11 a.m. on November 11, a combined color guard representing all military services executes "Present Arms" at the tomb. The nation's tribute to its war dead is symbolized by the laying of a presidential wreath. The bugler plays "taps." The rest of the ceremony takes place in the amphitheater
1Florence Times Daily October 3, 1919
2U. S. Department of Veterans Affairs
3U. S. Department of Veterans Affairs
4Beaver County Times, May 8, 1985
5U. S. Department of Veterans Affairs
6U. S. Department of Veterans Affairs
ALABAMA DEATHS FROM WW I – Essential book for research in Alabama around the turn of the century. This KINDLE book includes all the deaths from World War I, listed by the county where they last resided, over 60 pages of names.
Amazon.com – Read eBooks immediately using the FREE Kindle Reading App on Most Devices