LaFayette, Alabama grew rapidly in 1833 – churches and schools were built. This article was written around 1880s about the early days of LaFayette, Alabama.
REMINISCENCES OF THE EARLY DAYS IN CHAMBERS COUNTY
By E. G. Richards1
VII
Mr. Editor: I made a mistake in a name in my article of last week. It was Stephen Daniel that built the hotel now occupied by J. J, O'Hara instead of Lewis Daniel. The latter resided on the lot now owned by Col. J. M. Oliver and occupied by Mr. Conine.
Several businesses started in LaFayette, Alabama after the sale of the lots
At the sale of town lots in October 1833, several persons bought lots on the public square on which, at an early day, they built storehouses and commenced merchandising. The first of them were Moss & Newberry, Heard & Sanders, Crayton & Finlay, McLemore & Haden, and after them J. W. Bachelder, Jonathan Johnston, B. Lloyd & Bro., J. S. Mitchell & Co., McMorris & Anderson, Lewis Schuessler.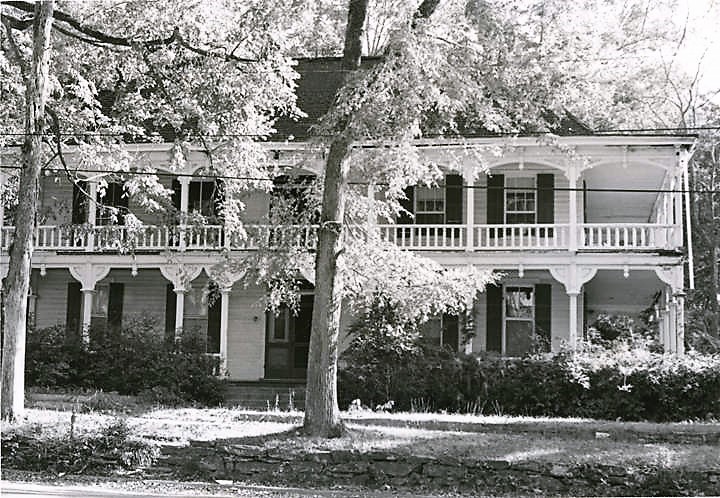 Front of the Schuessler House in Lafayette, Alabama 1982 by Robert Gamble (Alabama Department of Archives and History)
Most of these did well. While some made failures, others have made fortunes.
Of the early settlers in LaFayette, a majority of them were members of some church, favored morality and did what they could to encourage education and to build up good schools and churches. As such LaFayette, from its earliest settlement, has sustained a good character for the morality and for the promotion of education and Christianity, superior to most of the towns of its size in the State.
Schools were erected
At an early day, a good building was erected in the eastern part of the town for a Female Academy. A Mr. Loyd, an Englishman by birth, but a fine scholar and good teacher, was employed as principal. After some two years he left and was succeeded by Mr. LaTaste, who was also an excellent teacher. He served about two years, then he removed. These were both excellent teachers and those who patronized them got the worth of their money in the improvement of their children.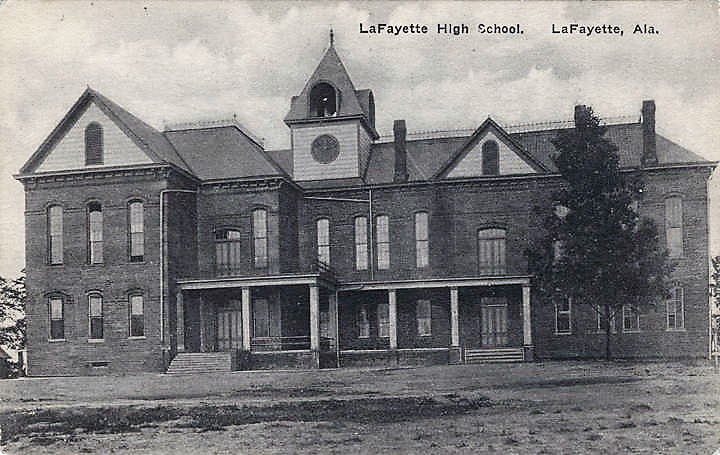 LaFayette High School. LaFayette, Ala ca. 1890 (Alabama Department of Archives and History)
About the same date, a building was erected in the southern part of town for a Male Academy. After an unsuccessful effort to get suitable teachers, the Academy was by common consent turned over to the East Alabama Presbytery of the Presbyterian church. They elected a Mr. McKinney from the State of Pennsylvania as Principal and Messrs. William and Robert Hall, of Troup County, Ga., as assistants. During their continuance as teachers, no town in the State had a better school. But after about two years Mr. McKinney's health failed and he had to quit teaching. He was succeeded in said school by a Mr. Woodroe, who was a fine scholar and good teacher, but from some cause, failed to meet the expectations of the patrons, the school declined and he left: From that time the educational facilities were unsettled. We had several good teachers but their schools were not permanent. A frequent change of teachers is a bar to success in any school.
A Universalist preacher settled in LaFayette
During these years the moral position of the community had much to contend with. During the year 1834 the Methodists and Baptists both organized churches in LaFayette. But their Membership was not large, nor their ministers above mediocracy and who were content to preach the truths of the Bible as they understood them, without controversy with anyone as to creeds.
But in 1834, one Spencer J. McMorris, a Universalist preacher, settled in LaFayette. He was a man of some learning and some experience as a debater, and full of self-conceit and seeing the Orthodox churches had no ministers qualified to enter into learned discussion on theological questions, commenced lecturing on his peculiar views of Universalism, and challenged any and all denominations for public discussion, and as no one accepted he claimed it was because his arguments could not be answered.
This gave encouragement to infidelity, for while Mr. McMorris was himself a man of upright deportment, his doctrines gave encouragement to infidelity, caused the irreligious portion of the community to stay away from church and caused them to be less susceptible to the truths of the Gospel when they did go than they had been before. But while McMorris was bantering for discussion there came to LaFayette a Mr. Barnes, a Baptist minister, a man of good learning, a good speaker and about as vain of his own abilities as a debater as McMorris was.
He accepted McMorris' challenge for debate. The subject for discussion was, "The endless punishment of the wicked'.
Nothing new on either side
This writer heard the entire debate, which lasted several days, but heard nothing new on either side. A repetition of old hackneyed arguments was the result, and if the mind of any man or woman was changed on the subject this writer never heard of it. After hearing the entire debate this writer came to the conclusion that each of said speakers desired more to make a reputation for himself, as a public debater than he did for the views of the doctrines he was advocating, and entertaining this opinion, gave me a contempt of both men, which I have never been able to overcome.
After this McMorris move to Wetumpka and remained there until his death. Barnes, soon after this debate, espoused Campbellism, or the doctrine of water—regeneration and withdrew from the Baptist church and removed to parts unknown to this writer.
These things operated against the spread of Christianity and success of the true teachings of Christ, which otherwise would have attended the preaching of the word of God, so that there were not many accessions to any church in LaFayette except by letter for the years 1834 and 1835. Both Methodists and Baptists commenced the erection of good church houses in 1835 and succeeded in getting up the hull of good framed buildings so as to use them for church purposes, but these were not finished as they should have been for some years after. But it is with gratitude to the giver of all good that I can now state that no town of its size in the State of Alabama has better churches, and whose pulpits are filled with abler preachers than those of LaFayette are at this time.
Nor has any town in the State better school facilities than LaFayette College now affords. The faculty of teachers is first class from the President down. The average morals of the inhabitants are equal to any in the State, and the health of LaFayette is unsurpassed by any town in the State.
1HON. EVAN GOODWIN RICHARDS, author of a series of articles on Chambers County, published in the LaFayette Sun, during the year 1890, was a minister and lawyer. He was born August 26, 1807, at Northampton County, N. C., and died December 31, 1893, his last residence being LaFayette, Alabama. His father was a native of Wales, who settled in North Carolina in 1815 and removed to Madison County, Alabama. He went to the country schools of that County in 1830 and was licensed by the Methodist Church to preach. He located at LaFayette, that same year and was one of the chief promoters of the Opelika, Oxford and Guntersville Railroad, being its first President. He was also among the first to advocate the building of cotton factories in the South after the War Between the States. He was a Democrat and supported Stephen A. Douglas for the United States Presidency in 1860. Mr. Richards married Sarah Dickens Clark Webb, of Perry County, in 1835, and they were the parents of a large family of children.
Faith and Courage: 2nd edition -A Novel of Colonial America 

Inspired by real people and actual events, the family saga of colonial America continues with Ambrose Dixon's family and their life during

 Pre-Revolutionary War days of America, intertwined with a love story.