FIFTY-FIVE YEARS IN WEST ALABAMA
CHAPTER EIGHT
by
By HON. E. A. POWELL
(Written before 1886)
At the time I first went to Fayette the mill question was one of importance. Many people had to go as far as twenty miles to get their corn ground into meal. If the mill-boy had a turn of wheat to carry, it was understood that as soon as the grist was put up to grind he had to take his place at the crank of the Bolting Chest and bolt his flour. This was an extra toll the farmer had to pay to get his wheat ground, and this was the only way he or his children ever got a biscuit or pie or cake to eat. There was no such thing then as sending to the store and getting a sack of flour put up to suit the size of the purse. I think the two first mills put up in Fayette are still in existence. How often they have been repaired I cannot tell.
Several mills were built in Fayette County
Perhaps the first was built by David Thornton,—twelve or fourteen miles northeast of Fayette C. H. I do not know who owns the old mill now. The other was built by 'old uncle Jonnie Jones,' as every body called him. He was his own miller and attended to it until he was called to render his account before that trubunal to which we are all tending. Of course, I mean until he had to take his bed in his last sickness. I remember well when the old man died. His character for honesty was of the highest order. I have often heard it said by patrons of his mill, that if you could learn your horse to go to mill and back, it would be just as safe to lash your sack to your horse and send it that way as if you had gone with it yourself. The old man was a strict member of the Primitive Baptist Church, and was, no doubt, fully impressed with the idea that he was as near the only true line as it was possible for man to get in this world. He left a large family of children,—nearly all of whom has followed him to that bourne from whence no traveller returns. The other mill is six miles from the Court House, and is owned by a Mr. Shirley. It is considered pretty good property.
McCaleb-Hollingsworth Mill, Mill Creek, Fayette, Fayette County, AL, April 4, 1936 by photographer Alex Bush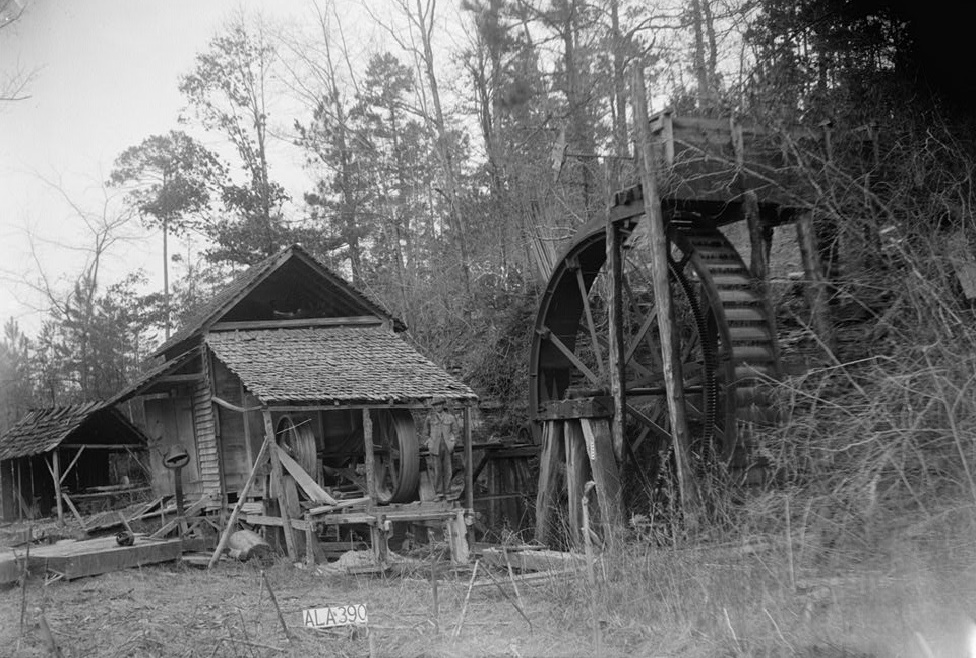 Some older houses still remained in 1886
There are several old primitive buildings in the county, and although they are of modest pretensions, still their antiquity entitles them to notice. One of these is the house in which Mrs. Downs now lives—thirteen miles south of the Court House, I think it is almost certain that it is the oldest frame building between the Warrior and Bigby Rivers.
It stands on the divide between the waters of these two rivers, and rain falling on one side of the road goes to the Bigby, and that falling on the other goes into the Warrior. The old house looked well weather beaten in 1831. It was built by Mr. James Richards, a man of considerable note in the early days of the county. There was a large family of the Richards, but most of them have passed away.
Old Fayette County Courthouse 1892
I suppose the next two frame houses in point of age are in the town of Fayette. One is a part of what is now known as Phillips Hotel, and the other is part of what is Walters old store immediately west of the Court House. The first was built by Samuel B. Henry, and the second by Henry P. Leonard, each being built for store-houses. There is a cabin on the place known as the Aunt Polly Murray place which is deserving of notice. It is a hewd-log house, and was built somewhere in the high up twenties,—covered with shingles at the time, and it has the same roof to-day that was originally put on it, and I am told that it does not leak but little as yet. Passing through the country," you will now and then find one of the original tenements, but they are very rare indeed. From Tuskaloosa to Fayette Court House there are but four to be seen: one on Mrs. Caraway's place, six miles from North Port; one at Binion's creek, sixteen miles from North Port; the next the Down's place, already noticed, and last, the old Rob't Nicholas place, three miles south of Fayette C. H.
There were two others until within this year, to-wit: the John Moore, or old Jenkins place, which was burned in the spring,—and the other the present residence of Captain Cowdon. The old house has given way to a very handsome country residence now in process of construction I know of no house now standing between the rivers running on either side of Fayette C. H. that was standing when I went to the county, except the cabin heretofore mentioned, on the Aunt Polly Murray place, and one two miles above the Court House,—known to the old settlers as the Bingham place, and the George Thompson place, about six miles from Fayette.—If there are others I am not "apprised of it. On the west side of Luxepelila there are but two that I am aware of.
One is the residence of Col. John W. Collins, which was built by 'old uncle Joe Smith as we boys were wont to call him; the other by Henry Moore, I do not know who lives at the place now. There were two of the primitive settlers of that neighborhood. They were good neighbors,—but death has long since called them away. I might here mention a number of good citizens living in that neighborhood at that time,—few of them leaving even a representative of their families. There was Richard I. Murray, John McClure, John M. Moore—names that I will never forget. These, with 'uncle Joe Smith' and Henry Moore, and a great many others living there at the time, showed a kindness to my mother in her distressed condition at the death of my father, that has made an impression upon my mind that will last while memory asserts its prerogative.
Three of the families named are to day represented in the persons of Esquire R. Allen Smith, Judge John C. and Capt. James H. Moore, and Mr. B. F. McCane. I could notice many other of the old settlers, but it would spin out these sketches too long.
Some people were unsuccessful and moved away
Having noticed most of the successful aspirants for public place, it may not be amiss to call up some of the unsuccessful ones. There was Col. Jas. Wilson: he was Colonel of the Regiment of Militia that at that time embraced the entire county. He was regarded as a natural, military man. I don't think I have ever seen a more martial-looking man in uniform on horse-back. His head was prematurely white. In 1833 he was a candidate for a seat in the Lower House, with fair prospects of success: but the young giant, William S. Taylor, heretofore noticed, bore off the prize. In a year or two, the Colonel moved to Mississippi and settled in Neshoba county. He lived to a great age. In 1877 I heard from him: he was still living, and was told he was then in his 98th year.
Thomas Thornton was several times an aspirant for the Legislature, but was never successful. He was rather more than ordinaryly (sic) popular, but somehow or other, he could not make it. I think it altogether safe to say that Mr. Thornton was the best-informed man in Fayette county. His general reading was very extensive. Well posted in general history. His political reading was rather of the partizan (sic) style. He was a Democrat of the purest water. The Washington Globe and then the Union were his political text-book, while he had great admiration for the ability and independence of the National Intelligencer. He yielded to no man in his adherence to and admiration of the principles of Gen. Jackson. Mr. Thornton still lives, in Fayette county. Is quite old. He has recently buried his fourth wife. He has the sympathy of all who know him,
George Longmire was for many years a candidate for one place or other in the county: several times for the Legislature. He was a little like they say of some race horses, 'just fast enough to bet on, but not quite fast enough to win. He almost invariably made a pretty good run, but never got in before the flag dropped. His fellow candidates used to tell some amusing stories at his expense. He was six feet five inches in his socks,— and they used to tell it that in going around the canvass the good women, where he would stay would have to make down a pallet for him in the door of the cabin, so that he could extend his feet out of the door. His style of speech was unique;—incapable of being transferred. He was a wool-died Democrat, and thought the abomination spoken of by the prophet Daniel a very small thing when compared to South Carolina Nullification. He would open his speech on that subject after this sort: "Fellow citizens, —my name is OLD GEORGE LONGMIRE: when I was a boy, my father used to say to me GEORGE there was more tories in South Carolina in the time of the war than in all the other States, and fellow citizens, this Nullification is that same old root."
In the forties somewhere, he moved to Mississippi, and I lost sight of him. Of course, he has long since gone to his final abode.
(The article above has been precisely transcribed with spelling and grammar mistakes from  FIFTY-FIVE YEARS IN WEST ALABAMA which was printed in the Tuscaloosa Gazette August 12, 1886)
Check out genealogy and novels by Donna R. Causey