Back in the early days, when Greensboro, Alabama was going through the formative period, there were quite a number of the rough and lawless element within its borders. Occasionally one of these would act so very badly that the better class of citizens would become outraged, and take the matter of punishment of the offender into their own hands.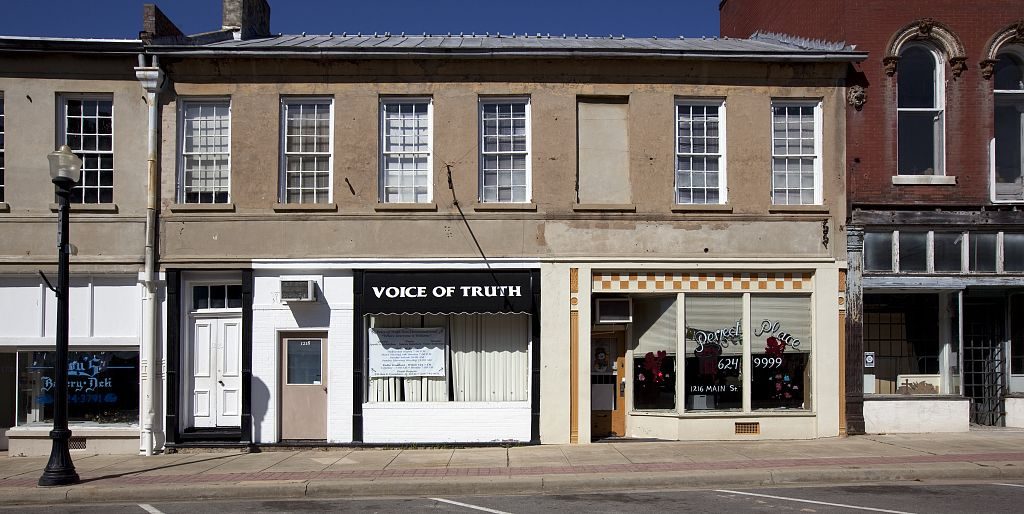 Downtown Main Street Greensboro, Alabama 2010 by photographer Carol Highsmith (Library of Congress)
Whipped wife severely
In a log house located near where the residence of W. W. Overstreet now stands on Main street, there resided a man who frequently whipped his wife severely. He would be fined for the offence by the justice of the peace, but this did not seem to have the effect of stopping him. One night he gave his wife an unusually severe whipping. The matter became generally known the next day, and some of the citizens—of the number Capt. John Cocke, Col. Scott, William Hopper and Richard Hatter—decided that they would endeavor to cure the offender of his wicked doings, so they got a good stout rail and placed it where it could be gotten hold of handily, and waited for the wife beater to come up town.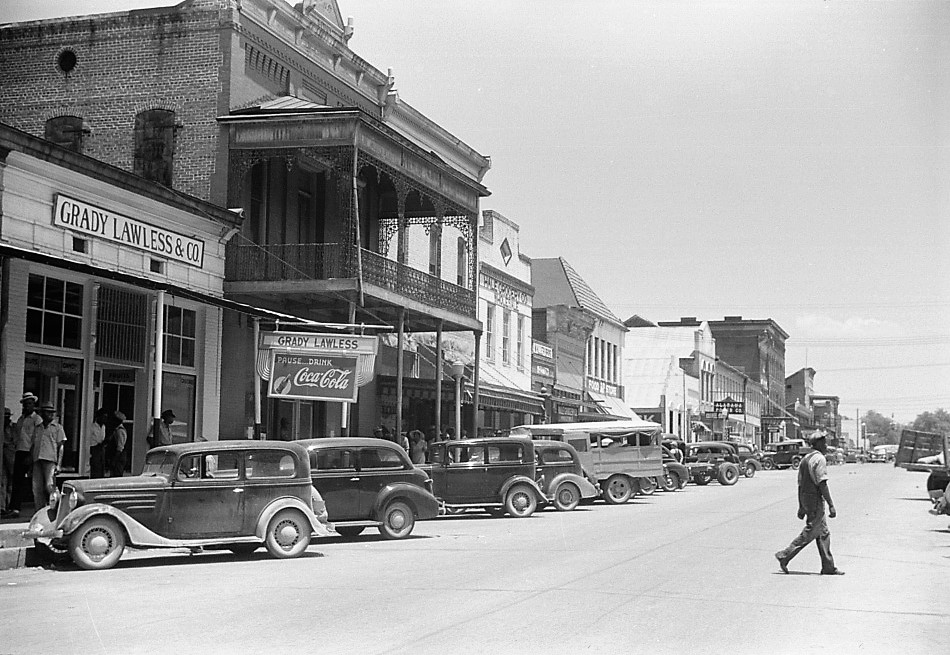 Main street of Greensboro, Alabama May 1941 by Jack Delano (Library of Congress)
Watched for a favorable opportunity
In an hour or two, he made his appearance and seated himself in front of a little store where Northup & Hanna now do business. Capt. Cocke crossed over the street and engaged him in conversation, totally foreign to the subject of wife-beating. The culprit was whittling with a large, ugly-looking knife, and the Captain watched for a favorable opportunity to knock it out of his hand, but the man seemed to suspect something and kept close watch on him. Seeing the dilemma, Col. Scott crossed over to where the two men were talking, and soon caught the man off his guard. He picked his chance, and with a vigorous kick, landed the knife in the middle of the street. Cocke and Scott grabbed their victim and held him until the rail was brought by Hopper and Hatter. Other citizens joined in, and placed the man on the rail and held him on it, while others put the ends on their shoulders and paraded up and down Main street, singing at the top of their voices: "Here's the man what whips his wife!"
Never struck his wife again
After punishing him in this manner for some time, the fellow was given his liberty, with the injunction that if the citizens ever heard of his striking his wife they would take him out and wear the hide from him with Switches. The admonition was heeded, and this sort of conduct on the part of the fellow was never heard of again.
SOURCE
Excerpt transcribed from HISTORY OF GREENSBORO, ALABAMA From Its Earliest Settlement by William Edward Wadsworth Yerby, Montgomery, Alabama, 1908