Click http://www.alabamapioneers.com/honor-your-ancestor-on-alab…/to see how to honor your ancestor as a Notable Alabama Pioneer
REV. THOMAS McCLUNEY
BIOGRAPHY and GENEALOGY
(1823-1894)
Jefferson County, Alabama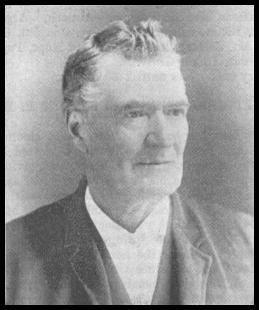 From an article in a magazine (possibly Presbyterian Life), written by Rev. J. C. Smith in Waxahachie, Texas (in 1894 per one source) (Rev. J. C. Smith was pastor of Central Presby. Church in Waxahachie from 1898 to 1906):
submitted to Alabama Pioneers by great, great, granddaughter Kathleen Nance
The subject of this sketch was born in Chester District, South Carolina, May 8, 1823, departed this life at his home in Jefferson County, Alabama, March 26, 1894.  When young McCluney was thirteen years old, his parents moved to the state of Alabama, and settled on Coosa River, near the present city of Gadsden.
In the year 1842, Thomas professed religion. He was then twenty years of age, he promptly united with the Cumberland Presbyterian Church.  Soon after joining the church, he was impressed that it was his duty to preach the gospel.  But like many others have done, he sought to evade the responsibility.  He told the Lord that he was not educated, saw no chance to acquire an education, that he was not gifted in speech.  He made many excuses to the Lord, but still the impression remained with him.  Finally, he made known to his father his feelings on the subject.  The elder McCluney discouraged his son; so Brother McCluney determined to follow the advice of his father and dismiss from his mind the thought of becoming a minister of the gospel.
On the 11th of November, 1845, he was married to Miss Elizabeth S. Smith.  This proved to be a happy union.  To them were born two sons and two daughters, who reside in Alabama, one of whom Rev. J. T. McCluney, of Trussville, Ala., is a Cumberland Presbyterian preacher.  Brother McCluney hoped that his getting married would settle the question of his call to the ministry and that the Lord would then release him, but the impression returned and to use his own language, "For fourteen years he sailed on a Jonah trip."  But at last, he concluded to offer himself to presbytery as a candidate for the ministry, at the same time hoping presbytery would reject him.
At the meeting of the Talladega Presbytery, held at Porterville, DeKalb County, Alabama, in the year 1856, he was received under the care of the presbytery.  He was licensed to preach in the year 1859, at Shady Grove Church.  The presbytery would have, at that time, ordained him to the whole work of the ministry had he not requested for himself a longer time in which to prepare for this life work.  In the year 1860, at a meeting of presbytery held with the Coon Creek Church, Brother McCluney was ordained, Rev. J. W. L. Smith, preaching the ordination sermon, Rev. J. H. Willoughby presiding and giving the charge.
The second day of July 1859, God saw fit to remove Brother McCluney's companion from this life to her reward above.  He was again united in marriage to Mrs. Pernicia Reevis (nee Perkins) on the 30th of July, 1860.  This was also a happy union, a result of which was three sons, all of whom live in the State of Texas.  One of the sons by his second wife is a candidate for the ministry in the Red Oak Presbytery.  After entering upon the work of the ministry Brother McCluney became a close student.  He was well versed in the Scriptures and well posted in the doctrines and usage of the Cumberland Presbyterian Church.  He presented from the pulpit, these doctrines in a forcible and attractive style.  He was truly a doctrinal preacher, and his arguments seemed to be unanswerable.
While Brother McCluney was not what might be considered a revivalist, yet much of his ministry was spent in revival work.  With Rev. T. B. Taylor his co-worker, he held meetings in the Elyton, Alabama, and Springville presbyteries.  They labored together for fifteen or twenty years. Brother McCluney would frequently say that it took him and Taylor both to make a preacher.  McCluney would pile the brush and Taylor would set fire to it.  Hundreds will rise up in the last day and call them blessed.  Many of their converts are now in the ministry.  These two men of God were devoted to each other.  Their love for each other was like that of David and Johathan.
Brother Taylor died first, and Brother McCluney preached his funeral.  The writer was present.  The scene was a touching one. Brother McCluney in his sermon declared that the death of Brother Taylor practically ended his own ministry, that he had always been the "right arm of his power."  This proved to be true, his own health failing shortly.  Afflictions in his family prevented him from preaching during the last years of his life.  His second wife preceded him to the better world.  On Easter Sunday night he retired to sleep in his usual health. Sometime during the night, the messenger came, and his pure, spotless soul went home to God.  Rev. J. S. Porter preached the funeral.  Loving hands laid him away to sleep by the side of his second wife in Old Mt. Calvary Cemetery.  Truly a great man in Israel has fallen.  Waxahachie, Texas. (buried in Mt. Calvary Cemetery, Clay, Jefferson County, Alabama March 26,  1894)
This article is about my great-great grandfather.  I have been researching the McCluney's for a number of years and had a copy of this article that my great aunt had saved.  The problem is that she never saved the "banner" of any of the articles she saved.  The attached picture is with the article.  The information is also on the website of the Cumberland Presbyterian Church under the ministers listing.  I hope this will be of interest to others seeking information from ancestors who were in Alabama.  (I'm a Texan.) Kathleen Cox Nance
Start researching your family genealogy research in minutes.

 

This inexpensive book has simple instructions on

 

how to get started with FREE sources. Download the ebook

WHERE DO I START? Hints and Tips for Beginning Genealogists with On-line resources 

to your computer immediately and begin your research today!
Reviews
"This book was very informative and at a very modest price. Thank you for your great newsletter and this book."
"The book was clear & concise, with excellent information for beginners. As an experienced genealogist, I enjoyed the chapter with lists of interview questions. I'd recommend this book to those who are just beginning to work on their genealogies. For more experienced genealogists, it provides a nice refresher."