During World War II, the US Government encouraged food preserving, so pressure cookers were essential tools for every household. These tips for canning are from a 1946 cookbook.
CHOOSE A GOOD PRODUCT
Remember that canning will not improve food: canning will only hold the food in the condition it is when the cover is put on the containers. Therefore, all food should be sound, and of first quality. If you wouldn't serve it tonight for dinner, it is not fit to can. You can take out of a can next winter only what you put into it now.
Then, for best results, grade foods according to both size and ripeness. Canning is in the science of even heat penetration to the center of foods; and the speed with which this occurs differs between small and large, green and ripe foods.

PRE-HEAT, PUT INTO CONTAINERS AND SEAL AIRTIGHT
If the food is hot when cover is put on the container, a good portion of the time heat takes to penetrate to the center of the can is saved. That is why we recommend hot packing for all foods.
Pre-heating sometimes called "exhausting" is done in several ways. One method for vegetables and fruits is bring them to a boil in their own juice and flavor with sugar or salt, but a more modern method is to follow the lead of commercial canners. Pack the raw food loosely, without adding liquid, into containers. Then place open containers into vessel, having one inch of water in the bottom. Put a tight fitting cover on vessel and allow the steam to flow around containers until food is heated to 150 to 180 degrees. When a pressure cooker is used, the time is shortened. Put the open containers into pressure cooker, close cooker and bring up pressure. Pre-heating time varies with the density of the pack – from 5 to 25 minutes at 10 pounds pressure. If you are using glass jars, it is not necessary when pre-heating to allow pressure indicator to return to zero before opening cooker. Open valve, reducing pressure immediately.
Cold Packing is not recommended although it has been tried with some success in recent years. The advantages of Hot over Cold Packing are:
Shorter time required for processing
Pre-heating expels air thereby conserving can space
Pre-expansion aids in preventing liquid loss in glass jar canning
Pre-expansion assures a good vacuum after final cooling
AIRTIGHT GLASS JARS
Glass jars are made airtight by vacuum. the product, liquid, and air expand during heating and contract during cooling. Contraction sucks the cover inward and this suction makes the airtight seal. Our whole effort will be lost if some little slip-up on our part prevents suction from pulling the cover inward. We urge close attention to the following details:
Use only new, resilient rubbers. Synthetic and reclaimed rubber are less resilient then pre-war rubber. When using gasket-type lids, be sure the material is fresh and of sufficient thickness.
Be sure jar rims are smooth, even, and free from nicks.
Check carefully to see that the lids of both pre-war metal and wartime glass are not warped. Many failures are due to warped lids.
Sudden temperature changes break glass. Never put a hot product into a cold glass jar. Wash jars and heat them by placing in warm water and bring to a boil. Keep jars hot until product is ready.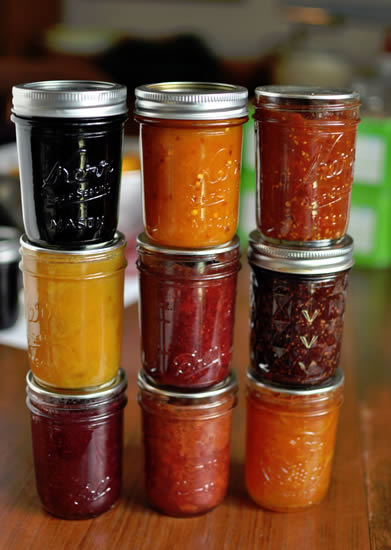 AIRTIGHT TIN CANS
The above precautions need not be taken if canning is done in tin. Simply have food hot when cans are sealed before processing. After final cooling, each can will have a partial vacuum.