Searching through records in dark attics and basements and wandering through old cemeteries for a trace of an elusive ancestor can be challenging. A good laugh now and then always helps. Here are a few of my favorites.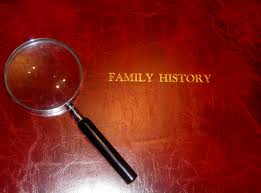 Genealogist caught trying to chop down family tree!
Genealogists never die they just haunt cemeteries.
Genealogists: People helping people…..that's what it's all about!
Genealogy – a search for the greatest treasures, our ancestors.
GENEALOGY is my hobby. I collect ancestors & descendants.
Genealogy is not a hobby, it's a disease!
I think that I shall never see a completed Genealogy!
I trace family history so I will know whom to blame.
Life, liberty and the right to know who your ancestors are.
My life has become one large Gedcom!!
Old Genealogists never die. They just haunt Archives.
What do you mean my Birth Certificate expired?
When you search for ancestors, you find great friends!
With MY luck, my Family Tree has Root Rot!
Trees without roots fall over.
Genealogy: Where you confuse the dead and irritate the living.
I'm not stuck, I'm Ancestrally challenged.
It's hard to be humble with ancestors like mine
And last but not least–May all your family trees branch toward the stars!
Did you know that all E-books can be downloaded immediately from Amazon.com – Read eBooks using the FREE Kindle Reading App on Most Devices?
Start researching your family genealogy research in minutes for FREE! This Ebook has simple instructions on where to start. Download WHERE DO I START? Hints and Tips for Beginning Genealogists with On-line resources to your computer immediately with the FREE APP and begin your research today!
Reviews
"This book was very informative and at a very modest price. One website I may have missed in your book that has been very helpful to me is genealogybank.com. I found articles about several of my ancestors in their newspaper archives. Thank you for your great newsletter and this book."
"The book was clear & concise, with excellent information for beginners. As an experienced genealogist, I enjoyed the chapter with lists of interview questions. I'd recommend this book to those who are just beginning to work on their genealogies. For more experienced genealogists, it provides a nice refresher."