The Indian Removal Act of 1830 marks a dark time in American history regarding the new country's relationship with the Native American population. It called for the "voluntary or forcible removal of all Indians" residing in the eastern United States to the state of Oklahoma.
Many did not leave voluntarily
May 1838 was set as the voluntary removal date, but many Cherokees remained and did not voluntarily move; many of them resided in Alabama. General Scott was ordered to round-up and remove the remaining Indians. This forcible removal came to be called the "Trail of Tears". Between 1831 and 1837, approximately 46,000 Native Americans were forced to leave their homes in southeastern states. Many died from exposure, disease, and starvation on their route to Oklahoma.
Held in stockades
Soldiers were ordered to drive men, women and children out of their homes, many with only the clothes on their backs. The Cherokees were temporarily placed in holding camps until they could be marched to Oklahoma. One of these camps was in Cherokee County, Alabama where the Indians were held in a stockade at Barry Springs on May 23, 1838. (see Cherokee County – a site where the 'Trail of Tears' Indians were placed in a stockade [film & photograph] ) Food and supplies were low in the camps and disease prevalent.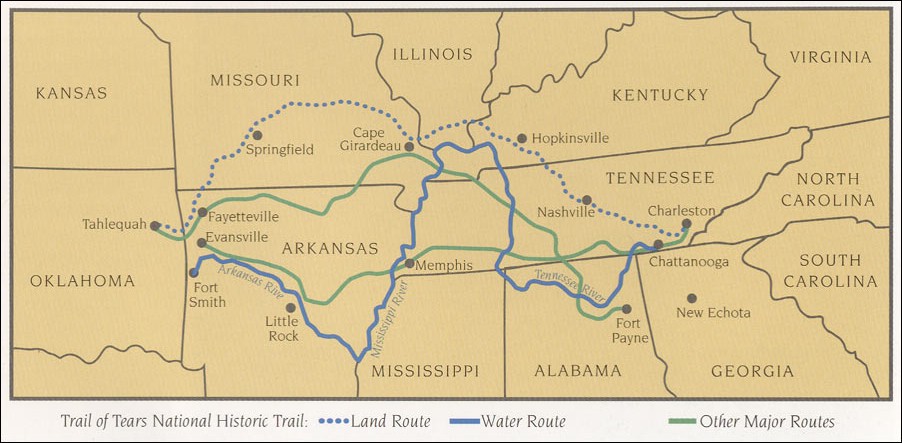 Map from National Park Service
Many died on the trail to Oklahoma
The following from the Trail of Tears Commemorative Motorcycle Ride website states the following about the removal of Cherokees in Alabama:
"By late June of 1838, the upper Tennessee River had become too low for navigation due to a drought. The U.S. government hired wagonmaster J.C.S. Hood to transport 1,070 Native Americans by foot and wagon from Ross's Landing in Chattanooga, Tennessee to what is now Waterloo, Alabama – about 230 miles. Much of the journey followed what is now U.S. Highway 72.
Upon reaching Waterloo, the survivors were in despicable condition. Migration had to be suspended until the river was high enough for navigation. Many died in Waterloo and others escaped into the hills. Many area residents can trace their native American ancestry to those who fled.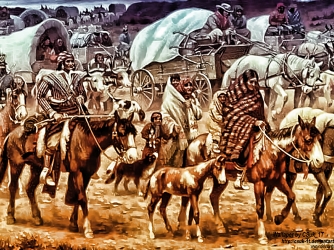 Regrettable episodes
The Trail of Tears is generally considered to be one of the most regrettable episodes in American history. To commemorate the event, the U.S. Congress designated the Trail of Tears National Historic Trail in 1987. It stretches across nine states for 2,200 miles.
In 2004, during the 108th Congress, Senator Sam Brownback Republican of Kansas) introduced a joint resolution (Senate Joint Resolution 37) to "offer an apology to all Native Peoples on behalf of the United States" for past "ill-conceived policies" by the United States Government regarding Indian Tribes. It passed in the U.S. Senate in February 2008.
Activities to commemorate the event
Many activities are taking place this month in Alabama to commemorate the Trail of Tears 177th anniversary.
Below are links to some activities taking place in Alabama commemorating this historic occasion. If you know of more events, please add them to the comments below.
Commemorate Motorcycle Ride will be held on September 19, 2015 – starting at Bridgeport, Alabama and ending in Waterloo, Alabama.
Plan for Indian Removal Started With President Thomas Jefferson
Intrigue and Murder After Treaty At Indian Springs
President Adams And Governor In A Stand-off
Gold Causes Expulsion Of The Cherokees
Cherokee Chief Ross Became Homeless