On July 1-3, 1863, the Battle of Gettysburg was fought during the Civil War. Often referred to as the "High Water Mark of the Rebellion", Gettysburg was the Civil War's bloodiest battle and was also the inspiration for President Abraham Lincoln's immortal "Gettysburg Address".
Many Alabama soldiers fought
Many Alabama soldiers fought and lost their lives in this battle and their deaths are commemorated today with a monument on the battlefield.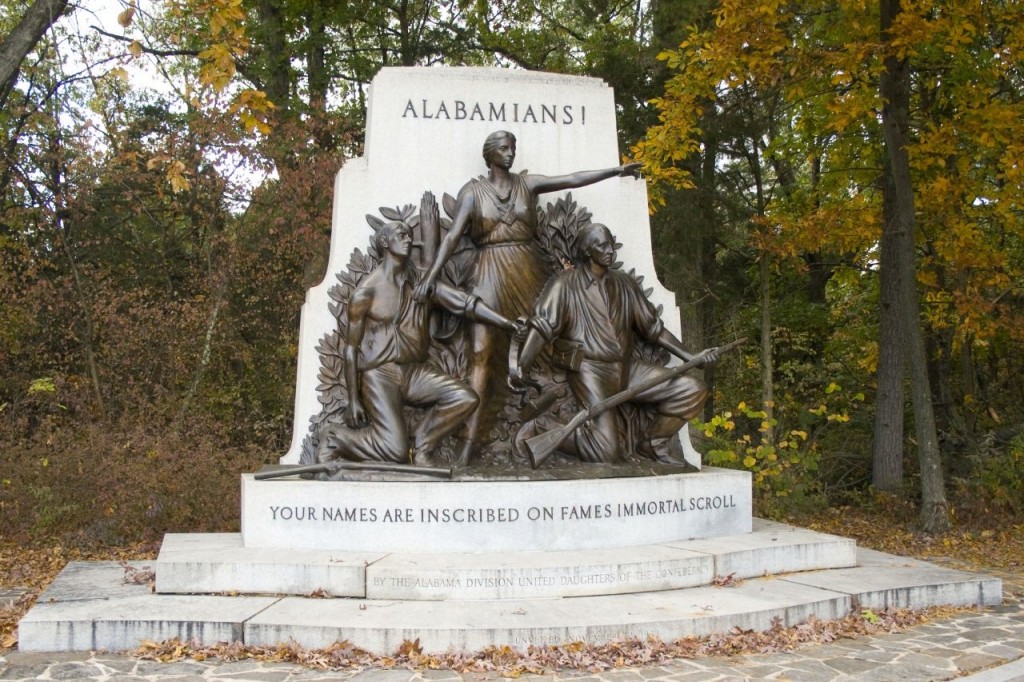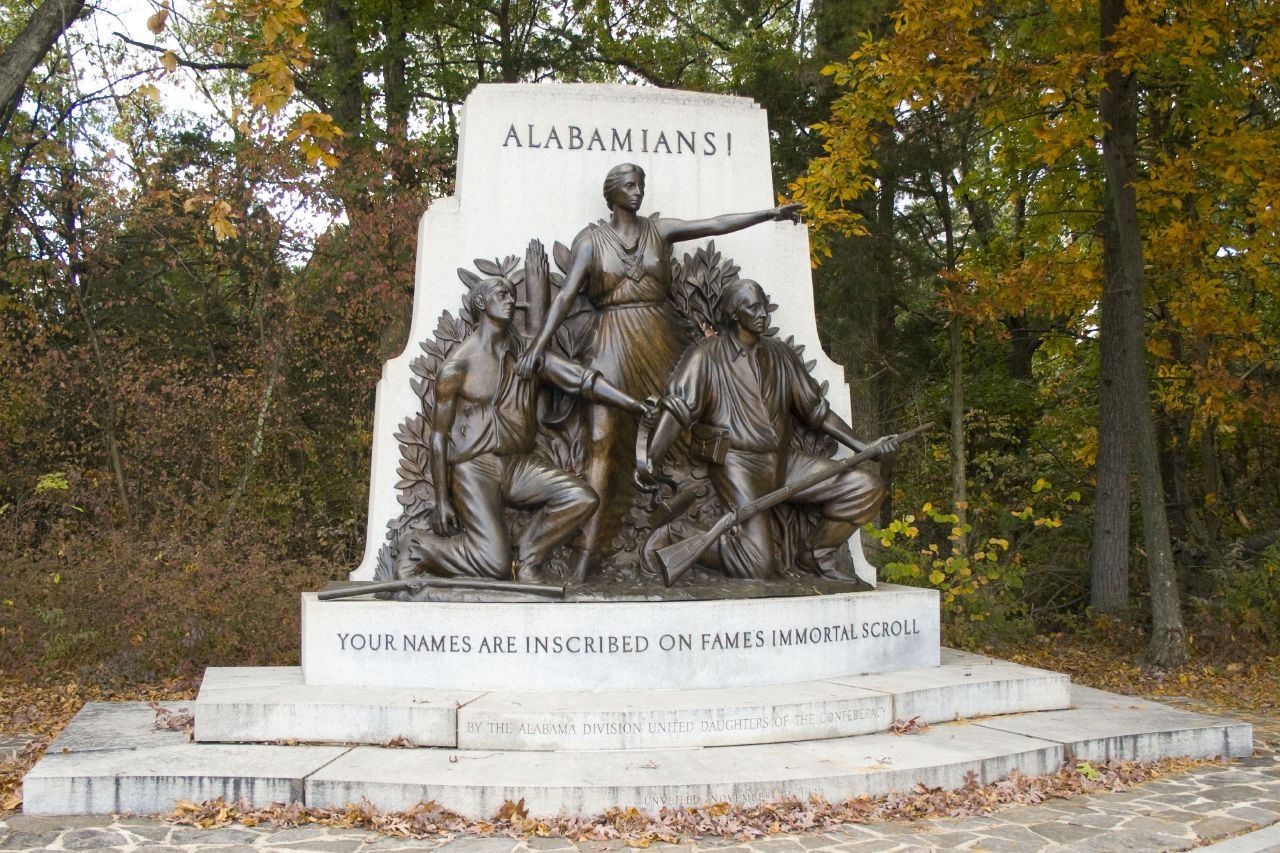 Monument at Gettysburg honoring Alabama's dead
50th Anniversary of the Battle
In 1913, the United States government held a 50th anniversary of the Battle. The June 29–July 4 gathering of 53,407 veterans (8,750 Confederate) as the largest ever Civil War veteran reunion, and "never before in the world's history [had] so great a number of men so advanced in years been assembled under field conditions".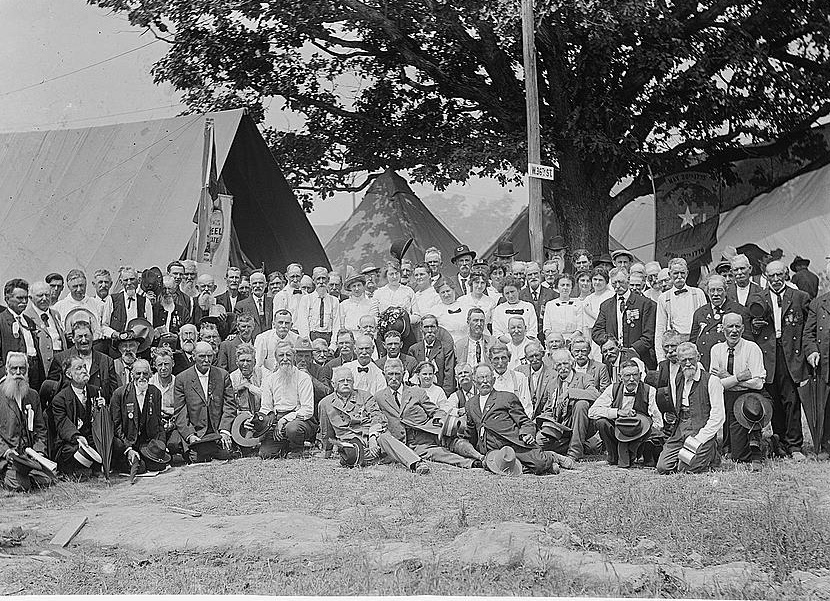 CSA veterans at reunion in 1913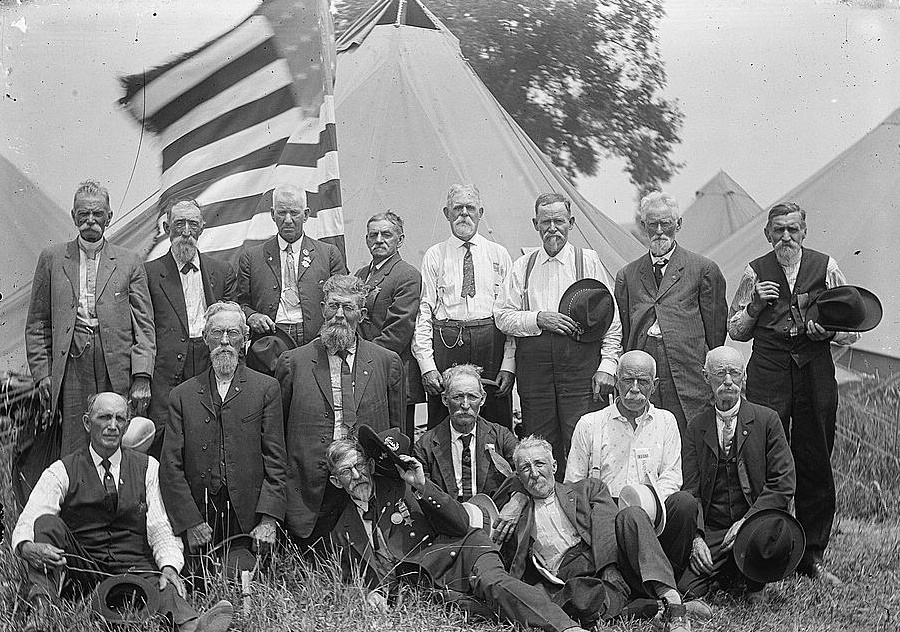 Some GAR veterans at 1913 Reunion
All honorably discharged veterans in the Grand Army of the Republic and the United Confederate Veterans were invited, and veterans from 46 of the 48 states attended.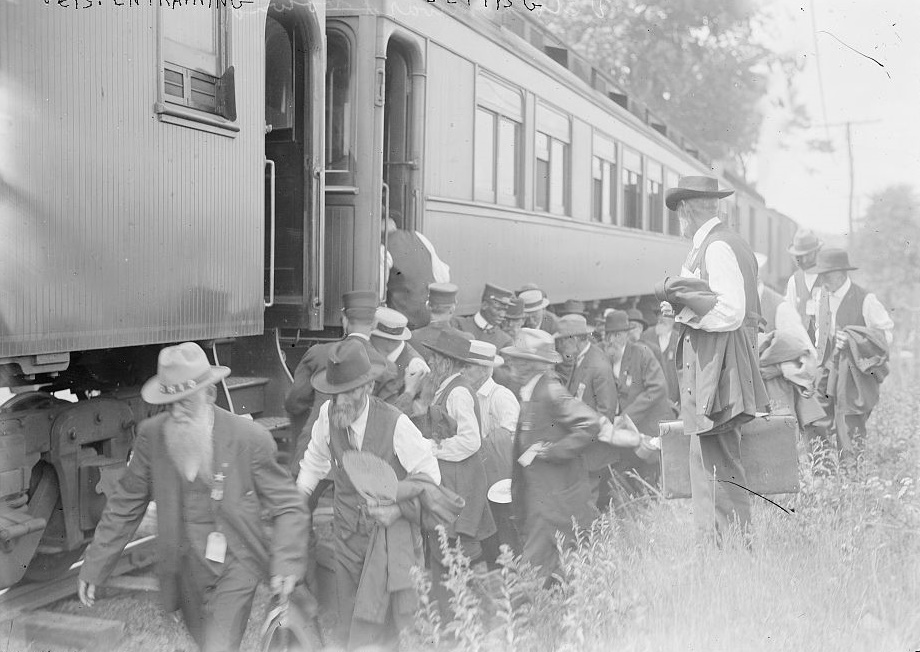 Veterans arriving by train 1913 (Bain News Service, Library of Congress)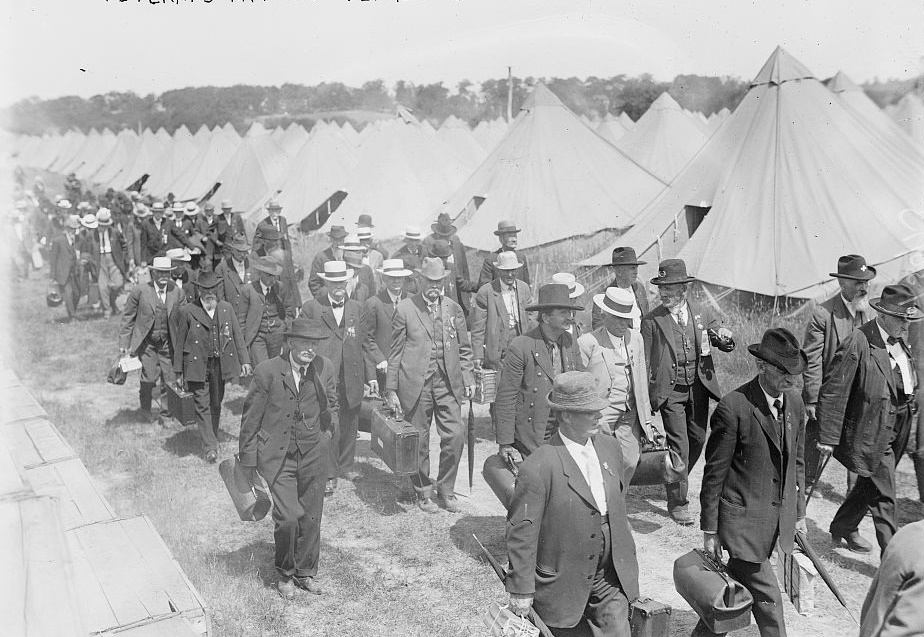 Veterans arriving 1913 (Library of Congress)
It was very hot in July and the boy scouts assisted men who suffered from heat prostration.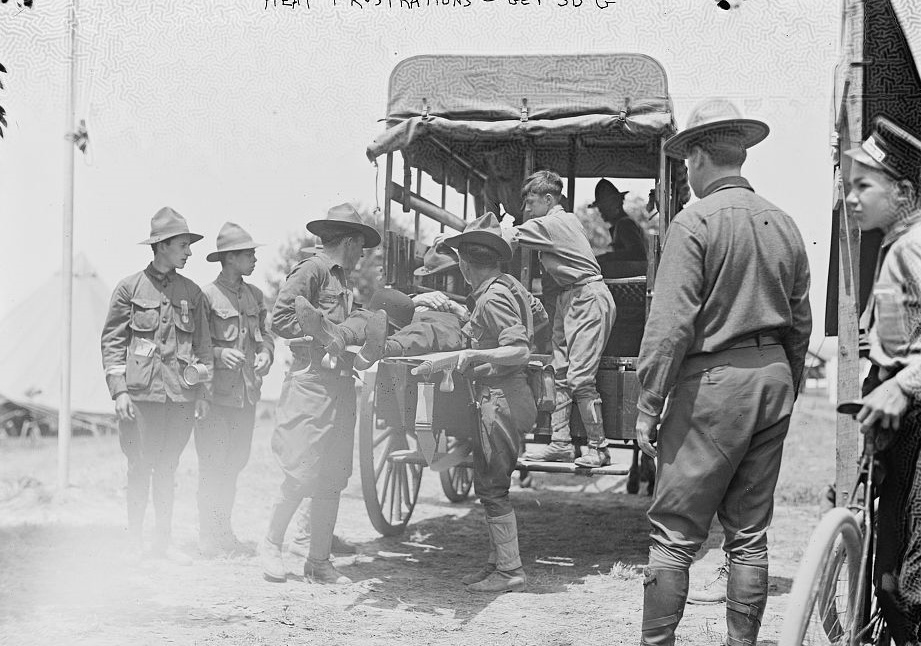 Boy Scouts assisting a man suffering from heat prostration (Bain News Service, Library of Congress)
Union-Confederate camaraderie
Despite concerns that there might be unpleasant differences, at least, between the blue and gray, the peaceful reunion was repeatedly marked by events of Union-Confederate camaraderie."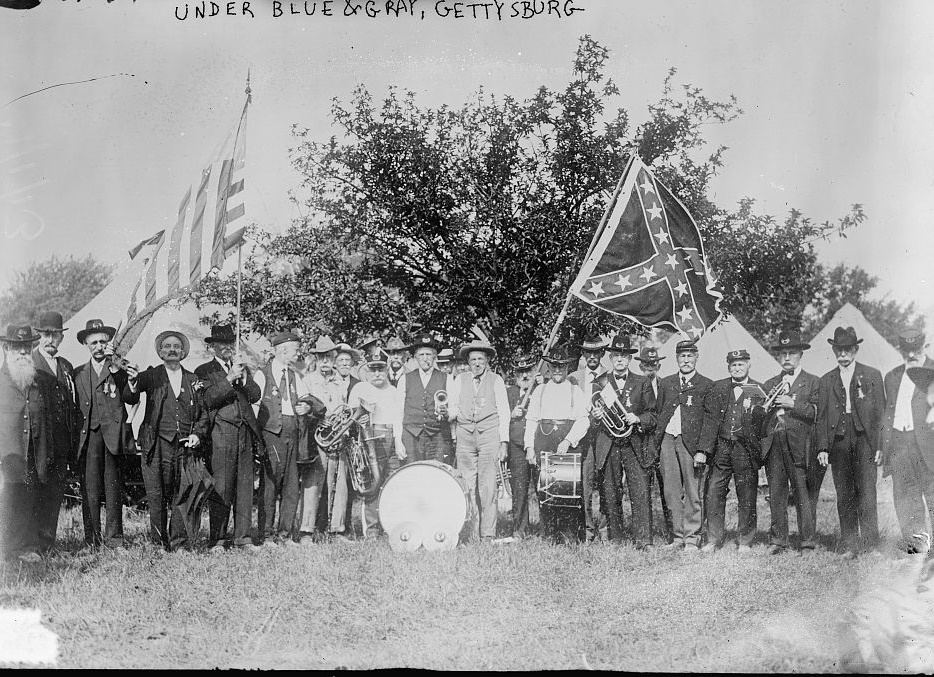 CSA and GAR Veterans under blue and gray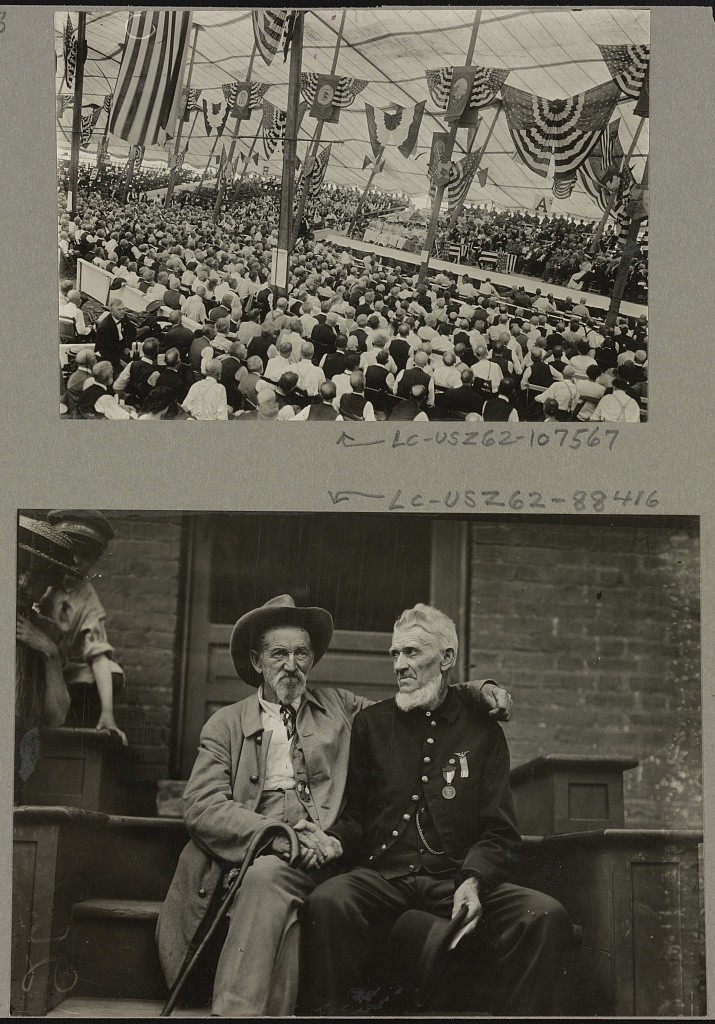 Blue and Gray Assembly tent and two veterans shaking hands (one CSA – one GAR)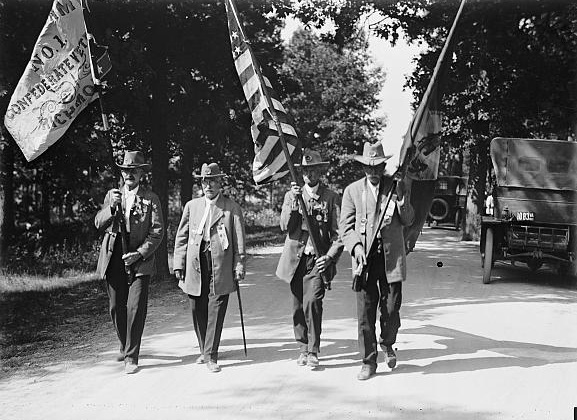 CSA and GAR with flags at encampment at reunion 1913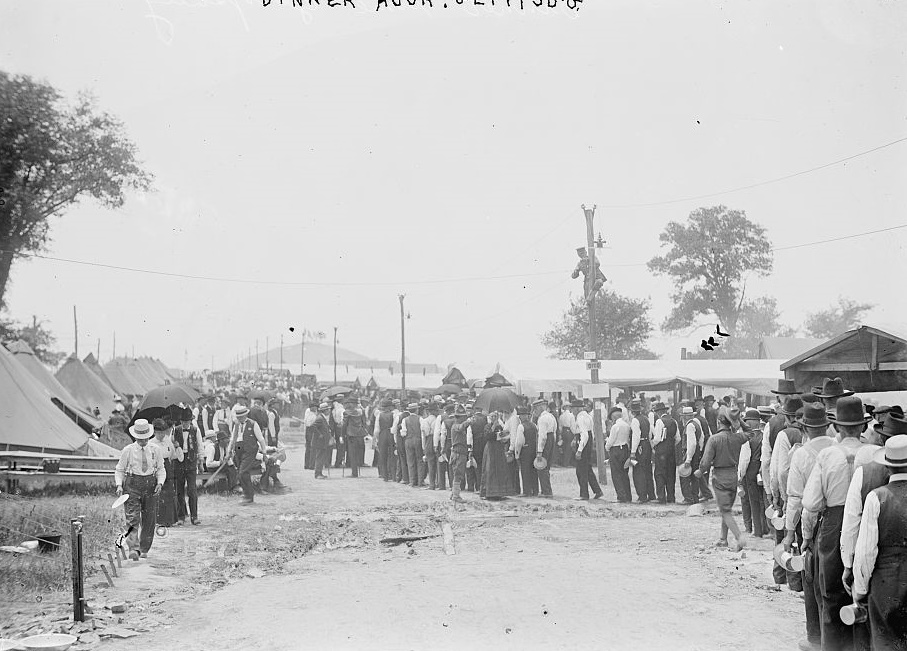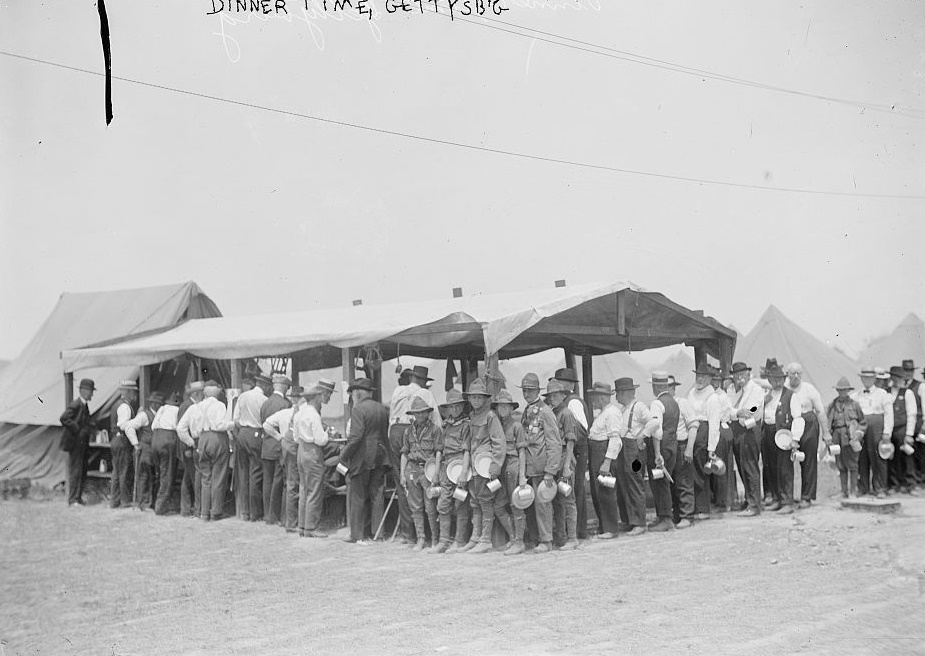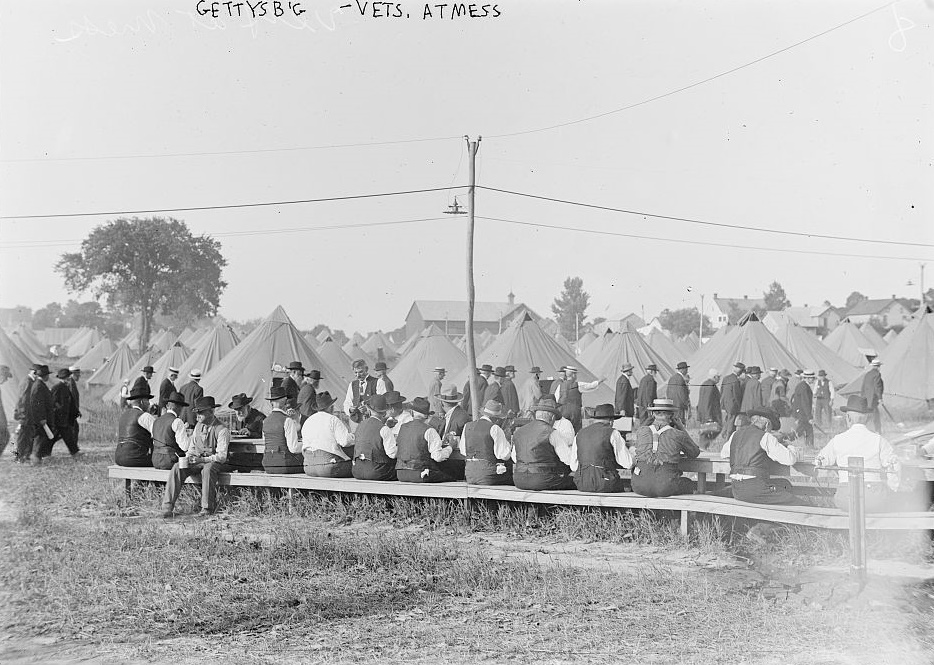 Dinnertime at the Reunion 1913
A baseball game was even played for entertainment.
Baseball game at Gettysburg reunion
President Woodrow Wilson speaks
President Woodrow Wilson's July 4 reunion address summarized the spirit: "We have found one another again as brothers and comrades in arms, enemies no longer, generous friends rather, our battles long past, the quarrel forgotten—except that we shall not forget the splendid valor."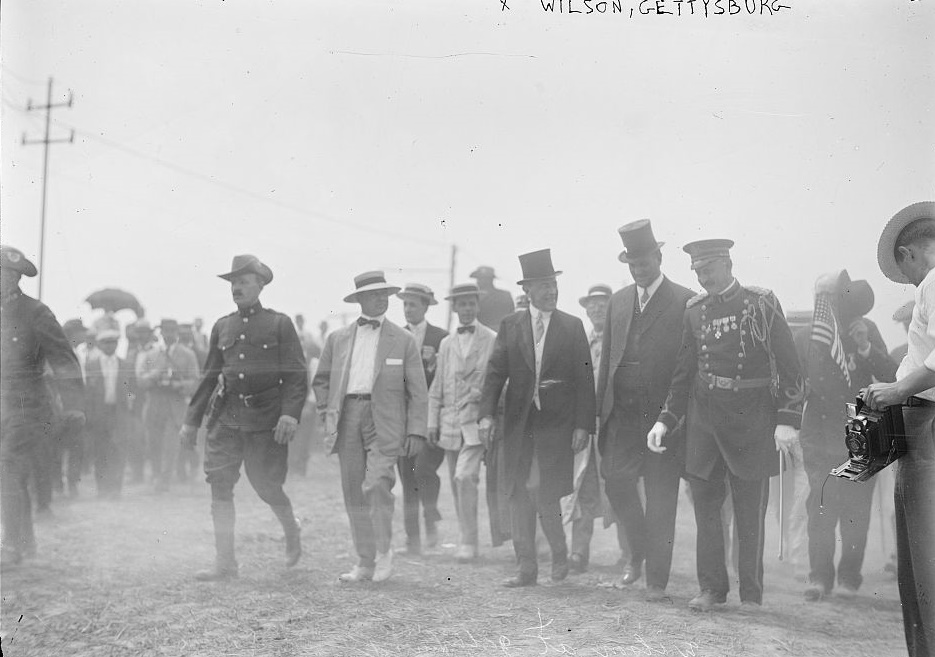 President Wilson at the Reunion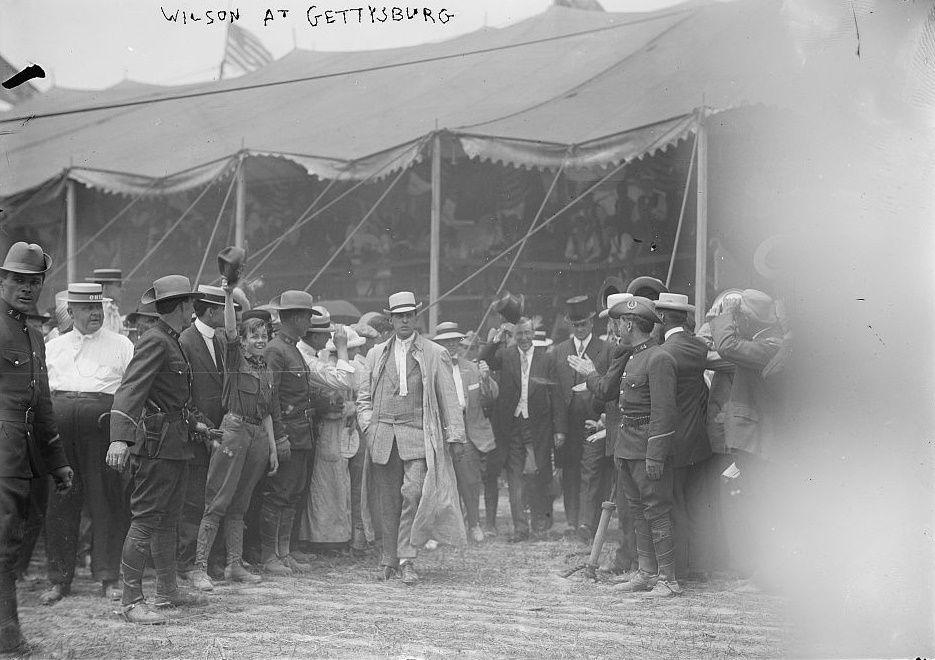 President Wilson at the Reunion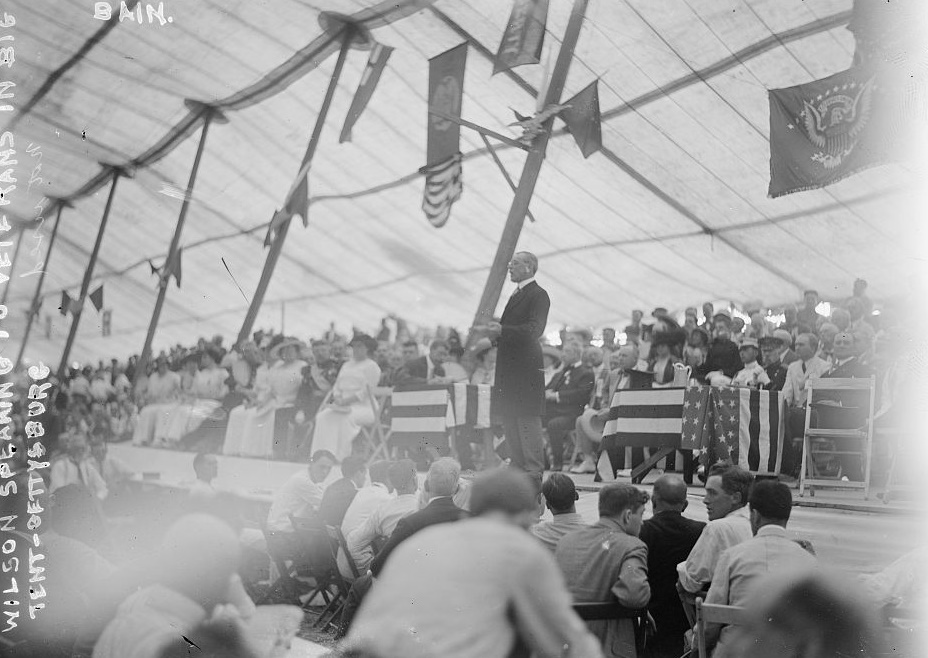 President Wilson speaking at the Reunion
Confederate General Joseph Wheeler from Alabama had not participated in the Gettysburgs battle, but he attended the Great Reunion one day before the official opening on June 30, 1913. General Wheeler later "volunteered for the U. S. Army during the Spanish-American War and was appointed by President McKinley as a Major General, in charge of cavalry forces…including Teddy Roosevelt and his Rough Riders."1
Reenactment of Pickett's Charge at Bloody Angle
A reenactment of Pickett's charge by Veterans from both sides was one event planned. "Only survivors of the 1863 charge could participate in the 1913. Hundreds of thousands of onlookers cheered, then gasped. These were not many young men carrying rifles toward the Union line, but a group of a few old men with white hair and beards waving hats and umbrellas – and an old Confederate battle flag from that charge."2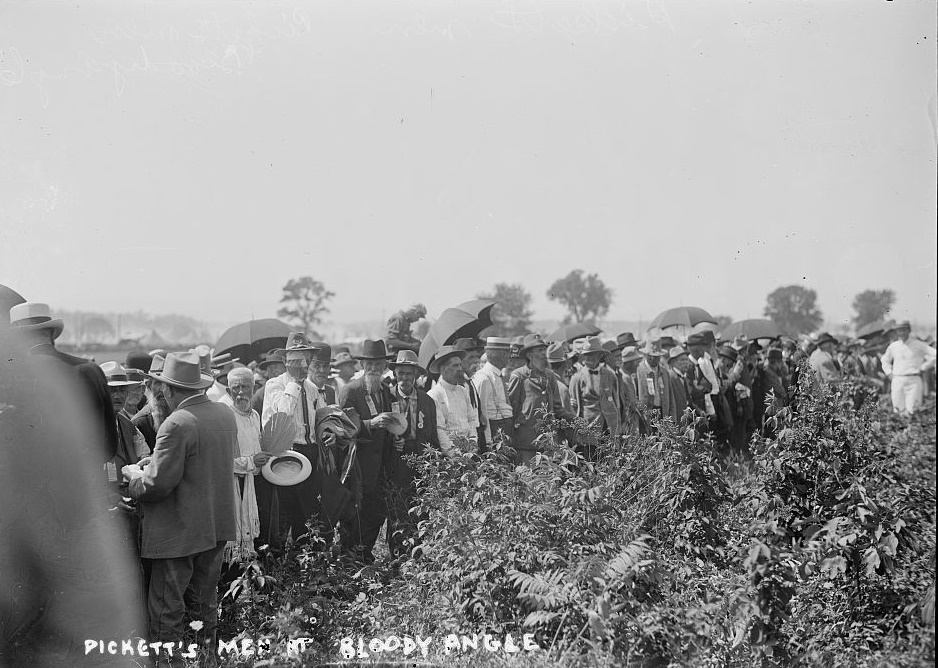 Pickett's men at Bloody Angle reenactment in 1913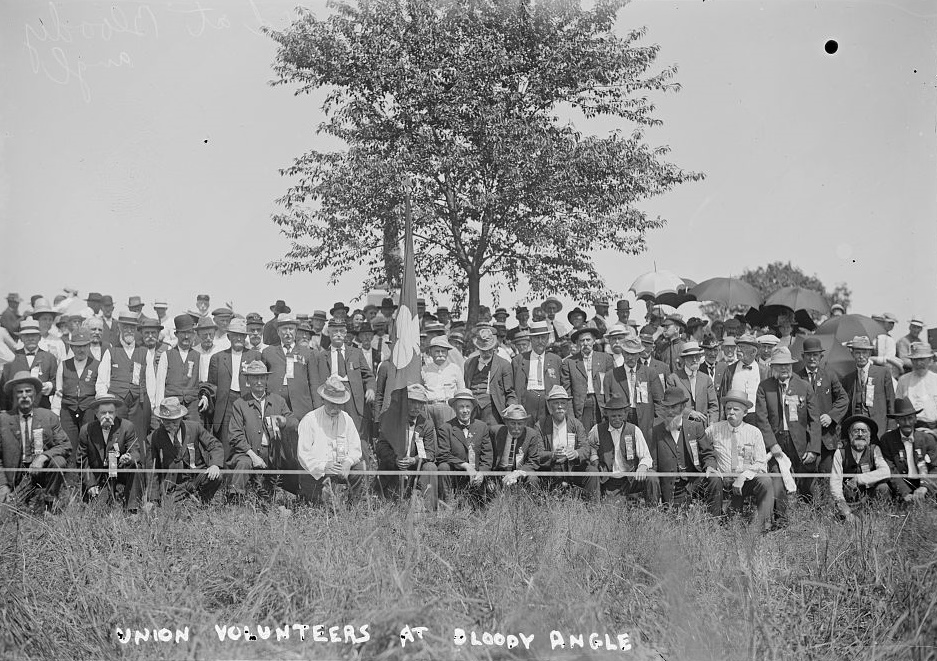 Union Volunteers at Bloody Angle in 1913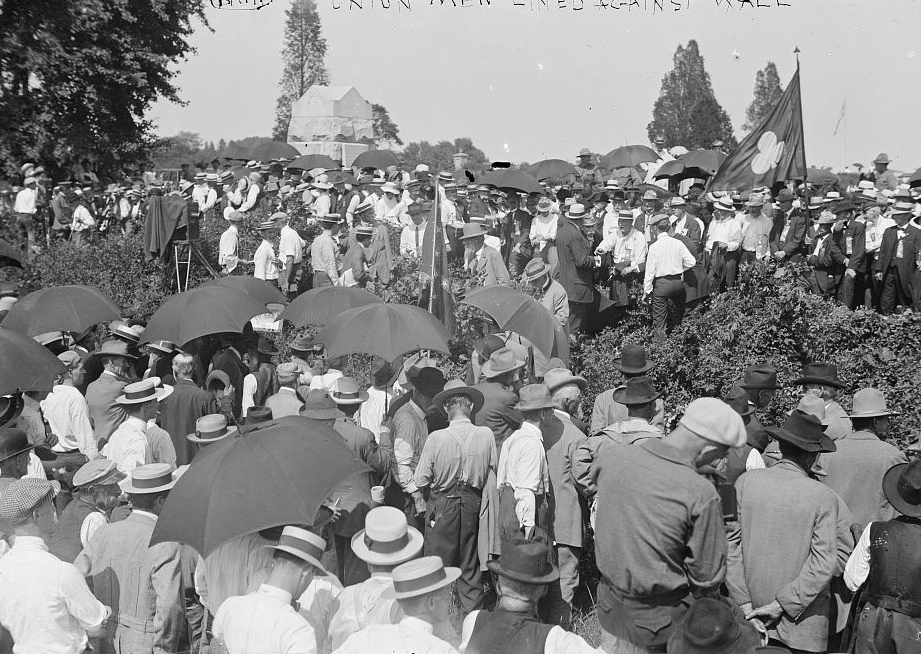 Crowd at Bloody Angle Reenactment
The film below is from YouTube by Rhettvideo and includes footage from the historic reunion in 1913 and reveals what happened during the reenactment. A must see!
SOURCES
The Library of Congress
Smithsonian
BUY ONE GET ONE FREE! The first four Alabama Footprints books have been combined into one book,
ALABAMA FOOTPRINTS Exploration
ALABAMA FOOTPRINTS Settlement
ALABAMA FOOTPRINTS Pioneers
ALABAMA FOOTPRINTS Confrontation
From the time of the discovery of America restless, resolute, brave, and adventurous men and women crossed oceans and the wilderness in pursuit of their destiny. Many traveled to what would become the State of Alabama. They followed the Native American trails and their entrance into this area eventually pushed out the Native Americans. Over the years, many of their stories have been lost and/or forgotten. This book (four-books-in-one) reveals the stories published in volumes I-IV of the Alabama Footprints series.