Continued stories from Rev. R. W. Brooks of Escambia, County, Alabama written in 1939 – WARNING: This story discusses voting in the 1870s after the Civil War and disturbing language and opinions may be used. Please remember the time that this story was written and do not read if it offends you.
First vote cast in 1873
"I (Rev. R. W. Brooks) cast my first vote in 1873 just coming of age in the fall of that year. Everywhere in all the Southland carpet bag governors were holding the offices by reason of the Negro vote."
"My second vote was cast in Escambia County, Florida, in 1876 for the first Democratic governor after the war. In that day the city of Pensacola was filled with policemen who were so black charcoal would have looked white on them."
"The mayor was white, on the outside at least. The sheriff was a man from the north and appeared to be a perfect gentleman, but he was certainly in bad company.
Voting in any precinct laws
The Republican governor and legislature of Florida had passed laws that a man could vote in any precinct in the county and many of the negroes took advantage of this and went to and fro voting at each precinct. Something had to be done so in a concerted movement that extended all over the South to elect at all hazards a governor and legislature and let them clean up the dirt that had been made by the scalaways."
"Mr. George F. Drew was nominated by the Democrats and to say it looked like a forlorn hope was, to put it mildly. At that time Bluff Springs had a bad reputation – especially where its colored people were concerned."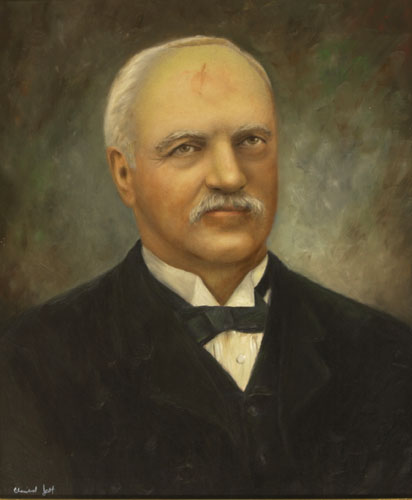 Gov. George Franklin Drew -Governor of Florida elected 1877
Disturbance at Pensacola
"When one came through he had to make it in fast time. D. F. Sullivan owned the railroad from Pensacola to Flomaton, and also a large sawmill at Bluff Springs. He came up just before election day and told his foreman to shut the mill down that day and send some of the roughest men he had down to Pensacola to vote, and when the day came the boys were eager to go and tried to get me to go with them. Here is what happened:"
"About a dozen armed men went down, and when the train stopped at the foot of Government Street, there were a thousand Negroes surrounding the poles. The boys jumped off the train and hollered 'Hurrah for Bluff Springs' and in five minutes there wasn't a Negro in sight. George F. Drew was elected by a large majority."
2/8/1939
Once Alabama was admitted as a state of the United States of America on December 4, 1819, a great wave of immigrants from other states and countries came by flat-boats, pack-horses, covered wagons and ships to become the first citizens of the state. ALABAMA FOOTPRINTS Statehood presents the times and conditions Alabama first citizens faced in lost & forgotten stories which include:
Who Controlled And Organized The New State of Alabama?
Tuscaloosa Had Three Other Names
Chandelier Falls & Capitol Burns
Alabama Throws Parties For General LaFayette
Francis Scott Key Was Sent to Alabama To Solve Problems
General Jackson's Visit to Huntsville For A Horse Race Created Discord At Constitutional Convention
READ EBOOKS FOR FREE ON YOUR COMPUTER!