Today, June 7th, Vulcan, the largest cast iron statue in the world located in Birmingham, Alabama, is having a birthday. He is the centerpiece of Vulcan State Park on top of Red Mountain.
But did you know that poor Vulcan was once used as an advertising prop, holding a pickle barrel and fitted with giant sized overalls to cover his bare behind? This upset the sculptor so much that he stated: "I wish I never made him.
Vulcan at fairgrounds advertising Sherwin Williams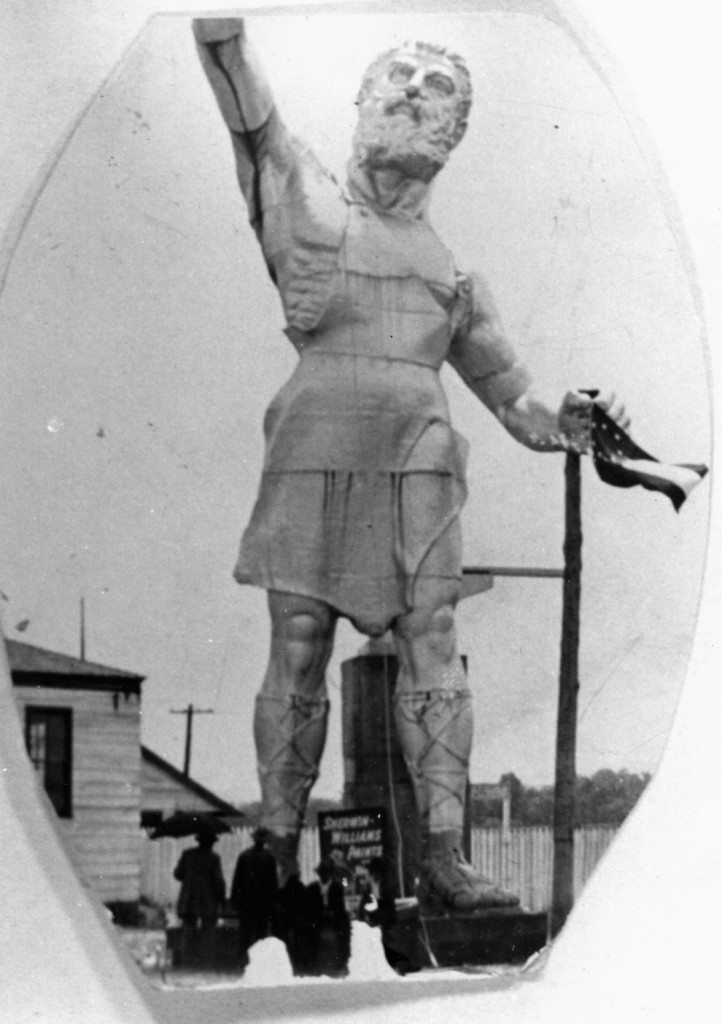 Largest cast iron statue in the world
The Vulcan statue is the city symbol of Birmingham, Alabama, reflecting its roots in the iron and steel industry. The 56-foot (17 m) tall statue depicts the Roman god Vulcan, god of the fire and forge. It was created as Birmingham's entry for the Louisiana Purchase Exposition (1904 World's Fair) in St. Louis, Missouri.
Vulcan's foot photographed by Carol Highsmith 2010 (Library of Congress)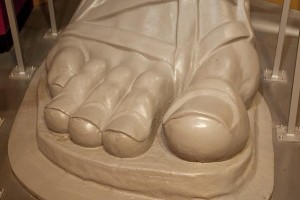 Vulcan was cast in a Birmingham foundry by local workmen from iron mined on RedMountain- the very mountain on which VulcanPark would later be constructed. Though time needed to complete the project was two to three years, Moretti had only months. In the next four months, men worked 60-hour weeks to ensure the statue would be complete. Vulcan won the Grand Prize in the Mine & Metallurgy Exhibit and Birmingham leaders had to reject offers from both St. Louis and San Francisco to buy the statue at the end of the Fair.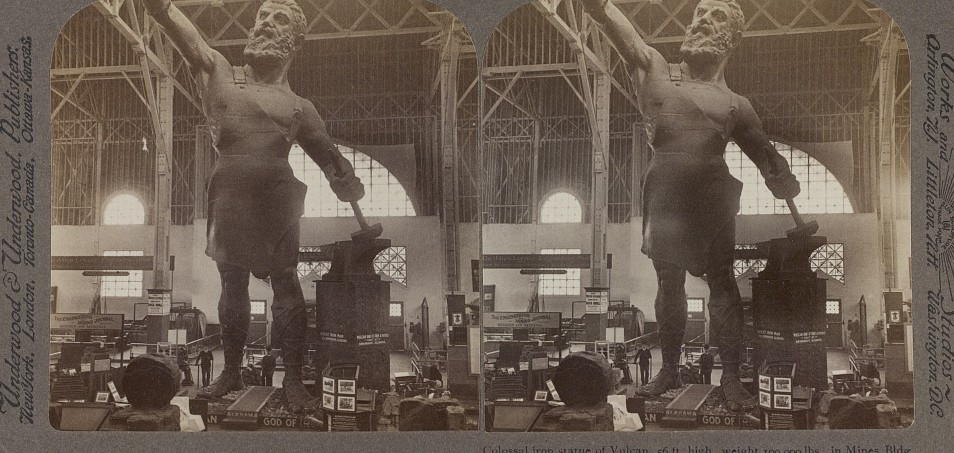 Poor Vulcan was dumped beside the railroad for unpaid freight bills
When shipped back from St. Louis, he was dumped beside the railroad due to unpaid freight bills. His original spear was lost enroute home from St. Louis. He was abandoned for years and suffered humiliation when he was finally put back together when the Birmingham State Fairgrounds offered him a home.
Vulcan at Fairgrounds in 1906
His arms were put on backwards and he was later used as an advertising prop, holding a pickle barrel and fitted with giant sized overalls to cover his bare behind. Watch the film below to learn more.
Colossal iron statue of Vulcan, 56 ft. high, weight 100,000 lbs., in Mines Bldg., World's Fair, St. Louis, U.S.A.
(from Library of Congress Underwood and Underwood, New York. c1904)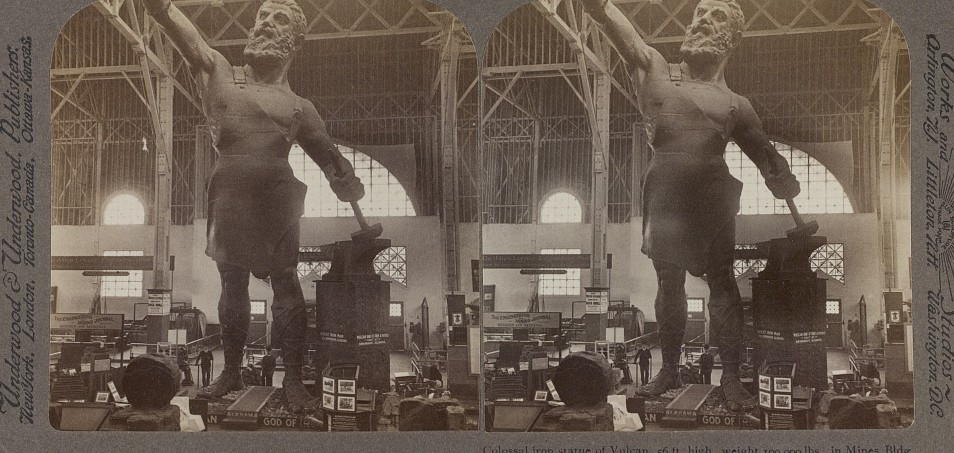 Created as Birmingham's entry in 1904 World's Fair
It was created as Birmingham's entry for the Louisiana Purchase Exposition (1904 World's Fair) in St. Louis, Missouri. It is the seventh-tallest free-standing statue in the United States and has overlooked the Birmingham since 1930.
At the feet of old Vulcan St. Louis Exposition
(photograph from Library of Congress Keystone View Co. 1904)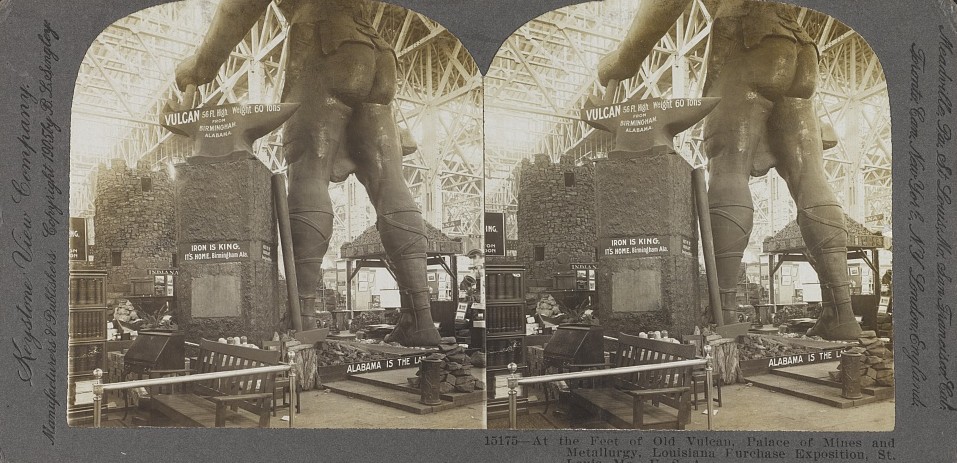 Birmingham was known as the 'Magic City'
The city of Birmingham is unique because of the availability of the raw materials necessary for making iron: coal, iron ore and limestone. By 1900, Birmingham was called the "Magic City" because of its rapid population growth due to the larger number of workers needed to produce iron. City leaders wanted to advertise Birmingham and Alabama at the St. Louis World's Fair and decided a statue of Vulcan would best highlight the area's growing industrial abilities.
Vulcan," God of fire, Alabama Iron Exhibit, Mines Building, World's Fair, St. Louis, Mo.
(from Library of Congress Philadelphia, Pa. : Griffith & Griffith, c1904)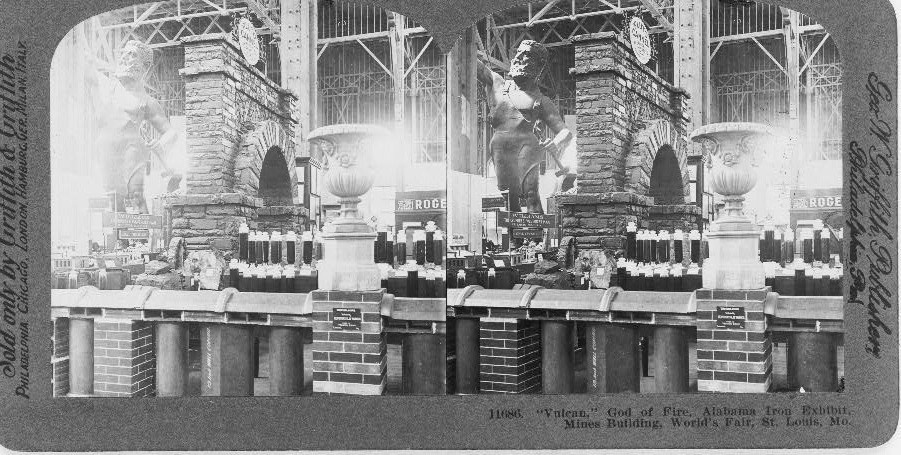 Commercial Club commissioned Vulcan
Commissioned by the Commercial Club of Birmingham, Italian-born sculptor Giuseppe Moretti began designing the monumental figure in 1903, using a 6-foot (183 cm) tall model to study the form. He next sculpted a clay master model in an unfinished church in Passaic, New Jersey, and this was then divided into sections and transported by railroad to the Birmingham Steel and Iron Company for the preparation of casting molds for the iron.
Looking towards Vulcan, Palace of Mines and Metallurgy, Louisiana Purchase Exposition, St. Louis, Mo., U.S.A.
(from Library of Congress Philadelphia, Pa. : Keystone View Co. c1904)

Kiwanis Club organized campaign to find Vulcan a home
In 1935, two members of Birmingham's Kiwanis Club organized a citywide campaign to find the statue a decent home. Funds given by President Franklin Roosevelt's Works Progress Administration (WPA) allowed the construction of the park to begin.
By 1939, the 55-foot-tall Vulcan stood atop a 123-foot pedestal of native sandstone and marble quarried just a few hundred yards away. Once again holding a spear point in his right hand and a hammer in his left, the man of iron proudly dominated Birmingham's skyline.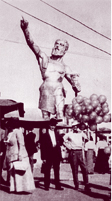 Torch was placed in his right hand as a safety campaign in 1946
In 1946, the decision was made to place a torch in Vulcan's right hand as a temporary traffic safety campaign for a few months. The red light signaled that there had been a traffic fatality in Birmingham; the green light shone to demonstrate there had not been a fatality.
Here's a short video of Vulcan in April 4, 1991
Vulcan was dismantled in 1999
In 1999, after years of rust and weather, the hard decision was made to dismantle to make needed repairs. Money was raised in Alabama through donations and those interested in restoring the park to its former days.
Short video of the dismantling in 1999
Vulcan was renovated as the sculptor intended
The torch was removed during the renovation of Vulcan. The decision was made to return Vulcan to the way that sculptor, Giuseppe Moretti, intended. Since the original spear point never returned from 1904 World's Fair, a new one had to be cast.
Today, for the first time, since 1904, Vulcan is standing as he stood in St. Louis – gazing at the spear point in his outstretched right arm. The actual torch can now be seen in Vulcan Center Museum.
Cascades were removed from park
A fond memory of early visitors to Vulcan Park is the cascades. Constructed out of stone, water tumbled down the cascades in a series of falls and ponds that contained fish. The cascades were removed when the park was renovated in 1969-1971. No original 1936-1939 landscape records were found and preservationists needed original drawings to proceed with reconstruction. Today, the sloping grass hills between the stone steps that lead up to Vulcan are designed to simulate the original cascades.
Vulcan Park April 26, 2010
Wish him a Happy Birthday by sharing your favorite memories of Vulcan in the reply section below.