HOW TO DETECT A RIPE WATERMELON
(from July 2, 1879, Birmingham Iron Age)
Few people know, from an outside inspection, how to determine the ripeness and the perfection of a watermelon. Within a few days says a correspondent of the Country Gentleman, I have seen directions given to reach a correct conclusion on the subject, by pressing the melon and noting the manner in which it emits a crackling sound under the operation. These results are to be obtained after some experience in judging of its peculiarity under pressure.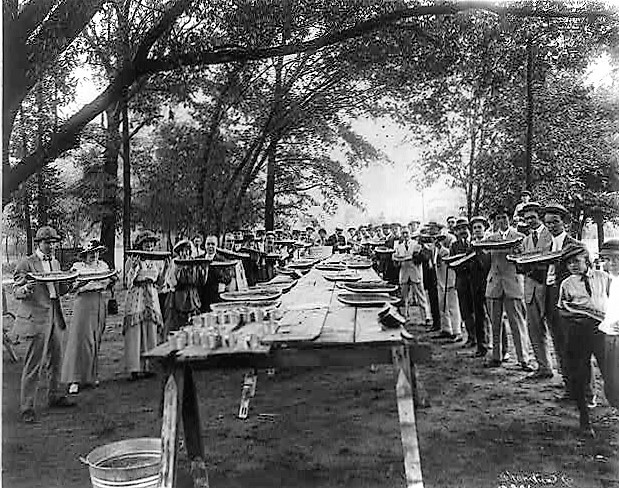 Commercial Club holding large pieces of watermelons posed, standing around tables, Fairfield, Alabama in 1917 (Library of Congress)
Serious matter to know
Considering the vast quantities of this delicious fruit to be consumed, it is really a serious matter to be able to know certainly when buying a melon, perchance on the street or at a dealer's stand, whether one is securing a ripe melon or not. In nine cases out of ten the chance is that your melon is only half ripe, and therefore not a great acquisition for your desert.
Infallible sign
Now let me give you and readers an infallible sign by which to know a fully ripened melon. When the melon begins to change color inside, and its seeds to turn black, a small black speck, scale, or blister begins to appear on the outer cuticle or rind. These are multiplied and enlarges as the fruit matures.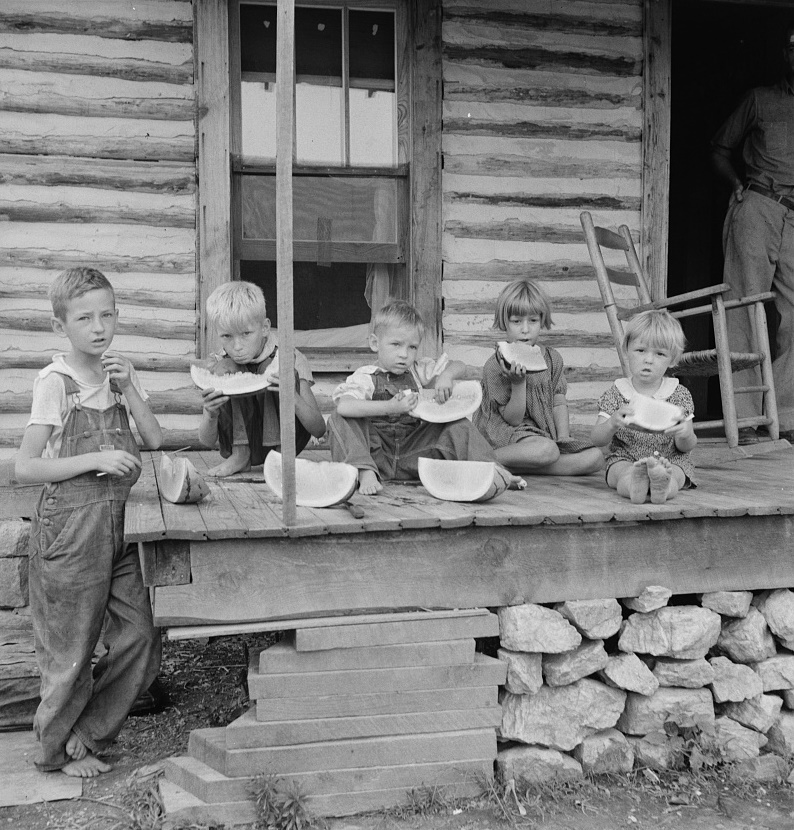 Children eating watermelon, 1939 by Dorothea Lange (Library of Congress)
Half ripened fruit
A ripe melon will show them thickly sown over the surface. A partial development only indicates half ripened fruit. A full crop of blisters reveals its perfect ripeness. When hundreds of melons are strewn along the sidewalk, you will have to lood pretty sharply to find one that exhibits a satisfactory "escutcheon", to borrow a term from M. Guenon. But it is unfailing when found, and by following this guide you may walk away with your melon with the most entire confidence. The blister is only to be seen upon close inspection, but is plainly visible when that is given.
Vinegar of the Four Thieves  -m

any people swear by this potent natural remedy for many illnesses – 

Would you like to know Thomas Jefferson's recipe for Vinegar of the Four Thieves or how to make Ox Tail Soup? Discover this recipe as well as many household tips from the past in  

Vinegar of the Four Thieves: Recipes & Curious Tips from the Past