WOLF BRAND
by
S. J.
1/25/39
editorial board
Woodrow Hand1
Shelby County voted dry in the recent (1939) prohibition issue and the people chorused: "Whiskey, whiskey everywhere; and not a drop to drink."
But they were only kidding. They knew that Shelby County was the one and only home of "Wolf Brand," that powerful beverage concocted from "shorts," or wheat bran, and whatever else chooses to fall into the mash pot.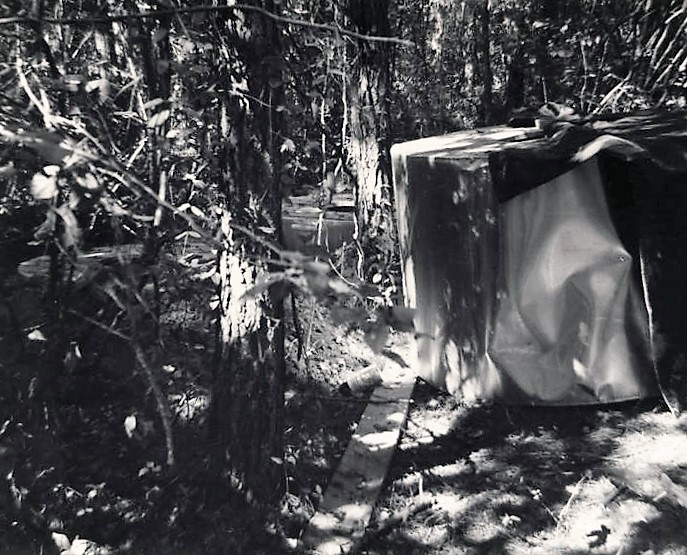 Liquor stills in Alabama ca. 1950s (by Photographer Roy Green, Jr. Alabama Department of Archives and History)
Wolf Brand Whiskey
"Wolf Brand" cannot date its heritage from away back as can the whiskeys advertised so prettily in all the leading magazines. It is instead, a child of the depression, and as such is popular; as people are popular who blame the depression with a lot of things.
These "would-have-been millionaires" say: "I'd be rich today if the depression hadn't come when it did."
"Wolf Brand vendors say: "It'd be corn whiskey if the depression hadn't come when it did."
Actually, neither could be without the other. If the "would-have-beens" could afford better whiskey, they'd buy it. Then "Wolf Brand" would be no more.
"Wolf Brand" can be had for fifty cents a quart anyplace in Shelby within five minutes after the desire is known. It is a miracle of the retail trade.
Progressed to a fine art
When the moonshiners discovered that "shorts" could be distilled in the same manner as corn, their only problem was to temper it down so that it would wait until inside the drinker before exploding.
"Wolf Brand" distilling has progressed to a fine art during the past ten years, being now of such delicate texture that it hardly ever removes the skin from inside the throat.
Its appearance has improved also. It is now a tempting red-muddish hue when "charred," but many prefer its virgin color; which isn't a color. It used to look like skimmed milk.
The name "Wolf Brand" has been under controversy as to origin. Some claim that the original distiller got drunk and while trying to say "wheat bran" twisted his tongue and said "wolf brand." Others say that the wildness of the country in which it is made gave its name by the expression: "Its a wolfish whiskey from a wolfish country."
1During the 1930s, Great Depression era, many writers were employed to interview people and write stories about life in the United States. The program was named the U.S. Work Projects Administration, Federal Writers' Project and it gave employment to historians, teachers, writers, librarians, and other white-collar workers. The story above is a transcribed, unedited story from a WPA writer Woodrow Hand, Alabama.
Prior to statehood, Alabama was a vast wilderness with a large Native American population. It is only natural that when new immigrants from other states arrived, conflicts over the land would arise. Soon, these small conflicts exploded into war.
Alabama Footprints Confrontation is a collection of lost and forgotten stories that reveals why and how the confrontation between the Native American population and settlers developed into the Creek-Indian War as well as stories of the bravery and heroism of participants from both sides.
Some stores include:
Tecumseh Causes Earthquake
Terrified Settlers Abandon Farms
Survivor Stories From Fort Mims Massacre
Hillabee Massacre
Threat of Starvation Men Turn To Mutiny
Red Eagle After The War