Women race car and stunt drivers were quite popular in the early days of automobile racing. One outstanding driver was Elfrieda Mais who was born June 19, 1893 in Indianapolis, Indiana was perhaps the first. She was billed as the "only woman auto racer in the world," in the Wichita Beacon of Wednesday, June 28, 1916 when she was scheduled to drive her $10,000 "Mais Special" in an exhibition race against time on the West Side Speedway July 4th. Miss Mais lived in many places during her life which included Salina, Kansas; Dodge City, Kansas; San Antonio, Texas, Phoenix, Arizona; and Tampa, Florida. (Continued below)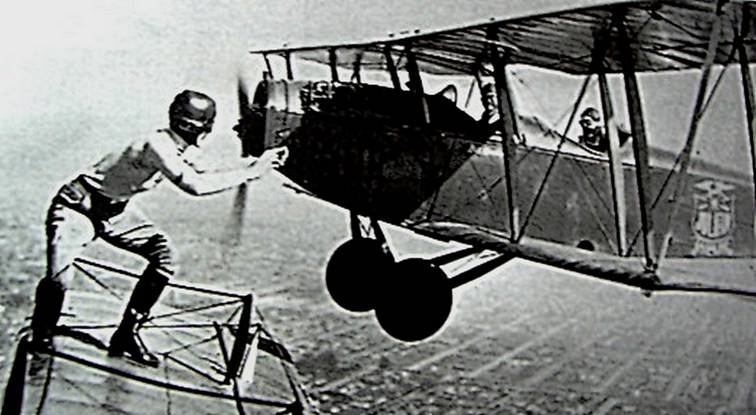 Elreida Mais as wing walker
Started as stunt woman and wing walker
She started working as an airplane stunt woman and wing walker in 1910 but switched to driving race cars in 1912. "Racing sanctioning bodies of her time did not allow women to compete against the men so Elfrieda's efforts were mostly confined to speed trials against the clock and stunt driving exhibitions.  She plied those skills at an IMCA race at West Side Speedway in Wichita, Kansas on July 4, 1916 where she set an unofficial two-lap track record of 1 minute, 24 seconds on the half-mile racetrack.  Four days later (July 8, 1916), she ran two laps on the half-mile racetrack at the Kansas State Fairgrounds in Hutchinson in 1 minute, 20.2 seconds.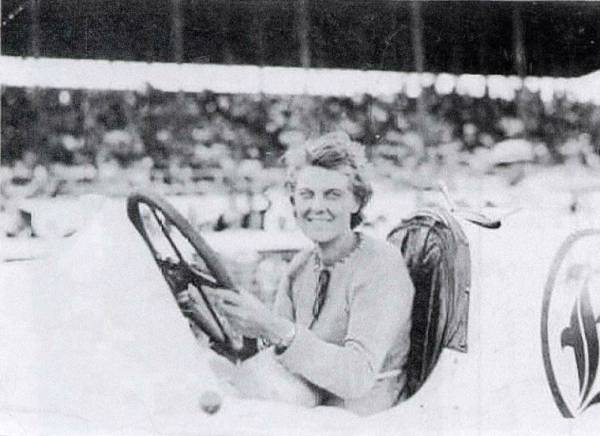 Elfreida Mais racing in Kansas (kansasracinghistory.com)
On July 20, 1918, she ran exhibition laps at a race at the North Central Kansas Fairgrounds at Belleville, Kansas. On October 14, 1919, she drove exhibition laps between the races at the fairgrounds at Great Bend, Kansas. On June 15, 1920, Elfrieda returned to the Great Bend Fairgrounds where she covered one mile in 1 minute, 8 seconds on the half-mile racetrack. Elfrieda lowered her own time to 1 minute, 11.6 seconds on the half-mile Kansas State Fairgrounds racetrack on July 5, 1920. She also ran on the one-mile racetrack at Salina, Kansas on Labor Day of 1921. She returned to Wichita on August 7, 1932 where she again ran speed trials during breaks between the auto races at the Bo Stearns track north of town."1
"In 1911, Elfrieda married John A. "Johnny" Mais who drove racing cars and competed in the 1915 Indianapolis "500". Elfrieda was later married in 1924 to her second husband, William Pond Chapin and in 1928 to her third husband, Robert Emmett Wallace, before being married to her fourth husband, Ray LaPlante, sometime after 1930 but she continued to appear at racetracks and in stunt shows billed as "Miss Elfrieda Mais". The only actual auto races she was allowed to compete in were "outlaw" (or non-sanctioned) races promoted by her then husband, Johnny Mais."2
Lost her life in Alabama
On September 27, 1934, Mais lost her life as a crowd watched her drive her automobile through a blazing wall of fire at the Alabama State Fairgrounds in Birmingham, Alabama. She had successfully completed this stunt many times before, but this time the car shot through the race track guardrail and down an embankment. The car hit a road scraper and plowed through the fairground wall. "Two boys, John Draper and Duncan Davenport, who were sitting on the roof of an automobile outside the fairgrounds, were hurt when the daredevil driver's car struck theirs. Jenks Hoagland, a fair performer, was also injured."
The newsreel below was taken only a few weeks before her death.
"Ray La Plante of Newark, N. J , the woman's husband, saw the accident. He expressed the belief his wife had been burned as the car went through the wall. She was injured in 1928 in Jackson, Miss., and last winter in Tampa, Fla. Mississippi."3
Bestselling novel

 

RIBBON OF LOVE: 2nd edition – A Novel of Colonial America (Tapestry of Love Book 1)

 

is the story of a first family in colonial America who fled to America to escape religious persecution, and eventually migrated to Alabama before it became a state