Happy Birthday!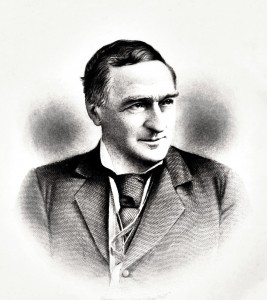 Happy Birthday!
WILLIAM OWEN BALDWIN, M.D
BIOGRAPHY and GENEALOGY
(1818 – 1886)
Montgomery County, Alabama
William Owen Baldwin, physician, was born August 9, 1818, in Montgomery County; son of William and Celia (Fitzpatrick) Baldwin; grandson of William and Elizabeth (Kimbro) Baldwin, and of William and Annie (Phillips) Fitzpatrick; great grandson of David and Sarah (Owen) Baldwin. His mother was the sister of U. S. Senator Benjamin Fitzpatrick, formerly Governor of the State of Alabama.
He received his early education in an academy in Montgomery County conducted by Adison H. Sample. He studied medicine in the office of Dr. McLeod, and was graduated from Transylvania University, Lexington, Ky., in which institution he was the pupil of Dr. Charles Caldwell and Dr. L. P. Yandell, and later of Dr. B. W. Dudley, professors in that university. He received the M. D. degree in 1836. He began to practice medicine in Montgomery in 1837, and in 1840 entered into partnership with his former preceptor, Dr. McLeod, who died twelve months later.
He began practice in Montgomery and was associated with Dr. Wm. M. Boling, which association continued until 1848. In the meantime he visited Europe, and spent a year there in study in the leading medical schools and hospitals.
He was ambitious and well prepared in his profession, and justly took high rank among the foremost practitioners in his section of the country; and he was an interested student up to the time of his death. In debate, he was a ready and eloquent speaker and was an elegant and fluent writer. The medical journals contained numerous and valuable articles from his pen, from the time of his graduation to within the past year. His graceful tribute to the memory of his old and esteemed friend, Dr. L. Marion Sims, will be remembered by most physicians of the present day. But he also wrote well on many of the more important diseases and questions of interest to the profession of the South.
He was an original member of the Medical Association of Alabama, has served as its President, and was a valued contributor to its Transactions. He was also an active member of the Medical and Surgical Society of Montgomery County. and was honored with its highest offices. He was a member of the American Medical Association in 1868 and its President in 1869, presiding at the meeting in New Orleans in that year.
His address as President on that occasion is replete with Christian and patriotic sentiments, so beautifully expressed and well-timed as to remain shining landmarks in the history of the Association. The committee charged with organizing the Ninth International Medical Congress, which is to assemble in Washington City in 1887, had chosen Dr. Baldwin as one of its Vice Presidents, his success in the profession and his high character as a man fully warranting the selection. In social life he was by nature a leader; his culture and refined feelings of a high order gave him real, not accidental prominence. Well versed on almost every topic, with a deferential manner and an agreeable voice, he was the chosen and welcome oracle of every circle.
During the War of Secession, he repeatedly declined offers of a commission in the C. S. Army, although he was frequently present on the field after action, attending the wounded as volunteer surgeon.
A series of plays eight plays written by Elyzabeth Gregory Wilder were presented three years ago by the Alabama Shakespeare Theatre in Montgomery about Unionist and Dr. William O. Baldwin's life during the Civil War. His son served in the Confederacy where he died at the age of nineteen while Dr. Baldwin remained a Unionist.
He inaugurated and organized the First National Bank in Montgomery, and was elected president of that institution. He was author of a paper, "Observations on the Poisonous Properties of the Sulphate of Quinine," which appeared in the American Journal of Medical Sciences, April 1847. This paper has been quoted as authority in English and French periodicals and standard works in toxicology, as well as in the United States Dispensatory and in the medico-legal works of this country. He contributed numerous other articles to medical and scientific journals. He was an associate fellow of the College of Physicians of Philadelphia, and honorary member of the Gynecology Society of Boston, member of the American Medical Association, of the Medical Association of Alabama of which he has been president, and of the Medical and Surgical Society of Montgomery and several times its president.
He married December 7, 1843, Mary Jane Martin, daughter of Col. Abram and Jane (Patton) Martin, of Montgomery County, the former a judge of the circuit court of Montgomery; granddaughter of Jean (Shaw) Patton who came to this country from Scotland and was married in Virginia. She died September 18, 1878.
Their children were:
Capt. William O. Baldwin, b. November 23, 1845, left the state university at Tuscaloosa to enlist as a private in the Twenty-second Alabama Regiment, was appointed sergeant major, lieutenant, then captain, before he was eighteen years old, was known as the "boy captain" of Deas' brigade, killed in the battle of Franklin, November 30, 1864;
Marion Augustus Baldwin, lawyer, b. February 20, 1851, graduated from the Law School of the University of Virginia, died in Montgomery, m. August, 1887, Mary James;
Mary Hinson Baldwin, b. April 25, 1853, m. William Etheldred Williams of Knoxville, Tenn.;
Jennie Patton Baldwin, b. October 5, 1855, m. January 27, 1875, G. W. Craik, had a son. Rev. James Craik, Rector of Christ Church, Louisville, Ky.;
Cecile Fitzpatrick Baldwin, b. October 11, 1858, attended Chegary Institute, Baltimore, Md., m. January 2, 1889, William Christopher Maxwell of Charlotte, N. C.;
Abram Martin Baldwin, b. October 29, 1860, m. June 8, 1887, Elizabeth Ewin of Nashville, Tenn.;
Almira Ann Baldwin, b. August 3, 1868, m. June 6, 1894, Major Channing Moore Bolton of Charlottesville, Va.
Dr. William Owen Baldwin died at his residence in that city on Sunday, May 30, 1886. He is buried in Oakwood Cemetery in Montgomery, Alabama.
Dr. Baldwin had been in poor health for several years, but his friends at a distance hoped his life would be spared for further usefulness. He left a wife and several sons and daughters. We hope to give at some time a more complete sketch of the life of Dr. Baldwin.
SOURCES
History of Alabama and Dictionary of Alabama Biography, Volume 3 By Thomas McAdory Owen, Marie Bankhead Owen
Findagrave.com # 8285480 # 90922766# 90922795
Check out all Alabama Pioneers reference books.
Do you need some guidance in your tracing your family tree? Genealogy is a fun hobby that can include the whole family.
Save time and avoid pitfalls in your research. Where Do I Start? is filled with simple, no-nonsense instructions to set you on the path of your families' ancestry with the following information:
WHERE TO FIND – on-line resources, experienced genealogists will not be aware of many of these.
COURT RESEARCH – how to do courthouse research, where to find birth, death, social security records free on-line.
EIGHTY – ONE QUESTIONS – you should ask your elderly loved ones before it's too late.
TIPS ON BREAKING DOWN THE WALL – Everyone faces some difficulties in research, often called a 'brick wall' but WHERE DO I START? provides suggestions for overcoming them.